Watch Ant-Man and the Wasp For Free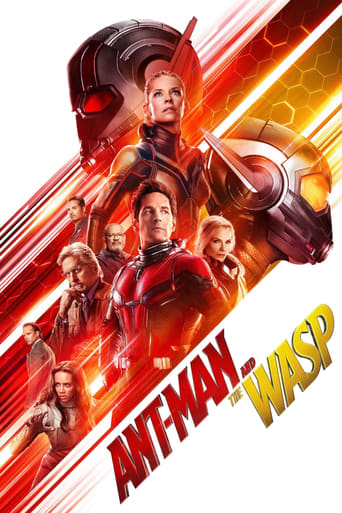 Just when his time under house arrest is about to end, Scott Lang puts again his freedom at risk to help Hope van Dyne and Dr. Hank Pym dive into the quantum realm and try to accomplish, against time and any chance of success, a very dangerous rescue mission.
... more
To me, this movie is perfection.
More
Clever, believable, and super fun to watch. It totally has replay value.
More
Scott Lang is grappling with the consequences of his choices as both a superhero and a father. Approached by Hope van Dyne and Dr. Hank Pym, Lang must once again don the Ant-Man suit and fight alongside the Wasp. The mission soon leads to secret revelations from the past as the duo find themselves in an epic battle against a powerful new enemy.......After the mentally exhausting Infinity War, it was a good choice for Marvel to release the Ant-Man sequel. Ant-Man clearly is the most tongue in cheek character of the MCU, and in turn, also makes him one of the most human, holistic characters they have in the MCU.Rudd again excels as Lang, so easy to watch, so relatable, alongside Hawkeye, he has the most to lose from a Nuclear family point of view, so even though the film could be classed as a big sigh of relief for the MCU, Lang's quest is still as urgent as any other hero.Although Rudd is hilarious with Pená and friends, and shares some great chemistry with The FBI agent whom is trying to catch him out (their scenes together are the best thing about the film), it's Douglas who steals the film from everyone.He's the funniest thing in the film, delivering line after hilarious line in a dead pan way that's not just hilarious at times, but utterly convincing to the point that you really believe that he is moving a building like a piece of luggage.Set pieces are a little sparse in this, with two really only standing out, but as before, they are inventive and with involving multiple characters, makes it as funny as the first.My only gripe are the antagonists. Goggins is a great character actor, but here he's resorting to Sam Rockwell in Iron Man 2. And the less said about The Ghost, the better. It's a waste of a character, and only seems to be here so Pfeiffer has something to do. Other than that, it's such a fun sequel, with lots of great characters, but maybe it's because it's followed two of the best Marvel films released, it just feels a little lost.But then, there's the Mid-Credit stinger, and in my opinion, it's the best stinger Marvel has done. Which more than makes up for Stan Lees cameo....
More
Marvel sequel to a pretty naff 1st movie.Superhero fantasy adventure, the plot revolves around 'The Wasp' character's mother being trapped in something called the quantum realm. She's been stuck for 30 years and needs to be rescued. The best thing is the villain, who is an interesting character. Some comedy sequences but not the level of humour seen in Guardians of the Galaxy or more recently Thor.I couldn't help thinking a ten year old would probably like this. The post credit scene is a dull setup for a 3rd movie. Pretty disappointing.
More
A much welcome breather after the heavyweight that was Avengers: Infinity War, the 20th instalment in the Marvel Cinematic Universe is another lighthearted ride unfolding on the same minuscule scale as Ant-Man, and though not as impressive as Marvel's best works, it still delivers a fine dose of fun, amusing & action-packed entertainment.Set in the aftermath of Captain America: Civil War, the story of Ant-Man and the Wasp finds Scott Lang under house arrest and Dr. Hank Pym & Hope van Dyne in hiding until an urgent mission brings them together once again as the trio try to unlock the secrets of quantum realm before it's too late, while being pursued by both cops & new enemies.Directed by Peyton Reed, the sequel offers him more freedom & bigger canvas to showcase his vision & creativity yet he fails to makes the most of the opportunity and delivers a story that's pretty much on same level as its predecessor. Its action scenes do get an upgrade but the plot is quite simple and is missing the character complexity that drives most sequels.On the plus side, the film retains the humour of the original while the continuous banter & brisk pacing make sure that its 118 mins runtime never become a chore. The swift, kinetic operation of camera infuses an energy to its moments of action on both macro & micro levels while the bright colour tones add a rich texture that makes its images pop out. And Christophe Beck's splendid score adds its very own flavours to the mix.Coming to the performances, Ant-Man and the Wasp benefits from Paul Rudd's natural charisma but it's Evangeline Lilly who steals the show this time in the role of Hope/Wasp. The chemistry between the two still carries a spark but purely on individual inputs, Lilly outshines Rudd by a significant margin. Both Michael Peña & Michael Douglas are more fun in their respective roles this time around but the new characters aren't any good.On an overall scale, Ant-Man and the Wasp makes for a sufficiently entertaining action-adventure and is at its best when it isn't trying too hard. A standalone entry for the most part that eventually connects with the heavy conclusion of Infinity War in a shocking mid-credits sequence, Ant-Man and the Wasp does enough to allow the viewers to settle down before things get hot & heavy once again in the grand finale that surfaces next year.
More
"Ant-Man And The Wasp" comes as a palate cleanser following the events of Infinity War. Wisely setting the story prior to the events of the last Marvel film, we find Scott Lang (Paul Rudd) under house arrest following his plea deal for his part in the events show in "Captain America: Civil War". Abandoned by Hank Pym and Hope Van Dyne for stealing the AntMan suit for his amateur Avengering, Scott re-establishes contact when Pym's experiments with accessing the Quantum Realm produces a link between him and Hope Van Dyne, (Michelle Pfeiffer) the original Wasp lost there many years ago. "It was alright" was my overriding thought at the conclusion of "AntMan And The Wasp". It's slight and relatively inconsequential to the universe as a whole, but it has to be - as we're effectively on hold until the MCU narrative kicks off again with Avengers 4. Despite Rudd, and his reliable comic timing and affable style "Antman 2" is not as funny as either of the Guardians films, "Spiderman: Homecoming" or the universes comedic highspot, "Thor Ragnorok". I feel like a lot of the character moments in the film fell a bit flat. The chemistry is there between Paul Rudd and Evangeline Lilly and with his on screen daughter. . I just didn't buy it anywhere else. Unfortunately, this continues with the villains of the piece, Hannah John-Kamen's Ghost is perhaps too sympathetic to root against - and Walton Coggins black market science dealer feels like a low rent version of The Vulture, and never of any real threat to either antagonist or the protagonists. After that, I feel that I should reiterate... I felt it was alright, not bad, just not great. The effects are pretty amazing though both with shrinking and growing, the de-aging scenes for multiple characters and with Ghost's phasing in and out of reality. The action scenes are first class too, both fighting and the car chases. I did laugh a few times too, often inspired by Michael Pena's return as Luis, so it's not a totally comedic failure. I hope that Ant-Man does have a role to play in Avengers 4 (I presume he must from the post Credits scene) but I feel I'd like a different creative force behind the film for Ant-Man 3, just to freshen it up in the way Taika Waititi did with "Ragnorok".
More