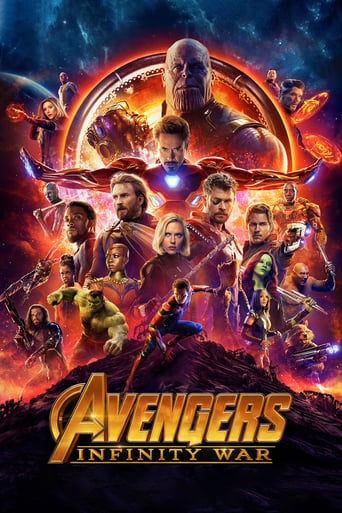 Avengers: Infinity War (2018)
As the Avengers and their allies have continued to protect the world from threats too large for any one hero to handle, a new danger has emerged from the cosmic shadows: Thanos. A despot of intergalactic infamy, his goal is to collect all six Infinity Stones, artifacts of unimaginable power, and use them to inflict his twisted will on all of reality. Everything the Avengers have fought for has led up to this moment - the fate of Earth and existence itself has never been more uncertain.
...
Watch Trailer
Cast
Similar titles
Reviews
Exactly the movie you think it is, but not the movie you want it to be.
More
It is a whirlwind of delight --- attractive actors, stunning couture, spectacular sets and outrageous parties.
More
A clunky actioner with a handful of cool moments.
More
I would love to give this a 9.9 star rating! The only reason I took the 0.1 star off is because I hate that it just left me hanging!! It is torture! Can't wait to see what happens next. If you love Guardians of the Galaxy and the Thor movies, which are the only movies I am familiar with, you are going to have enough knowledge to love this. I don't know anything about Iron Man, Captain America, Dr Strange or Black Panther and I still loved this. Check it out.
More
Here they are battling a villain so strong, that all the power they have is just not enough.They have brought in the entire marvel cast and this movie is on an epic proportion. Far outshines all the Star Wars movies.
More
A nice movie to watch. Probably the best marvels movie yet.
More
We are waiting for this movie and finally it cames ! Everything on it was amazing. The story and the characters perfect, the plow twist fantastic and the end........OH MY GOD !!!!! I'm looking for the part 2 !!!!
More