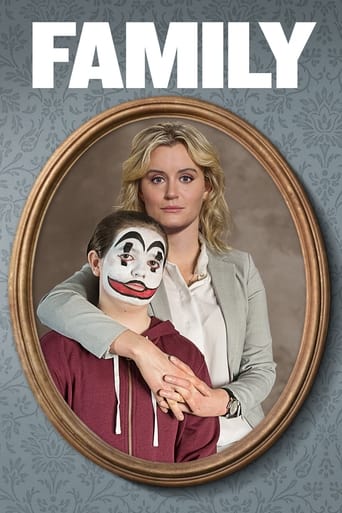 Family (2019)
An emotionally stunted aunt tries to bond with her thirteen year old niece, who wants nothing more than to run away from home and become a juggalo.
...
Watch Trailer
Cast
Similar titles
Reviews
The joyful confection is coated in a sparkly gloss, bright enough to gleam from the darkest, most cynical corners.
More
It's a feast for the eyes. But what really makes this dramedy work is the acting.
More
The movie's neither hopeful in contrived ways, nor hopeless in different contrived ways. Somehow it manages to be wonderful
More
The film's masterful storytelling did its job. The message was clear. No need to overdo.
More
I saw this movie yesterday and it was just really well written. A complete breath of fresh air to the movie industry that we have become accustomed to. Dialogue and genuine care for the characters makes the experience so enjoyable.I hope to see more movies like this in the future.
More