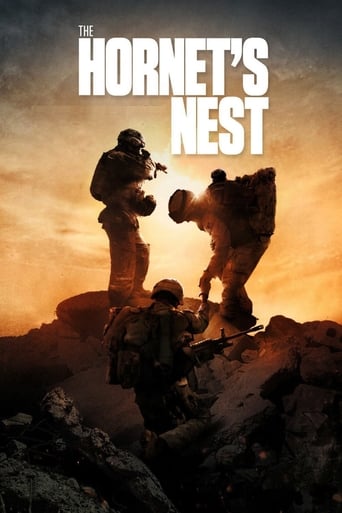 The Hornet's Nest (2014)
Armed only with their cameras, Peabody and Emmy Award-winning conflict Journalist Mike Boettcher, and his son, Carlos, provide unprecedented access into the longest war in U.S. history.
...
Watch Trailer
Cast
Similar titles
Reviews
Absolutely brilliant
More
It's funny watching the elements come together in this complicated scam. On one hand, the set-up isn't quite as complex as it seems, but there's an easy sense of fun in every exchange.
More
It's a movie as timely as it is provocative and amazingly, for much of its running time, it is weirdly funny.
More
The movie turns out to be a little better than the average. Starting from a romantic formula often seen in the cinema, it ends in the most predictable (and somewhat bland) way.
More
First review of a movie and I plan to keep it short.This "movie" is pretty dang good! I spend hours searching for good suggestions for movies on IMDb, but everyone has a different favorite genre. If you like this movie then here are another few you'll be sure to enjoy:RESTREPO SEVERE CLEAR KORENGAL ARMADILLO BEASTS OF NO NATIONand some actual movies: Lone Survivor American SNIPER FULL METAL JACKET (crazy movie lol) BLACK HAWK DOWN etc.. I could go on forever but these are some good startersENJOY !
More
I have the utmost respect for the women and men sacrificing themselves for us in this war that the documentary was made from. I have no respect for the maker of this fluff piece. These soldiers deserve better than fake danger footage he claimed to be in. It's ridiculous that this actually glorifies their plight, with the utmost grievance. David and Christian, don't make any more documentaries that glorify our brothers deaths
More
This is actually two documentaries (i.e. two distinct subject matters) - the first being the story of the father and son journalists (and documentary makers) Mike and Carlos Boettcher, the second being the story of the fighting men on the ground in Afghanistan.This could have been a truly great documentary if 3 things were done differently:1. The first half of the movie, about Mike and Carlos Boettcher, was removed from the film, and that time was instead used to introduce us in more detail to the fighting men who would become the subjects of the second half of the documentary (which was definitely where the heart and soul of this film is found).2. Mike Boettcher had not tried to use the film as a vehicle to justify, and in the process, completely over-hype the importance and role of journalists in war. Journalists play a vital role, but in this film the importance of that role was overblown. As a father I also really struggled to accept all the 'this is how I redeem my lack of fatherly attention to my family over the years' rhetoric - not only did it lack authenticity, but taking your son to work with you for a couple of weeks is not really how one genuinely makes up for a self-professed and deliberate absence in the life of your wife and child.3. Mike Boettcher had not inserted himself into this movie so much.The real story of this documentary is found in the second half of the movie, but Mike Boettcher keeps inserting himself into the powerful narrative the footage is telling in really inappropriate ways - like the continual talking head shots of himself explaining how the fighting was effecting him, and often in a tone that felt really forced and possibly even contrived.All we really needed from Mike Boettcher was for him to shoot the footage, weave it together into a coherent narrative, and then narrate the story of the fighting men - rather than to keep telling us about himself over and over again.It's a real shame, because he definitely shot some really amazing footage here, and there is a powerful and very moving story to be told about the courage of these fighting men, and the truly ugly awfulness of futile wars.If you can hang around for the second half, and you can get past the weaknesses, there is a really powerful story found in the second half of this movie - which would have been made great if Mike Boettcher had removed his own story from this documentary and instead devoted that time to telling more of the story of the fighting men we journey with in the second half of this movie.
More
For those of us who are civilians, this is as close as we're going to get combat. Considering what you'll see, that's still almost too close.This is a war documentary, not a war movie. I sincerely appreciate that it's on the big screen and not Discovery Channel or the former Military Channel. It has that "Iraq Diaries: Alpha Company" vibe to it...with a bit more danger. I'm also reminded of Sean Parnell's "Outlaw Platoon" memoir.I'm glad I saw it, but it weighs heavy.As an Army daughter, Navy wife, and Marine mother, I have the utmost respect for our Armed Forces. This documentary also shares my respect.
More