Watch The Mask For Free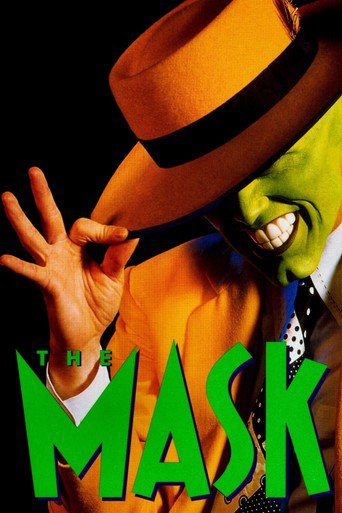 When timid bank clerk Stanley Ipkiss (Jim Carrey) discovers a magical mask containing the spirit of the Norse god Loki, his entire life changes. While wearing the mask, Ipkiss becomes a supernatural playboy exuding charm and confidence which allows him to catch the eye of local nightclub singer Tina Carlyle (Cameron Diaz). Unfortunately, under the mask's influence, Ipkiss also robs a bank, which angers junior crime lord Dorian Tyrell (Peter Greene), whose goons get blamed for the heist.
... more
Overrated and overhyped
More
The film makes a home in your brain and the only cure is to see it again.
More
A story that's too fascinating to pass by...
More
This movie feels like it was made purely to piss off people who want good shows
More
The Mask is both a different kind of comic book movie and hero! If he is even a hero is debatable, but he IS the protagonist of the film! There is no life changing accident that makes him a hero or a loss that sets him on a path of the grim and dark anti-hero! His life isn't too great before getting the titular mask, but nothing is truly awful either. When he wears the mask he receives some awesome powers and turns into an exaggerated version of himself(or Jim Carrey) an overly hyperactive jester with a broken heart(or a lonely heart at least) and then the fun begins... And it is fun, this movie is outrageously fun and thoroughly enjoyable!
More
I know it's meant to be cartoony but I thought it was just stupid and so unfunny. The one star is for Cameron Diaz, who was awesome as usual.
More
Cameron Diaz debut and movie that made Jim Carrey superstar. Cult comedy and one of favorite movies in my youth. For its time it had spectacular special effects and it's one of biggest blockbusters of 90's, cause with 20 million budget it earned over 350 million. From today's perspective it's not quite a masterpiece, but it is pretty much fun and dear memory.7,5/10
More
Bank clerk Stanley Ipkiss is transformed into a manic superhero when he wears a mysterious mask. The Mask is my 2nd favorite Jim Carrey film and i love it because each time i watch it it brings back so many great memories from the 90's it's funny, it's full of heart and adventure and even Cameron Diaz is good in the film except hot too. The best scenes of the movie for me are all around Stanley himself he is dancing, singing, makes weird cartoony and goofy faces, he has like 50 guns in his pocket and he can change clothes anytime he wants to also the villain in the end turns into The Mask too and he looks goddamn creepy it's a shame that they never did a proper sequel and not a cash grab awful straight to DVD sequel that makes you hate the name of the film but anyways The Mask is still an Amazing Film.
More