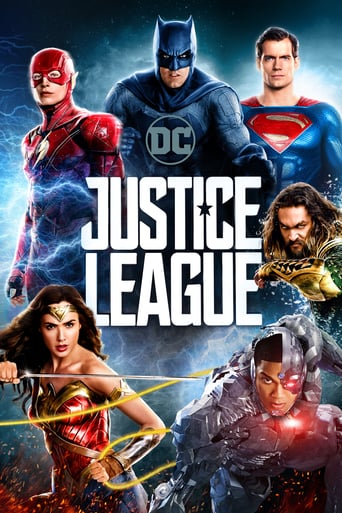 AD:This title is currently not available on Prime Video
Justice League (2017)
AD:This title is currently not available on Prime Video
Fuelled by his restored faith in humanity and inspired by Superman's selfless act, Bruce Wayne and Diana Prince assemble a team of metahumans consisting of Barry Allen, Arthur Curry and Victor Stone to face the catastrophic threat of Steppenwolf and the Parademons who are on the hunt for three Mother Boxes on Earth.
...
Watch Trailer
Show More
Cast
Similar titles
Reviews
Very disappointing...
More
The film never slows down or bores, plunging from one harrowing sequence to the next.
More
While it doesn't offer any answers, it both thrills and makes you think.
More
The tone of this movie is interesting -- the stakes are both dramatic and high, but it's balanced with a lot of fun, tongue and cheek dialogue.
More
I can surely say that: this is better than other DC movies
More
Any super hero movie needs 3 things - a good script/story, good acting, and great CGI. This movie had none of these things. The only actor that did a decent job was Ezra Miller as The Flash, all the others were truly horrible and stiff. The story was lame and the attempts at humor fell flat 90% of the time. The scenes did not flow, no continuity. Finally, the CGI was by far the worst of any hero movie I've seen in years. The bad guy, Steppenwolf, looked like stepped right out of a video game. I give it a rating of 4/10 solely on the better action scenes. I am baffled how Marvel can do these films so well and DC so poorly.
More
This movie is utterly disappointing. there is no strong plot, no good acting, and nothing to make audience interested in continuing watching it. i dont understand why Aquaman was recruited when there was no fight underwater and I think flash was being unnecessarily funny because they just wanted to have some humor like avengers. Although Avengers is totally out of justice league' league.
More
Yup. This movie is Superman-centric and should've been a treat to watch for all Superman and DC fans but instead turns out to be excruciating due to none other than the cringe-worthy CGI on Henry Cavill's face! For what is Henry's most iconic role in his career history, DC and Superman screwed up by trying to hide a moustache with CGI than putting one for the other film he was keeping it for! Simply moronic on the part of both leading to fan dismay of epic proportions.The film is "dark" as are all DC films which should'nt be taken as a positive thing by the studios. They did include deliberate humour in this one and the unexpected one with another huge CGi blunder in Flash's paralytic run. All DC heroes play their part and there's not much to complain on the action scenes which are sequenced well. Gal Gadot is pure-grade eyecandy as usual. Jason Momoa is a very convincing Aquaman. Nobody plays an incompetent aging Batman than Ben Affleck. Ezra Miller and Ray Fisher do their bit as supporting cast. Amy Adams as Lois Lane needs to be replaced for being less than mediocre. The dumb-foolery continued with a complete CGi villain Steppenwolf who looks fit for a low-budget horror film than a $300 million budget DC movie.The saving grace for most DC fans is in the accurate depiction of Superman's unmatchable strength and superpowers compared to the rest of the justice league and the villains. This is superbly demonstrated in both Superman's resurrected confusion and the climax where he makes his presence pretty strong. Ben needs to be replaced as Batman. Maybe a fitter and more skilled Scott Adkins could fit in as Batman to match Henry's stature. Henry and Zack could've done a hell lot better when planning this one. Probably nowhere in movie history has a moustache been such a letdown.
More