Watch Kill Bill: Vol. 2 For Free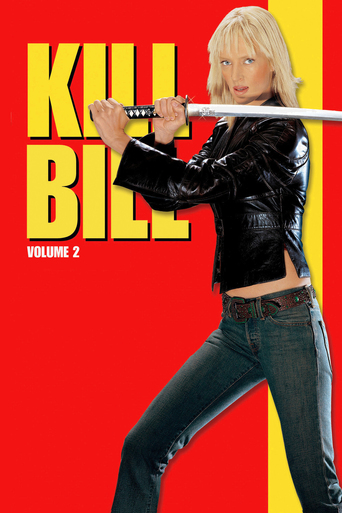 The Bride unwaveringly continues on her "roaring rampage of revenge" against the band of assassins who had tried to kill her and her unborn child. The woman visits each of her former associates one by one, checking off the victims on her Death List Five until there's nothing left to do … but kill Bill.
... more
Simply A Masterpiece
More
While it is a pity that the story wasn't told with more visual finesse, this is trivial compared to our real-world problems. It takes a good movie to put that into perspective.
More
A great movie, one of the best of this year. There was a bit of confusion at one point in the plot, but nothing serious.
More
The biggest problem with this movie is it's a little better than you think it might be, which somehow makes it worse. As in, it takes itself a bit too seriously, which makes most of the movie feel kind of dull.
More
I personally really enjoyed Kill Bill: Vol. 1. It was full of well written dialogue, featured good performances, and was very entertaining. All of the same things are true for this sequel, although it's not quite as good as the first movie. The cast is a lot of the same, Thurman, Carradine, Hannah, and Madsen are all back and all turn in great performances. Thurman's character is now focusing on the three remaining people that are left on her quest for revenge. I want to focus on these three individuals separately. First, is Michael Madsen. He plays his character very well, he is not very fanatic, he's pretty laid back and chill most of the time, and in a way that makes his character more menacing, because of the ease that comes with his actions. He was a great choice for his role. But ya know who was the absolute perfect choice for their role? Daryl Hannah. Hannah plays Elle, the one eyed ruthless assassin. I adored her performance, she really gave it her all. I was transfixed by her acting ability here, especially since it's a pretty unusual role for her. And of course Thurman was just amazing in the lead, just as she was in Vol. 1. I do suggest this sequel, but only if this is your kind of movie and only if you liked the first film. Well written dialogue, fine performances, and a lot of great action. 8/10.
More
With this film Quentin Tarantino concluded his 'Kill Bill' epic. The decision to do this as a two-parter was because the material he amassed for the project soon became so sizeable that it became impractical to release as a single film; both movies combined clocked in at over four hours. At the time, Tarantino was such a powerful director that he could essentially do what he liked and this two volume offering is certainly self-indulgent. I've always wondered if, with some editing, there was maybe one excellent film in here as opposed to two good ones. But that is strictly by-the-by now and what we have is two entertaining, if uneven, films. For my money, part one is the superior entry but I still think vol.2 still offers a lot of enjoyment. Where Tarantino's 90's films integrated their movie references and numerous homages into their overall crime stories quite seamlessly, his post-millennium efforts have tended to include them often just for their own sake. This has tended to make his films from this later period feel like the sum of their parts outweighs the whole and overall I have usually felt that they, while often exhibiting directorial and screen writing excellence, often include frustrating moments of inanity. The 'Kill Bill' films display these faults too I think but also the considerable directorial, and to a lesser extent, screen writing skills of its creator. With this entry the Bride continues on her revenge mission against her former colleagues from the Deadly Viper Assassination Squad. We learn more about the infamous incident where they carried out a murderous assault on her and her wedding party. We also finally meet Bill for the first time and better understand his relationship with the Bride.In this entry Tarantino specifically pays homage to the action films of both the east and west, specifically the chopsocky and spaghetti western sub-genres. To this end we have an extended training sequence where the Bride is taught by a martial arts expert, while we also have much Ennio Morricone music on the soundtrack and a cowboy villain to boot. The 'Kill Bills' were probably the least interesting dialogue movies Tarantino has ever delivered, they are much more minimal in this department and much more interested in visuals and action. The writing is still good enough though and more important in the second part than the first certainly. David Carradine finally appears as Bill, I remember thinking at the time that it felt like an eternity before we finally saw him which was as much to do with the idea of this film first being mentioned shortly after Tarantino completed Jackie Brown (1997), so it was a good six or seven years between then until we finally saw Bill on screen in this movie. It was an epic amount of time but Carradine is certainly a good choice in the role and it was nice to see a true b-movie actor get such a prominent billing (no pun intended). The rest of the cast do fine but this is less of an actor's movie than Tarantino normally delivers, it's far more about the overall spectacle and set-pieces. I would probably be inclined to rank this one as the least of Tarantino's movies so far, although that is admittedly a relative statement as I still was very entertained by it.
More
In this story the bride is back to seek revenge, still three people were left. Fist she wanted to revenge a man named Budd, next An one eye woman and finally Bill. I think this movie was better than first part. I like the funny sequences. I think this is a wonderful action movie. I suggest everyone to watch this movie.
More
While 'Kill Bill: Vol. 1' was a masterfully directed, action-packed, humorous venture, 'Kill Bill: Vol. 2' is a masterfully directed, action-packed, humorous, emotional journey. In my review of volume 1 I briefly mentioned that the characters and their relationship with each other was what Tarantino really wanted us to relish. All the gore and the over the top action sequences (that really dominated the first volume especially) were just the icing. This time around, Tarantino builds on the tone that has been already set in volume 1 and gives much more importance to the ugly yet beautiful, hostile yet loving, relationship between the characters.There is nothing much to say here other than to acknowledge the genius of Quentin Tarantino and his deep understanding of the art of filmmaking. And of course Uma Thurman. Her magnificent performance made sure that the movies exaggerated tone was not to distract the audiences from the heartfelt story it was trying to narrate. 'Kill Bill: Vol 2' is a brilliant movie which I felt was superior to the first.
More