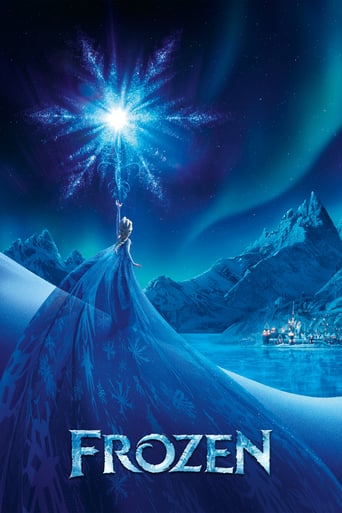 AD:This title is currently not available on Prime Video
Frozen (2013)
AD:This title is currently not available on Prime Video
Young princess Anna of Arendelle dreams about finding true love at her sister Elsa's coronation. Fate takes her on a dangerous journey in an attempt to end the eternal winter that has fallen over the kingdom. She's accompanied by ice delivery man Kristoff, his reindeer Sven, and snowman Olaf. On an adventure where she will find out what friendship, courage, family, and true love really means.
...
Watch Trailer
Show More
Cast
Similar titles
Reviews
To me, this movie is perfection.
More
the audience applauded
More
Easily the biggest piece of Right wing non sense propaganda I ever saw.
More
This is one of the worst animated films Disney has turned out. The voice acting and animation is good but that's about it. The story felt boring, the writing was ok at best and was pretty much a darker version of Tangled. Speaking of which, the tone felt way too dark and inconsistant and ruined the movie entirely. However the worst bit was the songs. Yep, I know you like the songs to the movie, but for me after a while, it got so annoying up to the point that I gave the DVD away. They still annoy me to this day. Overall this is not a good movie, If you want a great film like this, watch Tangled, not this. (P.S The Lego Movie deserved the Oscar, not Frozen)
More
I love this film so much it always cheers me up on a bad day, I never get bored of it, olaf in my opinion is the beat Disney character ever made. I'll never get sick of this film
More
I saw Frozen about a year after it was released. I was curious to see what all the hype was about, and why everyone was so obsessed with it.My reaction after watching it: THIS was the movie everyone was so obsessed with?Don't get me wrong, it's a good movie. The music wasn't to great, but the CGI was drop dead gorgeous. The plot, while underdeveloped in some areas, was great in others. Hans, I'm looking at you.But it didn't deserve all the hype that it got. People treated it like it was somehow better than the lion king. When the merchandise was released, it made insane amounts of money, doing better than the lion king in terms of overall box office.I don't think it deserved that. I think it should have looked more like Moana in terms of success. It did good, but not incredibly spectacular. It's a very rare example of a good overrated movie.
More
Disney have this structure hands down, they've been doing it for decades. Yet, every so often, one of their animations glisten like a snowflake in the cold breeze. Frozen is just that...but not without some frosty flaws. An adaptation of 'The Snow Queen', Anna and Elsa are housebound in their castle as a result of the latter's cursed icy elemental power. Believing she is causing more harm than good, she flees her kingdom in a bid to "let it go" by creating a crystal staircase to her ice shard castle adjacent to a snowy mountain peak. Why? Because it makes excellent staging for THE song. Every musical has one number that trounces the rest, the sole melody that will haunt your mind for the next five years. Radio stations played it, children listened, they sung it, you probably sung it and most likely your pet dog too. "Let It Go" is what makes Frozen...Frozen! And I'll stand by the fact that I still jumped out of my seat and launched my arms with honour and valour as I belted out the tune with an almighty roar. Oh, and umm...the film is good too. The message of "be yourself" is loud and clear, perhaps delivered slightly heavy handedly, but the sense of grandeur that this film withholds is quite extraordinary. It's a big epic tale filled with innocent princesses, an annoying talking snowman (seriously...urgh), handsome men with noble steeds, or reindeers in this case, and plenty of snow for an ever lasting winter. Classic Disney characters bolstered by a lukewarm script that makes you smile and feel emotionally vulnerable. The animation was simply stunning, particularly the finer details like Elsa's costume transition. Much to my surprise, there is actually a twist! And one I didn't see coming!? Props for pulling it off, did the film necessarily require it? No. But it definitely turned up the heat. I do find that Disney force irritating anthropomorphic characters just for the sake of keeping children amused, I welcome Olaf to the arena. Honestly, wasn't amused. However, Frozen may just be Disney's best musical, but not the best film.
More