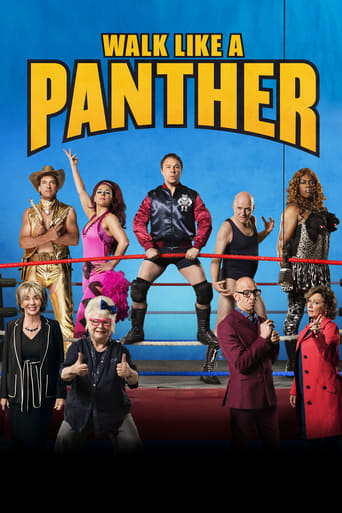 AD:This title is currently not available on Prime Video
Walk Like a Panther (2018)
AD:This title is currently not available on Prime Video
A group of 1980s wrestlers are forced to don the lycra once last time when their beloved local pub is threatened with closure.
...
Watch Trailer
Show More
Cast
Reviews
Very good movie overall, highly recommended. Most of the negative reviews don't have any merit and are all pollitically based. Give this movie a chance at least, and it might give you a different perspective.
More
The acting is good, and the firecracker script has some excellent ideas.
More
A clunky actioner with a handful of cool moments.
More
Through painfully honest and emotional moments, the movie becomes irresistibly relatable
More
I try and find the good in anything I watch, i have met my match with this. I have no idea why such a Steller cast signed up for such a weak, and uneventful script. No laughs, no drama, no point.
More
Shockingly bad. Boring and unfunny with a screenplay fit for a poor school production ( and that's insulting school plays).. My friend walked out halfway through and I should have gone with him. One of the worst bits of screen writing I've ever come across
More
This is one of those community spirited films in the manner of The Full Monty, and the Ealing comedies, that British film makers often do (but don't always do particularly well). A fairly formulaic plot of 'let's get the old gang back together for the one last tilt at the establishment' is brought to life by some good acting and some very likable, and in some cases eccentric characters. It's not full of belly laughs, but you can't help but have a smile on your face much of the time. Stephen Graham, Julian Sands, Steve Furst and Jill Halfpenny all turn in great performances (Jill Halfpenny in particular), and there's some lovely Yorkshire scenery to enjoy.
More
This film will not appeal to the interests of the general public unless British 80's wrestling is your passion. This films plot is very strange. It starts off with lots off old people beating up a chav and then they go viral on YouTube. These old people are x-wrestlers from the 80s none of the characters are really believable except from the dad of the main character who is not an x-wrestler. They all feel like bad cartoon characters. The manger character and the villain wrestler are the worst for this although unlike the manager character who is just annoying the villain character is actually one of the few that made me laugh at his jokes/action in a way that wasn't because of how bad and cringe it was.There is a redeeming feature to this film from the side characters the two trainee security guards are the funniest characters in the film even with the little screen time they got and made me bump my rating from a 3 to a 4 single handedlyIn the end of the film the annoying chav from earlier becomes good for no reason and the boring main character gets scouted to live out his dream as a precessional wrestler, these are both very unrealistic and come out of nowhere Overall there are definitely better films to see and you won't miss anything from this film by not seeing it although it is not 100% rubbish
More