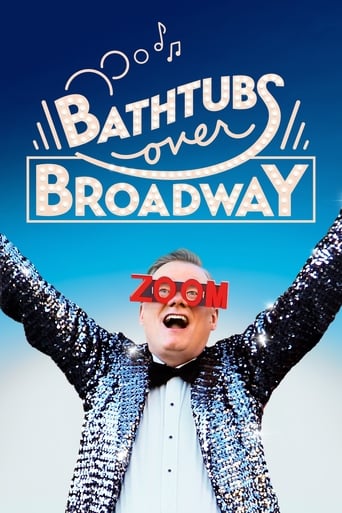 AD:This title is currently not available on Prime Video
Bathtubs Over Broadway (2018)
AD:This title is currently not available on Prime Video
When he started as a comedy writer for the Late Show with David Letterman, Steve Young had few interests and not many friends outside of his day job. But while gathering material for a segment on the show, Steve stumbled onto a few vintage record albums that would change his life forever.
...
Watch Trailer
Show More
Cast
Similar titles
Reviews
The first must-see film of the year.
More
There are moments in this movie where the great movie it could've been peek out... They're fleeting, here, but they're worth savoring, and they happen often enough to make it worth your while.
More
An absolute gem. These arcane industrial musicals aren't particularly compelling, but the stories behind them are fetching, lovingly told, and peppered with sweet reveals that sneak up on you and steal your heart. The finale features a life lesson that is inspiring and pitch perfect.
More