Watch Mammoth For Free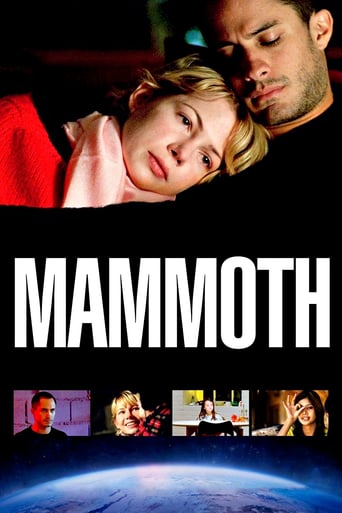 While on a trip to Thailand, a successful American businessman tries to radically change his life. Back in New York, his wife and daughter find their relationship with their live-in Filipino maid changing around them. At the same time, in the Philippines, the maid's family struggles to deal with her absence.
... more
Very best movie i ever watch
More
I enjoyed watching this film and would recommend other to give it a try , (as I am) but this movie, although enjoyable to watch due to the better than average acting fails to add anything new to its storyline that is all too familiar to these types of movies.
More
Unshakable, witty and deeply felt, the film will be paying emotional dividends for a long, long time.
More
Mammoth (2009)The symbolism of the title will escape most people (it did me), but it literally shows up in an expensive pen with mammoth tusk inlays. This pen crosses a border of wealth and culture that the characters of the movie can't ever cross. And yet the lives of all the many different narratives interwoven here are perfectly parallel.But we know that parallel lines by definition never meet, even if they seem to in the distance down the tracks.The three or four narrative threads are relatively independent even if they relate completely in theme (and in some small direct connecting way) to each other. It's a little like "Babel" in that the stories are literally worlds apart. Central is the New York City couple with the two main stars, computer games analyst (Gael Garcia Bernal) and his emergency room surgeon wife (Michelle Williams). They have a child who is mostly taken care of by a live-in nanny, a Filipino woman with children of her own left behind in her home country.The third locale is Thailand because Bernal goes there on a business trip, and while he's there he has a kind of epiphany about the meaning of life. That's where the pen takes on a brief life of its own. The epiphany, like many revelations for all of us, is short-lived, too, and I think that's part of the idea. We all strive, we all have good intentions, but really nothing quite adds up. What figures most in all of the stories are the children--not least the cute and precocious New York City girl. The children of the nanny and the child of a Thai prostitute who has a slightly caricatured but important role also figure in. If the parents are doing what they can for their children, they are also even more doing what they can for themselves. And sometimes it seems like survival, but of course, survival how, at what economic level? Would it be better in fact to not prostitute yourself (as a nanny, for example) simply to get ahead? Or is this the only way to give your children something you don't get for yourselves.All of this is in the movie. It's intense, it wants to say a lot. And in some way it does. There is some sense that it doesn't always quite click, as if there are things the director could have pushed--or pulled--for greater effect. This isn't something to really judge from the outside, but it's not a masterpiece, which requires some other kind of aesthetic elevation. But it's really good, very good, a movie to see. See it.
More
like many others. a trip . like a lot of movies. a new Babel. but in specific way. a poem. about maternity, search of sense and broken bridges of soul. nothing more. story of three mothers in different places of world. and same problems, answers and tragedies. like game of mirrors. like hided arena.a young man in Thailand. his questions, quests and discoveries. and a strange pen. nothing else. a puzzle and definition of globalization fruits. or only reflection of same need of sense who makes heart of every society. who makes hours, months, years, decades of each man and woman.the axis of that heart is always the child. a child. who may be promise for better life. who must be legitimation of present sacrifice. who gives force in every difficult moment. a prey, a pray, a promise and perfect victim.so, the virtue of film is game of nuances. delicate. subtle. cruel. and wise. far from a moral lesson. but, with a very good cast, a letter to public.
More
There are many aspects that make this film special starting from the its use of clichés and the extent it destroys the popular images of this millennium. One significant and courageous point is the way it tears down the adorable Internet geek image. Recently, Hollywood has produced a great number of youngsters, a generation of movie goers who want to become a Mark Zuckerberg or Steve Jobs one day. Nonetheless, the other side of the coin is not that bright or desirable. Mammoth introduces Leo Vidales, the millionaire geek with all his immaturity and weakness, with his ultra shallow personality and his conscience per diem. Globalization rapes the world, devastates the life of the nanny, and enables a heartless brat like Vidales a millionaire live his life with a descent surgeon wife and a pretty kid. Actually, he is a kind of rapist when he talks about doing charity, when he talks about his fantasies of going to India or Africa with Cookie, when he wants to act like a free - souled hippie who he could never be. He rapes other people's dreams and innocent public images. However, after 2 hours we see him at his Manhattan home, safe and sound, enjoying the peace he himself never deserved.Mammoth of Lukas Moodysson runs for the cold truth. Except one detail, Salvador would have known. He would have known what could happen to kids when they talked to white foreigners out there. Every Filipino kid know without their grandmas telling. They watch the news on TV, they read the papers, and yes they have friends with sad and scary stories. Moodysson skipped this fact. Maybe despite all his good efforts, he is still too white for the realities of East Asia.
More
This movie attempts to comment on the sorry state of parenting today. Unfortunately the characters are written and delivered in a ridiculously unbelievable way. I didn't buy one minute of it. The story is about how parents abandon their own children for ostensibly good reasons, but the results are always bad. There's a husband and wife who are high powered professionals. They have delegated their parenting to a Phillipino nanny. The nanny has abandoned her children to come to the U.S. so that she can send money back to the Filipines to pay for a cement house she's having built. This IS a story worth telling. Unfortunately these characters are presented in a TOTALLY unbelievable way. Mostly this flaw manifests itself through Michelle Williams and the Spanish guy from "E Tu Mama Tambien" who plays her husband. I don't think they give "bad" performances. I think they gave the wrong performances, for this story, and this film. And that, I will lay at the feet of the director, whoever he or she is. I could care less to look it up right now. It takes a lot to take the time to write a bad review for a bad movie after you've just wasted 2 hours of your life that you'll never get back. But if one person reads this two minute review and decides not to watch this movie, I'll consider my time well spent. The last thing I'll say is that this film could have been salvaged with a complete re-write from the scene at the dump through to the ending. They wouldn't have had to change the ending. Just everything in between those two points. Instead it just nose dived from there to the last frame. Don't waste your time.
More