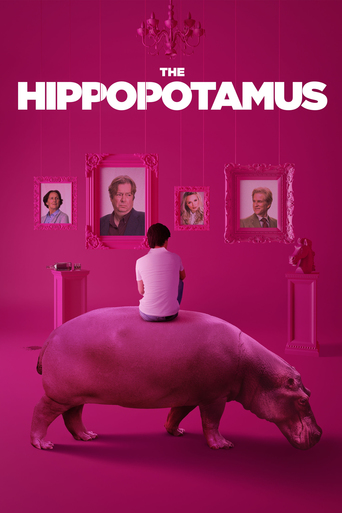 AD:This title is currently not available on Prime Video
The Hippopotamus (2017)
AD:This title is currently not available on Prime Video
Disgraced poet Ted Wallace is summoned to his friend's country manor to investigate a series of unexplained miracles.
...
Watch Trailer
Show More
Cast
Reviews
It is not deep, but it is fun to watch. It does have a bit more of an edge to it than other similar films.
More
Ok... Let's be honest. It cannot be the best movie but is quite enjoyable. The movie has the potential to develop a great plot for future movies
More
A drunk, washed-up poet is hired to solve a family mystery.The main character is a highly literate pompous old fellow struggling with his own existence. A lot of the comedy comes from him insulting people using very long words, which I found very amusing.There is not a lot to this movie. Don't expect dramatic plot twists, edge of the seat action, moving performances or fire works of any kind. But this film achieves what it sets out to do perfectly!This film is gentle, interesting, funny and quite refreshing.This is definitely a Sunday afternoon watch, but for that time slot it is perfect! Production, acting, script are all exceptional!This film hasn't tried to reach too far and it pays off dividends.Watch this after your Sunday roast with a drink for a perfect afternoon.
More
Hippopotamus is an adaption of a novel written by Stephen Fry, which by credit to whomever chose the cast, became obvious within ten minutes into the film when Ted Wallace, played by Roger Allam, affirmed his character so well as to have an essence of Stephen Fry's grandiloquence emanate through his role. For that reason, this film would certainly be recommended to any fans of Stephen Fry, himself. The quality of which, between the book itself and the film, must forgo to others more competent as book reviewers rather than film, as I, myself, thoroughly enjoyed the more eloquent use of language, as expected from a book, whilst a cast, of whom were capable of the eccentric roles which were required from them, were perfectly matched to the script. Bringing together a film, which by today's standards, is a phenomenal increase in the use of grammar with a visual display to aid the story onto the screen. The story revolves around a supposed miracle of which Ted Wallace (Roger Allam) is employed by Jane Swann (Emily Berrington) to witness for himself but yet opposes throughout. With such opposition, the film becomes an Agatha Christie Poirot mystery with all the clues just need piecing together to figure out if indeed this was a film, as one would watch at Christmas, with all the miracles of hope and joy, or if, by going against the grain of human emotion, reason and logic would succeed to answer the inexplicable. Much to my disappointment was that a search for more adaptations of Stephens Frys books led to zero.
More
This trifle fails to convince. The story is contrived and the deus ex machina is not appealing. Throw in a bit of raunchy teen-cream excitement to attract voyeurs, and there you go. The performances are good, although each character is stock. If you're on a plane this is worth seeing but don't pay for it.
More
I was worried I might be disappointed by this movie because of the negative reviews, but that worry was ill-founded. I thoroughly enjoyed it from start to finish and thought it well-found the balance between absurdity, pathos and grit. I could hear the literary voice of Stephen Fry throughout, especially in the outpourings of the protagonist. The words sizzled and danced and revealed a certain realistic sensitivity. I am not associated in any way with anyone involved in the film.
More