Watch Planet Earth For Free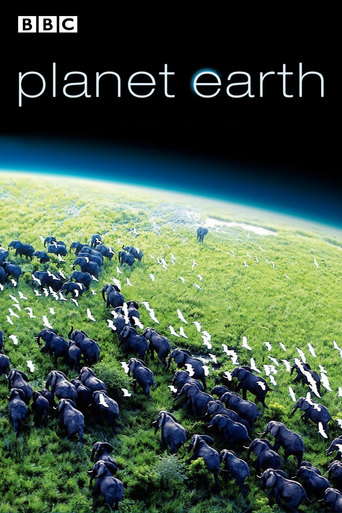 A documentary miniseries described by its makers as "the definitive look at the diversity of our planet". Each 50 minute episode features a global overview of a different biome or habitat on Earth (Polar, Mountain, Cave, Desert, Plains, Fresh Water, Seas, Ocean, Forest), followed by a ten-minute featurette which takes a behind-the-scenes look at the challenges of filming the episode.
... more
Too many fans seem to be blown away
More
Surprisingly incoherent and boring
More
I like movies that are aware of what they are selling... without [any] greater aspirations than to make people laugh and that's it.
More
The movie turns out to be a little better than the average. Starting from a romantic formula often seen in the cinema, it ends in the most predictable (and somewhat bland) way.
More
Film is well made, sure. But I find nothing entertaining about watching big animals kill little animals. And that is half the filming here is. Sorry, not for me.
More
What do I consider when I rate an episode of "Planet Earth"? The narration (David Attenborough may as well be God), the quality of the cinematography or scenery captured (11/10), the musical composition that gives John Williams a run for his money, or the truly intriguing glimpses into the lives of other animals? If so, "Planet Earth" is pure magic on all fronts. I'm pretty sure I cried during the first episode. I love watching "Planet Earth". I've seen the series maybe half a dozen times from start to finish. I especially love watching it in a library when everyone else is supposed to be studying because at least then people consider it to be entertainment, when otherwise they might ask me why I watch a nature documentary series in my free time (certainly not the sentiment in the United Kingdom, where we religiously watch Attenborough's nature shows, but elsewhere I have encountered inquisition over my watching of documentary programs). Anyway, the show is amazing. Truly. I have only great things to say about the show as a whole, so watch it.
More
According to IMDb trivia: "The project took 40 camera teams shooting at over 200 different locations all over the world for more than five years." I really think this says it all. After all, instead of the usual documentary where one or two cameramen shoot some nice animal footage, this one goes way, way beyond. In addition to the best footage you'll ever see in a documentary, you are also treated with terrific time-lapse footage, video from airplanes and it's all in glorious HD. Add to this the wonderful narration by David Attenborough and you have the very best nature series ever. In fact, other shows just don't even come close. A visual treat not to be missed--chocked full of so many WOW moments!
More
This series is probably one of the best series I have ever watched. This fascinating documentary drags me in every time I watch it. David Attenborough's way of explaining of how creatures breed, eat etc is like no other before, he's the best wildlife narrator that will ever live. They spent five years on this wildlife, and I think that it was definitely worth it. It is the most expensive nature documentary series ever commissioned by the BBC, and it was the first ever in high definition. So really, it set the bar for high picture quality. The BBC did it perfectly in the way of organising it for the episodes, it just flowed perfectly. There won't be another nature documentary like this one.So if you don't watch it, you're missing out massively.
More