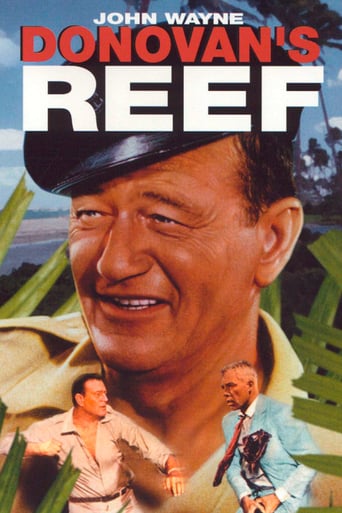 AD:This title is currently not available on Prime Video
Donovan's Reef (1963)
AD:This title is currently not available on Prime Video
'Guns' Donovan prefers carousing with his pals Doc Dedham and 'Boats' Gilhooley, until Dedham's high-society daughter Amelia shows up in their South Seas paradise.
...
Watch Trailer
Show More
Cast
Similar titles
Reviews
Excellent, Without a doubt!!
More
I really wanted to like this movie. I feel terribly cynical trashing it, and that's why I'm giving it a middling 5. Actually, I'm giving it a 5 because there were some superb performances.
More
This is one of the few movies I've ever seen where the whole audience broke into spontaneous, loud applause a third of the way in.
More
It's the kind of movie you'll want to see a second time with someone who hasn't seen it yet, to remember what it was like to watch it for the first time.
More
This film overflows with Ford's traditional manly cuteness. By the time this film was made however, it had all become utterly corny and totally cliche - for example the drunken bar fight that always must include the traditional bits of friends hitting each other for comic relief and the presence of one guy standing calmly as the fight carries on around him. All that is missing is Ward Bond, Victor McLaglen, and Jay Flippen,The story is a bit of a mess. While the main story is a good one, the silliness of the rest of it (which was aimed at society in an age when alcoholism and being falling down drunk was considered humorous) is very hackneyed.In the standard saloon / nightclub scene, had to be in nearly every film of the day, is odd because Dorothy Lamour speaks the lyrics instead of singing them. There are other oddities as well.Overall, the film might have worked in the early fifties, but it doesn't play all that well for modern audiences. As such, it is hard to give it a high rating, particularly in comparison to other films of the day, such as the endearingly funny Cary Grant film, Father Goose, which had a more modern and intelligent style and which shut the door on films such as Donovan's Reef. Considering that the Ford-directed comedy Mister Roberts had been made seven years earlier, it is odd that John Ford would trot out an old-style comedy as late as 1962.
More
This is the kind of movie that after I've seen it, I wonder why it took so long to get around to it. It's not your typical John Wayne movie, and seeing how it was directed by long time collaborator and director friend John Ford, I found the change of pace from their traditional Westerns a welcome diversion. With Lee Marvin in the picture, I had to wonder how the three of them got any work done as all were prolific drinkers, and Marvin in particular seemed to be playing himself pretty much throughout the entire film. I have to say, I never thought I'd see the day, or the movie, in which Edgar Buchanan showed up in a jacket and tie. As the Boston attorney who encouraged Amelia Dedham (Elizabeth Allen) to 'cheat' on a will, he almost looked like an honest to goodness lawyer. Well, maybe not honest. And with Dorothy Lamour on hand in a small but noteworthy role, I was secretly wishing for Hope and Crosby to show up in a cameo appearance. That would have been kind of cool given the tropical setting; Crosby could have sung 'Mele Kalikamaka', a snappy tune that would have been right at home for the holidays in the picture. Once the premise is set with Miss Dedham's arrival on the island, the story becomes fairly predictable, as all the while one is waiting for the big reveal concerning her three young siblings. So most of the fun is seeing how the story gets there with the various diversions offered by Donovan (Wayne) and Gilhooley's (Marvin) annual birthday brawl and the colorful island dances and traditions. The picture reminded me of a 1955 film that also took place on an island, "We're No Angels" starring Humphrey Bogart, Peter Ustinov and Aldo Rey. The trio are convicts who ingratiate themselves with an elderly couple's family after escaping from Devil's Island. Quite coincidentally, that story also took place on Christmas Day and had a roof that needed patching.
More
WOW! There are some movies that from the very start grab you and don't let you go......and this is one of them! Top Marks! First of all,though, if it weren't for the cast, I might have never have bothered with the flick based on the cover art and back of the box (VHS) summary. Many a movie summaries, even when this one was put out in VHS, seem to either be completely wrong about the movie or give away the first half in a few sentences. This summary was the former and it was wrong for it was not a story of two old friendly brawlers competing over the new girl on the island............far from it.The movie is dated. There are points here and there that would be unacceptable in today's politically correct world. Of course, some of them one might have needed to been in nautical service to pick up on. However, perhaps one should take a brief lesson from the flick, if only for a moment in "even though I believe in one, I still respect the beliefs of those before me".It's a tear jerker at times but on a good note. It also brings back personal memories of where the senior government official for an away station would provide narration for the Pageant.Technically, the movie moves smoothly along. There are some non smooth spots such as major players perhaps not being used as much as their fame would have and minor players supporting a particular scene but not much else. That in the latter case, though, is life for one can't be everywhere at once. In either case, they do not detract from the main thrust of the story. Further, the story does not give away all its secrets at once for there are some mysteries that the audience is finding out just about the time, if a little sooner, as the antagonist is.When I watched movies at the theater, there would be often a feeling on exit, blinking in the sunshine, of what a wonderful experience that I just had. This movie has the same, even if I watched it on a large box TV, sitting in a den.
More
*Spoiler/plot- Donovan's Reef, 1963. Life on a Pacific island for two ex-Navy buddies is just perfect, they spend most times at a local saloon, Donovan's Reef. Into this life comes a straight laced Bostonian in search of her physician father, their best Navy island neighbor and friend.*Special Stars- John Wayne, Lee Marvin, Dorothy Lamour, Cesar Romero, Mike Mazurki. DIR: John Ford.*Theme- Shipmates during war make lifelong friends.*Trivia/location/goofs- Island parts of this film were shot on the south side shore of Kauai in Hawaii Islands. John Wayne's eldest son appears (much like in his other films) as a British Navy Shore Leave patrol officer*Emotion- A memorable film for those of us that saw it young in the film theaters. The film is magical and supplies the silliness and fun heroic themes that make a large impression on viewers. It gives you some small taste for the Hawaiian or Polynesian spirit of friendliness and hospitality. This film is great and well worth your time to see it.
More