Watch Hotel Transylvania 3: Summer Vacation For Free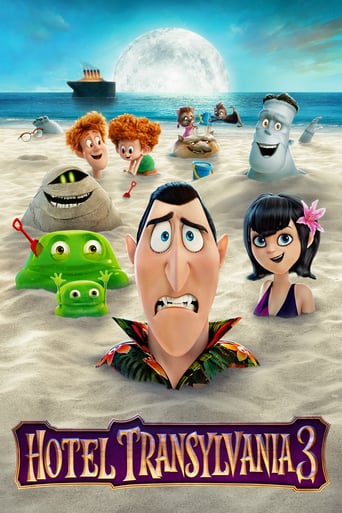 Hotel Transylvania 3: Summer Vacation
Dracula, Mavis, Johnny and the rest of the Drac Pack take a vacation on a luxury Monster Cruise Ship, where Dracula falls in love with the ship's captain, Ericka, who's secretly a descendant of Abraham Van Helsing, the notorious monster slayer.
... more
Too much of everything
More
This movie is magnificent!
More
Such a frustrating disappointment
More
We as a family loved the first two films but this was boring bland and not at all funny the "jokes" fell flat and seemed forced not one person in the cinema laughed all through the film don't waste your time seeing this film
More
This is better than TH2. The comedy was creative and imaginative, the writing was good quality, the style is appealing, the colours were bright and the music was spot on. A good storyline kept me entertained and would appeal to all ages - as would the humour. A great summer film for the whole family.
More
Hotel Transylvania 3: A Monster Vacation: Opens on a pre WW1 train on the way to Budapest, the monsters are in disguise but Professor Van Helsing boards their carriage and a battle ensues which continues in other skirmishes over the decades between Count Dracula and Van Helsing.Back to the present day and the monster staff decide its time for a holiday. The depart on Gremlin Air (possibly based on Ryanair), a broken down prop-plane delivers them to the Devils Triangle where they embark on a Monster Cruise with stops including Atlantis.Great imagery with a truly funny Cthuhluesque creature, a DJ fight and fish servants. Dracula falls for the cruise ship's captain but there are secrets onboard. 8/10
More
Essentially, 'Hotel Transylvania 3: A Monster Vacation (2018)' is the same stuff you'd expect from the series except it's stripped of any semblance of theme and, in essence, even narrative, beyond the absolutely basic, bare-bones and paint-by-numbers plot that's predictable pretty much right down to each overused and almost insultingly banal beat. Thus, all that remains is a seemingly lazy attempt to cash-in on a now well-established franchised, some more popular but utterly irrelevant and, despite their occasionally 'classic' status, out-of-date songs and a 'summer craze' of 'summer fun' that dates back to a brief but ill-fated 'beach party' genre - itself created solely to capitalise on a studio's perception of the widest possible market. This 'vacation' premise simply gives the movie an excuse to show off some unconnected set-pieces to extend its run-time, as it heavily leans on these sequences to provide the, frankly, quite sickening sight-gags (fuelled by bone-breaking animation that, at times, actually made me squirm) and petty puns (which seem to have been ad-libbed in the recording booth to the same silence as that of their eventual theatre audience) that make up most of the picture's supposed humour and replace much of its genuine story. On top of this, the flick's finale and, more specifically, its conclusion are so eye-rollingly nonsensical and unfulfilling that they could easily be considered 'cheats'. However, even for how unbelievably lazy one particular moment is, all of this just makes you repeat the same question you've been asking since you slipped into the half-coma the picture induced about fifteen minutes in: "when will this end so I can just go home?" 4/10
More