Watch The Meg For Free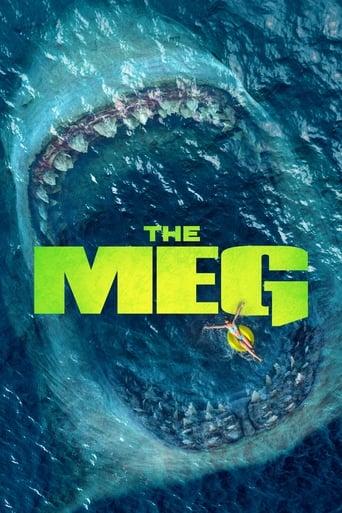 A deep sea submersible pilot revisits his past fears in the Mariana Trench, and accidentally unleashes the seventy foot ancestor of the Great White Shark believed to be extinct.
... more
Great visuals, story delivers no surprises
More
In other words,this film is a surreal ride.
More
In truth, any opportunity to see the film on the big screen is welcome.
More
When you go to movies, you need to 'suspend your disbelief" and have good fun. The Meg is one of those movies you can take your kids too, there are no 'f-words", sex scenes, or anything else that is rude, it's just plain escapist fun for the next 90 minutes or so. I don't understand why some people have to be 'so serious" and pan this movie. We have a great mix of action, scary moments that make you jump out of your seat and some comedy with great one liners. Jason Statham is perfect for the role as the deep sea rescue expert who was drummed out of the military for not saving everyone in a rescue gone wrong because he confronted "The Meg" , a giant prehistoric shark and then things went south, as nobody believed him...now 5 years latter "The Meg" is back to bite everyone in the ass and eat them, and he is vindicated as in "I told you so" and becomes the reluctant hero to save the day. Yes it's cheesy, funny and far fetched but it's great fun, my wife and I enjoyed it along with our friends in a movie night out, well worth the ticket. It's beautifully photographed, the CGI effects are very good and it presents great on the big screen. Go enjoy it, let your hair down, switch of your 'serious switch" and immerse your self in 90 minutes of Jaws with a cheesy twist, super sized and thank God, the Megalodon is extinct...we hope!
More
The Meg is the embodiment of everything wrong with the average shark flick, and yet it manages to sink lower than the bottom of the deepest, bluest sea. Horrible one-dimensional characters, unimaginative cinematography, and a story so surface level it's an insult to the ground floor are only a few of the problems this bottom-feeding film has. This film is incredibly lazy and relies entirely on special effects to carry its paper-thin plot and horrifically uninteresting characters through a mind-numbing two hours.One fundamental flaw that one will notice immediately is the tone, as it's nothing like the trailer advertises. The trailer makes the film seem a lot more wink-wink than it actually is, but there's hardly an ounce of fun to be had in the film aside from a stupid gag with a dog, akin to a certain laughable scene from Independence Day. Most of the film is played straight for the most part, and it's not nearly as over-the-top as a shark movie needs to be nowadays. I mean seriously, you either have to go big or go home, so either go the stupid schlockfest route like Sharknado, or go for more of a serious Jaws approach. The movie is somewhere in the middle and rather than feeling unique it feels like an ungodly chimera that needs to be taken out of its misery. There are many scenes that drag on far too long with people talking and nothing really happening, and since the movie isn't very serious there is never any suspense throughout it.There's also the issue of the violence being toned down by the studio. Jon Turteltaub apparently had to cut many gory moments out of the movie to secure a PG-13 rating for marketing purposes, to which even he was disappointed. What results is a very mild-mannered shark flick that constantly feels like it pulls its punches. Though I'm sure this film toed the lines of the PG-13 rating, it doesn't feel like it, as there's not much to be invested in and the result is low-impact violence that isn't worth its weight in beans.There's a bunch of characters in the movie and none of them have any depth besides trying to be a certain basic template for just about anyone to relate to. The diversity hire aspect is also apparent to an excessive extent here, with some hilariously ironic stereotyping to boot, such as nerdy Asians and a black man who can't swim. There's a clear goal here of getting into China's wallets with some mild marketing to less-profitable minority groups that's only thinly veiled by dumb, likely polarizing humor, given how easily offended radical liberals, i.e. the target demographic, tend to be at immature humor nowadays.I felt the sound design was awful. I was bored out of my mind during what was intended to be the thrilling climax of the film, and it instead felt like a Coldplay music video. The music was not suspenseful or memorable, and dipped between the grating noise and soothing ambience on a whim with a motley crew of instruments all tossed together in a quantity over quality sort of fashion. There are moments in which the music sounds fine, and other moments in which it sounds completely lacking in confidence and desperate to be more grandiose than it truly is. The score wasn't even the problem though, as I found myself crippled with the cringe of the movie being book-ended with a Thai version of "Hey Mickey" just out of nowhere. It left me with an empty feeling inside, of which I would need weeks of counseling to reverse. The applause from the audience rang out like explosions in my brain, leaving me scared and disoriented. The CGI blood on the screen gave me a temporary case of PTSD.The name is also incredibly stupid. I get that the book is called 'Meg,' but that's even worse. The Meg that immediately comes to just about anyone's mind is Meg Griffin from Family Guy, and I don't think I need to explain further why that's an issue. Megalodon is also an incredible title, and is in fact what Mastodon used as a song title one time, and it didn't make people cringe, so that's probably a better route to take.The Meg isn't stupid enough to be entertaining, nor is it self-aware enough to be charming, and it most certainly isn't shot well enough to be exciting. This is a terrible shark film, and it's not like I'm too harsh on the genre either. I'd recommend Deep Blue Sea and Sharknado for dumb fun, and Jaws for a more serious horror film. This movie is basically all the worst elements of the countless shark films that came before it. It barely attempts to cover up its flaws, and as a result just feels like a clear bait-and-switch meant to keep audiences in their seats long enough that they can't get a refund.
More
Quite possibly the dumbest movie ever made. The shark is 90 feet long and its a threat to beachgoers?!?!SPOILER ALERT!!!A 2nd Meg that's even bigger shows up out of nowhere. This movie makes Sharknado 72 sound like a great movie.I'd like to file a lawsuit against the director of The Meg because I'll never get that 2 hours of my life back
More
If you want thriller and cant wait meg is the perfect movie for you
More