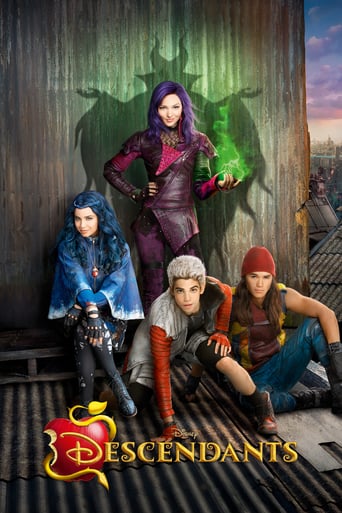 AD:This title is currently not available on Prime Video
Descendants (2015)
AD:This title is currently not available on Prime Video
A present-day idyllic kingdom where the benevolent teenage son of King Adam and Queen Belle offers a chance of redemption for the troublemaking offspring of Disney's classic villains: Cruella De Vil (Carlos), Maleficent (Mal), the Evil Queen (Evvie) and Jafar (Jay).
...
Watch Trailer
Show More
Cast
Similar titles
Reviews
Sorry, this movie sucks
More
It's not bad or unwatchable but despite the amplitude of the spectacle, the end result is underwhelming.
More
There are moments in this movie where the great movie it could've been peek out... They're fleeting, here, but they're worth savoring, and they happen often enough to make it worth your while.
More
I wanna make it very clear that this is a Disney Channel original movie. It is not exactly held to the same level as other movies. I watched this film keeping in mind that it is made for TV and targeted towards children. I will say that I liked the casting, I thought the actors fit their individual roles. Also, the musical numbers and singing is very good mostly. There are a couple of the teenage actors that haven't quite gotten where they need to be as far as singing goes, but Kristen Chenoweth was of course incredible. How could you star in one of the biggest Broadway hits ever and not be superb at singing. So I really enjoyed her and most of the singing. I also liked the character Mal, and I liked Ben too, and their connection. They had great chemistry. The plot is very very predictable, you can for sure predict what is gonna happen next. Of course that is a thing with Disney Channel, so just know that. I think this film is pretty good for a child audience. 7/10 for Descendants.
More
I really loved this movie. It was interesting and had a modern take on famous Disney villains. I really loved the characteristics used in this movie it was visually entertaining to follow the descendants and their story and the difficult things they go through. I personally really loved this movie it had a great plot, great CGI and its a lot better that high school musical. I recommend watching this amazing film it's really entertains and good.
More
Wow, what a great movie!! So, High School Musical is my favorite Disney original musicals. But this is in 3rd place. The concept and story is so cool and I love the chemistry between all the actors. Dove Cameron is so great in this and you really believe in her character as Maleficent's daughter. The songs are great and they are so fun and they are so catchy! I love this movie and I am excited for the second one.
More
OK, I love Disney movies there great I also love Disney channel but this movie was just bad 1.the writing was horrible I felt like their dialogue and jokes were annoying 2.what can I say about these songs there dumb and their voices aren't that good 3. the comedy was bad just bad here is a line from the film ''so in lacrosse you get to steal the ball I like this sport'' that's not even funny 4. the accuracy is so off* Maleficent and the evil queen are both dead*Jafar got turned into a genie*and lady Tremain went to jail
More