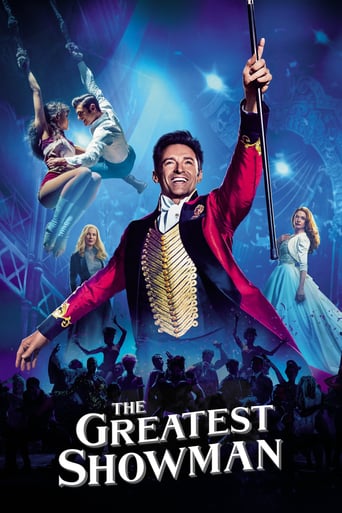 The Greatest Showman (2017)
December. 20,2017
|
7.6
|
PG
|
Drama
The story of American showman P.T. Barnum, founder of the circus that became the famous traveling Ringling Bros. and Barnum & Bailey Circus.
...
Watch Trailer
Cast
Similar titles
Reviews
Absolutely the worst movie.
More
Absolutely Fantastic
More
It is an exhilarating, distressing, funny and profound film, with one of the more memorable film scores in years,
More
The film never slows down or bores, plunging from one harrowing sequence to the next.
More
This movie is a total disaster which starts from nowhere and ends no where. it doesn't have any plot and it fails to connect with the viewers. this movies is a wannabe 'Bigfish' which doesn't even succeed to catch a small prawn.
More
Story is way off the real P T Barnum, but.... forget about him and see the film for what it is, everyone has a fallen into the trap of trying to fit inmore than ever, especially teenagers of today watching this I find that people can enjoy who they are for a little while until they go back into phone zone! 10/10 feel good family film, music was surprisingly enjoyable!
More
Great feel good story, great music, and acting. Incredible sets. Hugh Jackman, Zac Efron , and Zendaya are all outstanding.
More
I'm going to make this review short and sweet. The actors here did their best to tell the story and sing the story of PT Barnum. My problem with this production is they used music from our time now (the style) for times that were happening in the late 1800's and early 1900's. Why not use period music? Totally didn't get that. Even when Jenny Lind sang... she was supposed to sing opera music...she sang a pop flavored ditty. The music did not work...at all. Acting was good and above par...but whoever figured music styles from now would fit into a story back then...
More