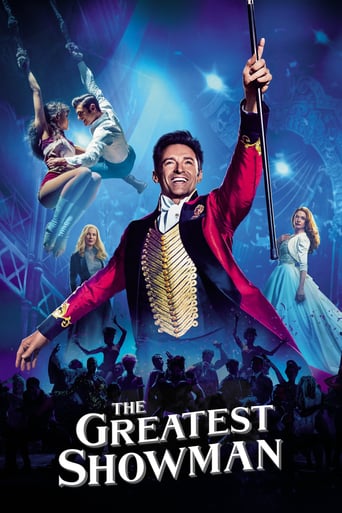 The Greatest Showman (2017)
December. 20,2017
|
7.6
|
PG
|
Drama
The story of American showman P.T. Barnum, founder of the circus that became the famous traveling Ringling Bros. and Barnum & Bailey Circus.
...
Watch Trailer
Cast
Similar titles
Reviews
To me, this movie is perfection.
More
Absolutely Fantastic
More
Exactly the movie you think it is, but not the movie you want it to be.
More
Although I seem to have had higher expectations than I thought, the movie is super entertaining.
More
The movie is so entertaining from start to finish, amazing talent, great songs and singing. The feeling you get from watching this movie is pure happiness!! :)
More
Before watching this movie, I was someone who listened to the critics and based a lot of what I wanted to see on their opinions. This movie changed all that. While it has garnered a mixed review with critics, this movie is widely adored by audiences; guess which group I agree with.First off, let me just say that the music is absolutely STUNNING. My five favorite numbers (in no order) are "The Greatest Show," "Come Alive," "The Other Side," "This is Me," and "Rewrite the Stars." These songs incorporate a mix of Broadway and Pop, and the vocals are absolutely amazing on each and every song!Speaking of performances, they are all outstanding. Zac Efron's return to musicals after the success of High School Musical is well worth the long wait, while Michelle Williams completely took me by surprise with her great singing voice. Rebecca Ferguson and Loren Allred both give Jenny a beautiful voice, but there are three people that steal the show above all the rest: 1) If you're seeing this show, part of the reason why you're seeing it is because of Hugh Jackman; this man truly is The Greatest Showman, and I honestly put his performance here on par with his performance in Les Mis (he seriously should've been nominated for an Oscar here, too); 2) While I never listened to Zendaya's music, I definitely will from here on out. This woman has the VOICE OF AN ANGEL; her performance with Zac on Rewrite the Stars is absolutely heartbreaking and beautiful. Also, for the first time ever, Zac found someone with as much chemistry with him as he had with Vanessa Hudgens; 3) The breakout performance definitely goes to Keala Settle; it is her song "This is Me" that will make you want to get out into the street and start dancing. She has so much power in that voice of hers, and I was so happy to see her perform the song at the Oscars (seriously, this song should've won over Remember Me, and I almost never think that a song should beat out a Disney song).In other words, if you've seen this movie, go and see it. This might just be my favorite movie ever. These guys absolutely hit it out of the park, and if it takes a few years for the critics to realize just how wrong they are, then so be it.THIS IS THE GREATEST SHOW!
More
What else do you need from a musical. Visually and musically Stunning.
More
Story is way off the real P T Barnum, but.... forget about him and see the film for what it is, everyone has a fallen into the trap of trying to fit inmore than ever, especially teenagers of today watching this I find that people can enjoy who they are for a little while until they go back into phone zone! 10/10 feel good family film, music was surprisingly enjoyable!
More