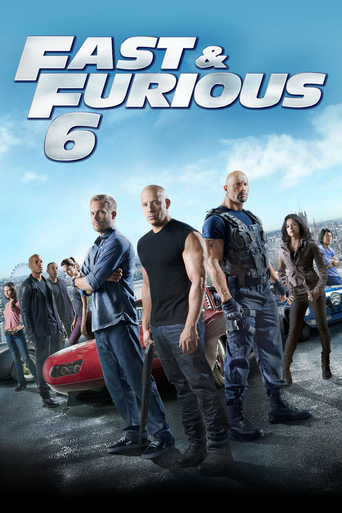 AD:This title is currently not available on Prime Video
Fast & Furious 6 (2013)
AD:This title is currently not available on Prime Video
Hobbs has Dominic and Brian reassemble their crew to take down a team of mercenaries: Dominic unexpectedly gets convoluted also facing his presumed deceased girlfriend, Letty.
...
Watch Trailer
Show More
Cast
Similar titles
Reviews
To me, this movie is perfection.
More
This movie is magnificent!
More
Pretty good movie overall. First half was nothing special but it got better as it went along.
More
Directed by Justin LinStarring Paul Walker, Vin Disel and Dwayne JohnsonPlot Overview: ​At the slight chance of his presumed dead girlfriend to be alive, Dominic Torretto(Vin Disel) gathers his old crew to find his love, and stop terrorist Owen Shaw(Luke Evans).While I did enjoy this, I think that it tried too hard to improve on things that didn't need improving. Granted it helped in some areas, such as the villains, but that doesn't mean everything needed improving. It does have its moments and when it shines, it shines, but it's not as good as 5. It is better than 1-4 and I can recommend you seeing it but I just feel it wanted to go bigger and better but only went bigger, and that thought hurt the film.The story for this movie was over-bloated and it tried to go bigger than 5 but that harmed the movie. I really enjoyed 5 partly because it was Torretto and co doing what they do best and the fact it was just a great, fun heist movie that mixed the franchise up. 6 tried to turn them into international spies which tries to give bigger stakes and make the movies seem more grander than what they are. I do like how they attempt to interconnect all the movies 'individual stories' which one 'overarching narrative' and think it was pretty smart to do so.Paul Walker was decent as Brian O'Connor. Vin Disel was not good as Dominic Torretto and I don't think lightning can strike twice. Dwayne Johnson was great as Hobbs and is still the stand out character. Michelle Rodriguez was fine as Letty but her twist was pretty lazily handled, as far as I'm concerned. Luke Evans was good as Owen Shaw and made Shaw the first good villain in the franchise. Technically, the movie was passable. Some of the effects were pretty great but aside from that the cinematography and whatnot was fine.This movie needed to provide fun action scenes and set pieces. This movie had SIX movies of bad villains weighing on its shoulders and it managed to create a passable villain in the form of Owen Shaw but it still felt like they were trying too hard.In conclusion, this movie has some enjoyable moments and I do recommend you see it but it doesn't hold a candle to 5 but I suppose it couldn't live up to it.7/10Would Recommend
More
I really did not like the first movie of The fast and the furious. I like 2 fast 2 furious. I also liked fast and the furious Tokyo Drift. But this is better. This is a great movie. It has a great story line. It also has great acting. It has a lot of action. Fast and the furious new model original parts is better. Fast five is also better. Furious 7 is also better. 7.1 is a good ratting. But this is such a great movie that 7.1 is underrating it. I give it 8. Because it is a great movie. If you like action movies then you will like this movie. This is a lot better the V of vendetta. It is a lot better then 300. This is better then suicide squad and that is not easy to do. See this movie.
More
The sixth installment in this street racer saga begins with Brian O'Conner (Paul Walker) racing to become a father with Mia (Jordana Brewster). Dominic Toretto (Vin Diesel) has shacked up with Elena (Elsa Pataky). Agent Luke Hobbs (Dwayne Johnson) is on the hunt for a new criminal Owen Shaw (Luke Evans) who has built a crew which includes Letty (Michelle Rodriguez), back from the dead. Hobbs recruits Dom to create a team to hunt down Shaw. With a deal for full pardons and the return of Letty, Dom and Brian agree to work with Hobbs reassembling the team from the previous film including Tej (Ludacris), Roman (Tyrese Gibson), Han (Sung Kang), and Gisele (Gal Gadot). Hobbs's partner Riley (Gina Carano) also joins the group as they investigate Shaw.Their first encounter comes from an informer but turns out to be a distraction for a heist of Interpol. Shaw drives a low-riding, hydraulic vehicle with a sloped front that can flip police cars as he escapes. Shaw's team, somewhat a mirror of Dom's team, includes Vegh (Clara Paget), Klaus (Kim Kold), and Jah (Joe Taslim). Owen Shaw's scheme is to build a technology bomb that could knock out the power of an entire city. They learn about Dom's team as Dom's team investigate Shaw's. Their encounter leads to violent chases through the streets and subway tunnels of London.Check out more of this review and others at swilliky.com
More
I've said it many times before, but one of the main reasons why the F&F movies failed to reach mass appeal before Fast Five was because of their villains. They were always forced to take on low end drug dealers and people who have little to do with their line of work; driving cars really fast and stealing things. With Fast & Furious 6, the team gets to take on Owen Shaw & his own crew, who are equally as good at doing crazy stuff on wheels.Dom regathers his team, including Brian, Han, Gisele, Roman, and Tej, after Hobbs comes to him with an offer he can't refuse. The chance to save Letty from Shaw and take him down, in exchange for full pardons all the way around. After quite a few films on the run and unable to return to his home in Los Angeles, there's no way he could turn down this opportunity, even if it meant going up against his former girlfriend thought dead, Letty. Fast & Furious 6 has even more muscle, explosions, faster cars, and just downright insanity. But it isn't as clean cut or polished as Fast Five. Granted, a movie like this doesn't necessarily need to have a concise story or developed characters, but they've done a much better job at doing those things within the last few films. The 6th film feels a little slower and maybe even a little too long, with the end product still putting a huge smile on my face. But when comparing the two, a second watch definitely exposes some of this film's minor flaws.The one thing this film, and pretty much all of the films since 4, is that each keeps topping itself. Just when you think they couldn't top stealing a vault and dragging across the streets of Brazil, they take down planes with cars. The tone deafness of the series is gone and the new breed of F&F is here to stay. The crazy thing is, you buy into all of it. I bought into the family from the beginning and I one-hundred-percent buy into the series embracing it's goofiness. The film also manages to implement more humor into the 6th film which is something the franchise has been missing. Or at least, humor that actually makes people laugh. I won't count those horrible attempts at humor in the 2nd film.What makes this film stick out his that it's the first time the crew gets to go up against an entirely new crew with the same set of skills. Luke Evans is great as Owen Shaw, The Rock has never been better, and who doesn't love watching Ludicrous and Tyrese Gibson crack one- liners at each other. Better yet, every word out of Vin's mouth is a one-liner. Overall, the ante is once against raised and the series punches its way through another smash hit. Fast & Furious 6 is an insane thrill ride from the beginning to end.+Owen Shaw+Team vs Team+Rock & Vin working together+Always pushing the genre and series to a new level-A bit slower & a tad too long9.1/10
More