Watch The Next Three Days For Free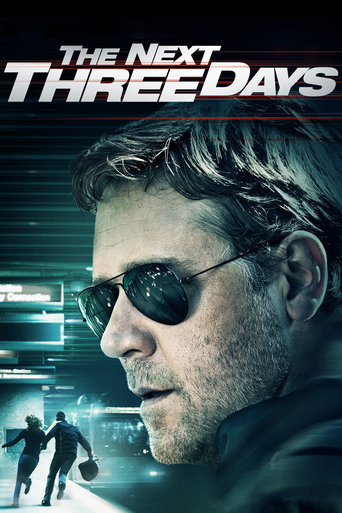 A married couple's life is turned upside down when the wife is accused of a murder. Lara Brennan is arrested for murdering her boss with whom she had an argument. It seems she was seen leaving the scene of the crime and her fingerprints were on the murder weapon. Her husband, John would spend the next few years trying to get her released, but there's no evidence that negates the evidence against her. And when the strain of being separated from her family, especially her son, gets to her, John decides to break her out. So he does a lot of research to find a way.
... more
Long Distance Revolutionary: A Journey with Mumia Abu-Jamal
Long Distance Revolutionary: A Journey with Mumia Abu-Jamal 2013
Rating: 7.8
Sweet Sweetback's Baadasssss Song
Sweet Sweetback's Baadasssss Song 1971
Rating: 5.5
The performances transcend the film's tropes, grounding it in characters that feel more complete than this subgenre often produces.
More
The movie's neither hopeful in contrived ways, nor hopeless in different contrived ways. Somehow it manages to be wonderful
More
A great movie, one of the best of this year. There was a bit of confusion at one point in the plot, but nothing serious.
More
The thing I enjoyed most about the film is the fact that it doesn't shy away from being a super-sized-cliche;
More
An outstanding thriller with solid cast performances throughout. The Pittsburgh setting is a breath of fresh air and the tempo of the movie is its great strength. Moments of touching emotion tempered with fast paced action sequences. The story of an ordinary person put into a vulnerable and dangerous setting is always fascinating. You find yourself thinking, "what would I do in that situation?" There are very few plot holes, if any. No ridiculous special effects or unrealistic fight sequences that plague so many movies in the genre. I decided to buy the French version "Pour Elle" to make my own comparison of the two films. The reviews here that praise it unequivocally and heavily criticise the Russell Crowe version are way off base. the French version is mediocre at best. It lacks realism, the acting is wooden and setting is vague. The police and prison officers are not as intimidating, the parents of the lead actor are weak and the chemistry between the husband and wife is unconvincing. Just because it has subtitles does not make it any better!
More
This movie pleasantly surprised me, I was expecting 2 hours of mindless action when instead I got a great movie with a unique story. This is just my kind of film I have said in the past that stand alone, interesting stories are the best kind of movies and this is one of them. A perfect amount of action blends into the question of did she do it?. This movie kept me guessing and kept me staring at the screen for 2 hours. However like all films it has its draw backs. It does include a couple of scenes that try to show a characters emotions but push it to unbelievable. But thats just a tiny nit pick. I highly recommend this movie.
More
One of the best movies that i ever had! you need to watch the first 15 minute then you will become attach to it! enjoy!
More
** SPOILERS AHEAD **Definitely a nice and enjoyable action thriller. Very well written, directed and played by all main actors. The tension is kept from beginning to end, and there are definitely some smart moves made by the husband John (Russell Crowe). Nevertheless, if the creators did want to try and win some "masterpiece" price, the only single "motive" of successfully managing to fulfill the impossible dream and alter reality should have failed instead of this typical Hollywood "happy ending".For example, the movie could end up more realistically (sorry for that kids...) if when Lara takes her head out of the car, she is killed by the truck, or better - when she and John sit by the car on the highway, they decide to give themselves up. You are invited to see the much better movie - "The Counselor" as an example of such ending when a (future) husband tries hopelessly to save his fiancé, which got a 10 from me.
More