Watch The Next Three Days For Free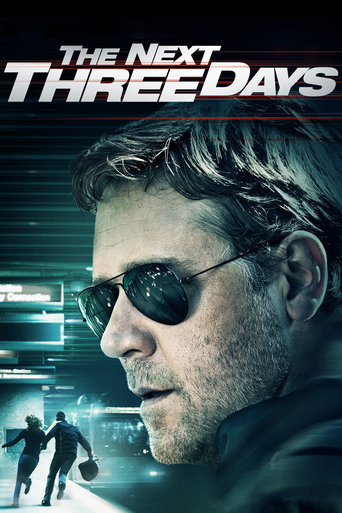 A married couple's life is turned upside down when the wife is accused of a murder. Lara Brennan is arrested for murdering her boss with whom she had an argument. It seems she was seen leaving the scene of the crime and her fingerprints were on the murder weapon. Her husband, John would spend the next few years trying to get her released, but there's no evidence that negates the evidence against her. And when the strain of being separated from her family, especially her son, gets to her, John decides to break her out. So he does a lot of research to find a way.
... more
Long Distance Revolutionary: A Journey with Mumia Abu-Jamal
Long Distance Revolutionary: A Journey with Mumia Abu-Jamal 2013
Rating: 7.7
Sweet Sweetback's Baadasssss Song
Sweet Sweetback's Baadasssss Song 1971
Rating: 5.5
Don't listen to the Hype. It's awful
More
Am i the only one who thinks........Average?
More
Absolutely brilliant
More
A clunky actioner with a handful of cool moments.
More
Movie Review: "The Next Three Days" (2010)Initially being known in Hollywood as screenwriter of fixing high-end production toward decisive story twists, director Paul Haggis presents a fast-tracked U.S. remake of the French thriller "Pour Elle" (2008) in November 2010 to minor success at the domestic box office, even though the leading character John Brennan, performed by nerve-striking actor Russell Crowe, ready to give up everything for self-justice as suggested in an unfortunately cut-up scene with supporting actor Liam Neeson in a coffee shop, who explains the overall necessities of choosing a life on a run in order to bust out Brennan's wife from prison, portrayed by stone-cold chemistry unmatching actress Elizabeth Banks as Lara Brennan, in an accelerating thriller with an mainly hand-held coverage by cinematographer Stéphane Fontaine, who had been unable to stand apart with competent, yet indifferent lighting themes, which comes down to Paul Haggis' direction under pressure, missing out to find poetry in the visuals as in earlier directing efforts, despite one on highway climatic crash scene, where the leading characters answer the subjected question of what it takes to escape the ruins of an deceased family life.© 2017 Felix Alexander Dausend (Cinemajesty Entertainments LLC)
More
Not bad. Russel Crowe's wife, Elizabeth Banks, is sentenced to life for murder. Crowe concocts an incredibly complex plan to break her out of the slams and flee with her and their little son to Venezuela.Crowe is described as a schoolteacher, evidently of literature because he's teaching a class on Cervantes. So here he is, a naive pedagogue, and he escapes with his wife. How, you, the discerning viewer ask? Well, he reads a book about prisons and has a five-minute consult with the guy who wrote the book on prison escapes, Liam Neeson. Neeson has what amounts to a bit part. Only slightly more important are other recognizable names and faces, especially Brian Dennehy and Olivia Wilde, with her hard angelic beauty.The entire movie is a fantasy, of course. Crowe's schoolteacher buys a pistol. ("Show me where the bullets go.") Then he invades a meth factory, steals their cache, kills the main operator, and tries to blow the place up.The final two thirds of the movie are a frenzied chase. Crowe, Banks, and their kid are screeching around the streets of Pittsburgh, trying to elude the police, who are zipping around in their white squad cars and exercising a fulgurating intuition about who's who, what's what, and where -- labyrinthine enough to lose me from time to time.If you strip the story down to its bare bones -- rid it of modern devices, crashing automobiles, and exploding fireballs -- what you get is an old-fashioned film noir plot, and an exciting one. A brooding question hangs over the mystery -- did Banks actually commit the murder? After all, she says she did.The moral of the story: It appears to rain a lot in Pittsburgh.
More
When it comes to thrilling action movies, this one really had it all for me. It is VERY suspenseful, and maintains a good pace throughout. And not only is it thrilling, but it also gave me lots to think about long after the credits rolled.Russell Crowe plays John, a man whose wife is convicted of murder. He is convinced that she is innocent and becomes determined to break her out of jail. This creates a lot of suspenseful situations as soon as he starts to prepare. It got me thinking about a lot of things, including the moral dilemmas John faces.There is a great Liam Neeson cameo where he gives John advice, since he has escaped from prison several times before. He warns John of the intense hurdles and sacrifices he will have to make, so I very quickly realized that the stakes and risk are very high if he goes through with it. The fact that I don't know if the wife is actually innocent or not, adds another layer of depth to the story. I was left trying to decide if John is making the right choice to break her out, which forced me to try and decide if she actually did it. Being so unsure how to feel, it really drew me in, and got me paying attention to every little detail in the movie. Haggis is great at throwing in little clues and nuances in the performances that made me question and re-think things.John is obviously a good guy, so I was rooting for him to succeed, but it is hard to know how to really feel about his character. Russell Crowe is great at playing characters that seem slightly insane, and it's hard to decide just how crazy he really is. They have a son, around 10 years old, and this makes his decisions all the more important. He is risking leaving this kid with both parents in jail if he screws up, but it will also re-unite the kid with his mother, who may be innocent.Overall, it is a very clever movie that is well crafted. The biggest strong point for me is really the script. It's a smart script that is well thought through. I can tell that Haggis understands what the viewer will be thinking and feeling during the experience and he times things perfectly to make for a fun, exciting, and thoughtful experience.Beside the writing, the acting was also very good. Russell Crowe brought a lot of depth to the character. The only criticism I have is that it is somewhat hard to believe that he would actually do this. He seems like a little bit too soft and reserved of a character to do these things, but in a way, that adds to the suspense because it makes us more unsure if he will pull it off. Elizabeth Banks is pretty good as the wife. I'm a little unsure how to feel about her performance. My main problem with her is that I didn't really like her character very much, she comes across as a bitch. I understand why that needs to be an element of her performance, but I would have liked to learn a little more about her positive traits to understand why John loves her so much. I think a few tweaks to her character development and a little more edge to John's character, could have increased how believable the story is. The only other criticism I can think of, is that Haggis clearly is a great writer who understands the story and did a fabulous job directing the actors and their actions, but there is not a lot of creativity or style in the way things were filmed. The camera work and cinematography was mostly pretty straight forward, and I would have liked to see a little more creativity in that department. Maybe some extreme close-ups, or interesting angles and framing. I would have liked to see Haggis hire a cinematographer that brought a little more to the table to make this movie a great visual experience in addition to being a great emotional experience.If you like intense movies that keep you on your toes and give you lots to think about, don't miss this one!
More
Three years ago, Lara Brennan (Elizabeth Banks) is arrested for murdering her boss Elizabeth Gesas. Her life with her husband John (Russell Crowe) and her infant son is shattered. The evidence is damning, a possible witness isn't found, and any appeal is unlikely to work. John decides to break her out of Allegheny County Jail in Pittsburg with lots of preparations. It's nearly impossible and then he is surprised by Lara's transfer in 3 days. He has to rush his plans before he's ready.The first time around, the movie seems like a well written if somewhat long. After another viewing, the story is doing a lot of things that are too neatly written. It doesn't feel real. The first two thirds is the preparations and the various detours. The final third is the actual escape. The movie is over 2 hours and it's a bit slow at times. The preparations don't raise the tension all the time. It needs to be tighten greatly. Paul Haggis is not able to sharpen this movie to a finer edge. The escape has a nice intensity. The acting is superb and even the minor roles are filled with great actors. The movie tries to do a lot. There is a back and forth about her guilt or innocence. There is another woman. There are cops investigating him. And then there is the drug deal robbery. Maybe it's too much. Again it needs to be tightened somehow.
More