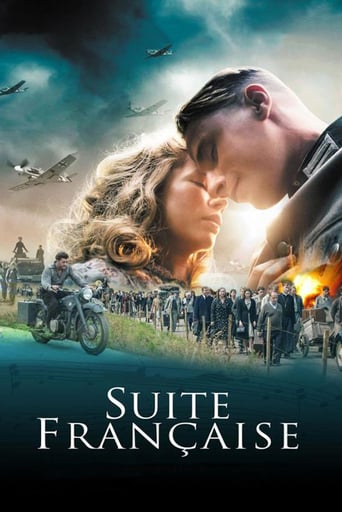 AD:This title is currently not available on Prime Video
Suite Française (2014)
AD:This title is currently not available on Prime Video
France, 1940. In the first days of occupation, beautiful Lucile Angellier is trapped in a stifled existence with her controlling mother-in-law as they both await news of her husband: a prisoner of war. Parisian refugees start to pour into their small town, soon followed by a regiment of German soldiers who take up residence in the villagers' own homes. Lucile initially tries to ignore Bruno von Falk, the handsome and refined German officer staying with them. But soon, a powerful love draws them together and leads them into the tragedy of war.
...
Watch Trailer
Show More
Cast
Similar titles
Reviews
Simply A Masterpiece
More
It's the kind of movie you'll want to see a second time with someone who hasn't seen it yet, to remember what it was like to watch it for the first time.
More
This is one of the best movies I've seen in a very long time. You have to go and see this on the big screen.
More
It's 1940 and France is on the verge of falling. Lucile Angellier (Michelle Williams) lives with her mother-in-law Madame Angellier (Kristin Scott Thomas) who ruthlessly collects rent from her tenant farmers. Her husband along with many of the men are away at war. She befriends poor farmer Madeleine Labarie (Ruth Wilson) and her crippled husband Benoit (Sam Riley). As France is occupied, the villagers are forced to billet German officers. The Angelliers are assigned Bruno von Falk (Matthias Schoenaerts). He's been assigned to read through the letters written by the villagers ratting out each other. Madame Angellier evicts the Josephs and Celine Joseph (Margot Robbie) is bitter for being forced into the barn.I really like all the supporting characters in the village. The conflicting paths are compelling and the same character often have opposing modes. The central romance is less appealing. This requires Michelle Williams to lose her senses and fall in a full-on romance novel relationship. She does her best but a younger and more naive actress would probably work better. It should be a relationship of intense trust issues but the movie is driving for romanticism. It's really wrong-headed. There are also other minor issues about the third act.
More
During war time sacrifices have to be made. Some have to do with our private space, some with our personal space too. All dig into our personal life and depending on the person invading (pun somewhat intended) it will lead to different results. So we may be inclined to paint every Nazi as a bad person or just a demon/devil without any depth or sympathy for that person.This movie does try to delve deeper into it and tell a bit of a different story. War is hard on everybody and depending on how your character is developed you'll make decisions that can be qualified as good or bad, be it in hindsight or just judging at the moment. The drama part does work and there are no easy solutions if any at all. Not an easy but an uncomfortable viewing experience which is exactly what it was meant to be
More
Despite its title (a reference to a piece of music) and its setting (occupied France early in the Second World War), this is largely an English-language film with a British co- writer and director (Saul Dibb) and an international cast. American actress Michelle Williams plays the French villager Lucile Angellier and Belgium actor Matthias Schoenaerts is the German officer Lieutenant Bruno von Falk who become romantically involved. The first half is rather slow and plodding but then the plot picks up. What makes the characterisations interesting is that Bruno is represented as an essentially good German, while many of the French are shown in a less than flattering light.The film is actually an adaptation of the second of two stories that was intended to be a novel of five tales written in French by Irene Némirovsky, a woman of Ukrainian Jewish descent who was deported from France to Auschwitz in 1942 where she died of typhus. Némirovsky's older daughter kept the notebook containing the manuscript for fifty years without reading it but, when she discovered what it contained, she had it published in France in 2004. The film adaptation was released ten years later.
More
The movie is about WW2 drama/romance although i find the romantic part is not very convincing. The events go in a french village under the Nazi occupation. Michelle Williams did a very good job in this movie. She was very convincing and her acting was believable. On the other hand, Matthias Schoenaerts who plays the role of a German officer wasn't at the same level. The movie could've been much better if he was replaced with another more passionate actor. The overall drama is good and puts you through the suffering of the french people during WW2 but the love-story thing was not very convincing to me!. Kristin Scott Thomas also made an impressive performance. The movie has most of the elements of success, the story, actors, ...etc. But somehow, you feel that something is missing, like, the movie lack more events or a better leading actor!
More