Watch Joy For Free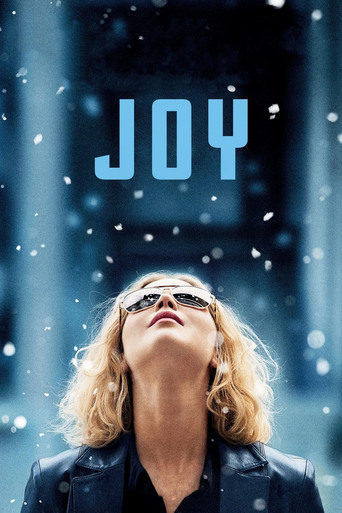 A story based on the life of a struggling Long Island single mom who became one of the country's most successful entrepreneurs.
... more
Absolutely the worst movie.
More
This is a coming of age storyline that you've seen in one form or another for decades. It takes a truly unique voice to make yet another one worth watching.
More
By the time the dramatic fireworks start popping off, each one feels earned.
More
Jennifer is sooo good looking. She gets to look a bit gritty, determined and kick ass also here. She's like this beautiful, sweet thing we don't take too seriously that then grabs you by surprise. The film is lightly made, hilarious at times, on a dramatic theme that goes up and down more and more until the climax. I loved it in spite of the bubble gum treatment.
More
I really enjoyed this movie Im not one for Lawrence but i am starting to like her for a good actress. Good inspirational story to reach for your passion against all odds :-)
More
Movie Review: "Joy" (2015)Director David O. Russell pays his dues to actress Jennifer Lawrence in an actress leading screen story involving a young woman in her early 20s encountering the harsh world of business affairs from Massachusetts to Texas, USA before becoming a company owner eventually.Jennifer Lawrence spoiled by an early Academy Award for Best Actress in her role as Tiffany in "Silver Linings Playbook" (2012) plays with her self-reflected stardom, especially on the U.S. domestic market, in a X-mas 2015 releasing family drama comedy genre mix. The actress' three year in a row collaborating director of trust puts the actress in situation of struggle with surrounding family members as actress Virgina Madsen, giving the non-stop soap-opera indulging mother Terry, Robert De Niro, as new-love finding grandpa Rudy, meeting charming scenes with actress Isabella Rossellini. The ex-husband, performed by Edgar Ramírez a down-on-discipline musician, creating two children with Joy, who becomes over-powered by daily decision-making before finding her job calling at an local television broadcaster, meeting an all-to-fair playing character of Neil, portrayed by long-time collaborating acting colleague Bradley Cooper. The ensemble cast pushes through fully-owned picture by actress Jennifer Lawrence, who digs deeper into humorist sides with selling floor-cleaning sweeping mobs on a supermarket parking lot, shooting a shotgun in factory back-lots and fighting back on blueprint stealing competitors to come out as victor in unless diverting motion picture entertainment with nothing really to complain on.Nevertheless director David O. Russel keeps Jennifer Lawrence pampered in safe precaution acting beats, not letting his darling actress explore new grounds, blocking the character of Joy at no time for a real danger climatic confrontation; a circumstance that director Darren Aronofsky used for himself in the in-balanced received art-house film "mother!" (2017) due to a catastrophically-prepared female lead that the presumption becomes evident that Director Gary Ross has been Jennifer Lawrence only benefactor through years of a young acting career in casting her as Everdeen Katniss in the world-changing smash hit of 2012 "The Hunger Games".© 2017 Felix Alexander Dausend (Cinemajesty Entertainments LLC)
More
She asks her father for a favour... and it isn't even HIS money! She only sells to begin with because a friend manufactures a call to ease her into her spiel, and she blames her sister because the parts makers overcharge... I don't know about innovation, but all those things definitely take some big, brass balls! All of her success with the WonderMop is down to other people's sacrifices.It's kind of a dispiriting message, if what it tells us is people with this kind of chutzpah are the only ones who ever really succeed in business, even when they're ordinary... You look at the details, and there's not much cause for elation, at all...There's certainly something to be said for a wipe-clean sense of shame, though!
More