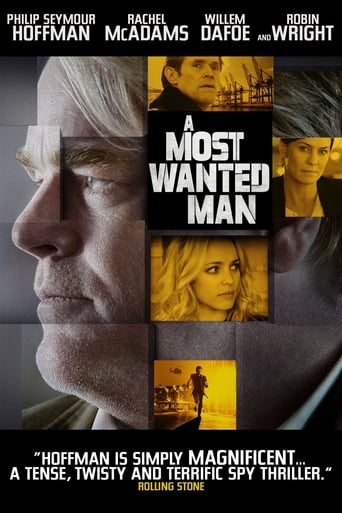 A Most Wanted Man (2014)
A Chechen Muslim illegally immigrates to Hamburg and becomes a person of interest for a covert government team which tracks the movements of potential terrorists.
...
Watch Trailer
Cast
Similar titles
Reviews
Nice effects though.
More
The performances transcend the film's tropes, grounding it in characters that feel more complete than this subgenre often produces.
More
While it doesn't offer any answers, it both thrills and makes you think.
More
One of the worst ways to make a cult movie is to set out to make a cult movie.
More
Film-play? = Looks ok, nothing special. camera was shaky at times, boring cuts. Cast? = PSH was very good at his role of playing unwell tired aged spy. the 'badguy' was likeable as it turned out he was not a bad guy. Storyline? = interesting especially as it highlighted not all muslims are badguys. Score? = n/a Re-watchable ? = No, one time film Why I scored down? = nothing spetacular in screenplay or score. Why I scored up? = very interesting, showed how not all spy films need to be action filled.
More
A sluggish, low key, mopey, dragged on movie that needed a good shot of Drano. I don't even recall much what happened because after 10 minutes I just let it run in the background and did something else. Every once in awhile I'd look over and watch Hoffman do his best impression of an actor bent on being as boring as possible. Occasionally, he would make a face or say something benign.Hoffman's best performance was probably in Boogie Nights. One of the best movies of the 90's. Sad that this was Hoffman's final hurrah. The man had talent.
More
Maybe A Most Wanted Man is not the best film, or even a screen adaptation of the novel. A Most Wanted Man is certainly not the best novel by John le Carré, the writer whose inspiration was the culmination of the Cold War, from which emerged his most important works, spy thrillers generally without murders and chase, especially without "bondian" superhuman skills and the spectacular "gadgets", imbued with moral dilemmas. Film A Most Wanted Man is something that we might call film by Phillip Seymour Hoffman, and difficult to watch from a different point of view. A Most Wanted Man is not shining example of a spy novel, nor Corbijn is an example of a great filmmaker. His strengths are visual component and, as it turns out, working with the actors. Where images are concerned, it resembles a world that is dying, or even transformed into something completely different, where old rules do not apply and where everything lays on improvisation or arrogance. It is very nice to see in colors ranging from brown to rusty ice blue tones.
More
Phillip Seymour Hoffman's last film with him in a leading role, "A Most Wanted Man," is a low-key, post-9/11, espionage melodrama that director Anton Corbijn and scenarist Andrew Bovell adapted from British author John le Carré's bestselling novel. Lensed on location in Hamburg and Berlin, Germany, this literate but slowly-paced genre piece piles up considerable atmosphere during its 122 minute running time. Unfortunately, Corbijn provides little in the way of tangible action. Indeed, "A Most Wanted Man" qualifies as the flip-side of Corbijn's earlier epic, "The American," with George Clooney who got to shoot adversaries and bed the ladies. Instead, people walk into and out of buildings, and bureaucrats sit around tables discussing cases. Hoffman belts an obnoxious individual in one scene that has nothing to do with the elaborate 'sting' plot involving an ultra-secret, street-level, German counter-terrorist organization out to trap a Muslim philanthropist. The big finale involves a multiple car crash. Hoffman plays a disillusioned German espionage officer who must produce results in 72 hours after a half-Chechen, half-Russian refugee, Issa Karpov (Grigoriy Dobrygin), tortured recently by the Russians, slips into Hamburg without a passport. Karpov convinces an ordinary, blue-collar family to house him after he performs an act of kindness to a woman who has too many grocers to tote him. Meantime, Günther Bachmann (Philip Seymour Hoffman) and the clandestine squad with whom he struggles to uncover links to Islamic terrorist organizations by recruiting people within those organizations sets out to trap Dr. Abdullah (Homayoun Ershadi) whom they suspect is funneling money to Al Qaeda. Eventually, the complicated but gritty plot involves a reluctant German banker, Tommy Brue (Willem Dafoe), and an idealistic immigration lawyer, Annabel Richter (Rachel McAdams), who wants to help Karpov. When Bachmann introduces himself to a surprised Brue, he says, ""I head an anti-terror unit that not many people know about and even less like." Essentially, this is an above-average, believable, slice-of-life, political thriller where nobody dies, but people wind up betraying everybody in sight. For the record, the Americans in the storyline are not very savory. Naturally, the paunchy Hoffman turns in a stellar performance while he smokes cigarettes galore.
More