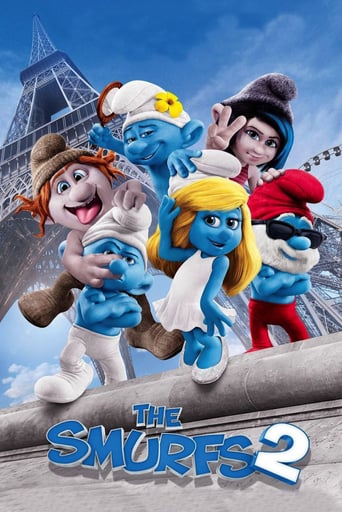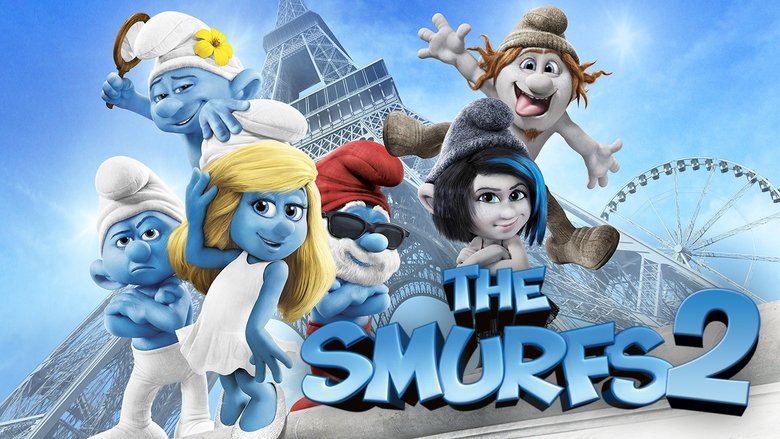 AD:This title is currently not available on Prime Video
The Smurfs 2 (2013)
AD:This title is currently not available on Prime Video
The evil wizard Gargamel creates a couple of mischievous Smurf-like creatures called the Naughties that he hopes will let him harness the all-powerful, magical Smurf-essence. But when he discovers that only a real Smurf can give him what he wants, and only a secret spell that Smurfette knows can turn the Naughties into real Smurfs, Gargamel kidnaps Smurfette and brings her to Paris, where he has been winning the adoration of millions as the world¹s greatest sorcerer. It's up to Papa, Clumsy, Grouchy, and Vanity to return to our world, reunite with their human friends Patrick and Grace Winslow, and rescue her! Will Smurfette, who has always felt different from the other Smurfs, find a new connection with the Naughties Vexy and Hackus or will the Smurfs convince her that their love for her is True Blue?
...
Watch Trailer
Show More
Cast
Similar titles
Reviews
Very very predictable, including the post credit scene !!!
More
It's hard to see any effort in the film. There's no comedy to speak of, no real drama and, worst of all.
More
The film never slows down or bores, plunging from one harrowing sequence to the next.
More
Have a good deal of fondness for the original television series, if marginally as a child than an adult. Didn't care for the first feature film from 2011 but didn't find anywhere near as bad as it was made out to be, it had a lot of faults but was semi-watchable.It's pretty much the same with 'The Smurfs 2', very problematic but semi-watchable. It is hard to say which is better between the two, to me some aspects are done better in one, some are about the same and some are done worse. And contrary to those going blue in the face, defending the film (not bashing at all their right to like it, have no problem with it) and bashing the critics and those who dislike 'The Smurfs 2', it's a family film not a kids film (just because it has animation and has content oriented at younger audiences doesn't mean it's for kids) and there is no law against seeing a sequel to a film one dislikes, it may because of having family members who liked the first and wanted to see the sequel as part of family cinema trips, one may be a Smurf completest and one may be fans of an actor in the film. Why do people have such a problem with opinions and overuse and abuse "freedom of speech" these days? Anyway, starting with what was good about 'The Smurfs 2', it's a bright and colourful film to look at and while not outstanding the animation and 3D effects are above average. Once again Hank Azaria and Jonathan Winters are perfect as Gargamel and Papa, Azaria looks as if he's having a whizz of a time (not a subtle performance by all means but in all honesty there is nothing subtle about Gargamel as a character) and Winters is the liveliest Smurf characterisation.Katy Perry is more consistent and heartfelt, what was done with Smurfette gave more heart than there was in the first film. Christina Ricci echoes fond memories of her show-stealing Wednesday Addams in 'The Addams Family' and 'Addams Family Values'. A few amusing moments here and there and the voice work generally is fine.On the other hand, the story is basic, daft and predictable, with over-obvious plotting and slapstick and one-liners that are more tired and lacking in maturity than witty or clever. The soundtrack is uninspired at best. Darker elements are included here and they don't really gel and makes the tone feel unfocused.Characters are not particularly well developed, the closest character to being developed and done successfully is Smurfette. The editing could have tighter and more fluid, while Neil Patrick Harris doesn't look as engaged in his more banally written than before role. Brendan Gleeson does his best in an atypical at this point role but doesn't look particularly comfortable.In conclusion, not particularly good but semi-watchable. 4/10 Bethany Cox
More
The smurfs 2 was on TV and I missed the beginning so it was hard to get into, I watched about 2 minutes of it until I got distracted and emailed a beet farm. Don't think I'll watch the end but it was alright. Would recommend. I digress the film offered me nothing new and left me almost in shock, from the unoriginal plot. Honestly I'm only 10 minutes into the film but yolo its low key sick Niel Patrick Harris was OK nothing to write home about tho A cat was blown up not sure about that tbh thought that was a bit off but :-/ Their feet are too big and it creeps me out, what's under those shoes? Do they have toes? Why is this big human going after a bunch of blue humans? Just leave them be!! Also how did papa smurf get to have red clothes is he the high priest of the smurf world or something?? How does one obtain red clothes? Asking for a friend.
More
'THE SMURFS 2': One and a Half Stars (Out of Five) Sequel to the 2011 hit kids' film based on the popular comic-book (which was later turned into a popular cartoon series in the 1980s) by Peyo (a Belgian comic-book artist) about little blue people that live in mushrooms. It once again stars Hank Azaria as the evil wizard Gargamel and Neil Patrick Harris as the Smurfs' human friend Patrick. It also features voices by Katy Perry, Jonathan Winters (who the film was dedicated to, due to his recent passing) and many others as Smurfs. The film was once again directed by Raja Gosnell and written by the same team of writers (with Karey Kirkpatrick joining the team). I'd say it's even worse than the first film in quality, especially since one of my favorite actresses (Sofia Vergara) didn't return this time around. This film revolves around Gargamel (Azaria) kidnapping Smurfette (voiced by Perry), the only female Smurf (which he created), and taking her back to Paris with him. He needs Papa Smurf's formula for creating Smurfs (which Smurfette knows) so he can extract the Smurf-essence from them (which gives him his magical powers). The film introduces two bad Smurf-like critters that Gargamel also created. They're called Naughties named Vexy (voiced by Christina Ricci) and Hackus (voice by J. B. Smoove). The film also gives us a lot of Smurfette's back story and introduces us to Patrick's stepfather Victor (Brendan Gleeson) as well. The first 'SMURFS' movie was bad and this one is even worse. The only thing I did like about the original movie was it co-starred Sofia Vergara (like I said) as a domineering antagonist (Patrick's boss). She was great and extremely sexy in it (like always) but the rest of the movie was a waste. Both films are pointless and about as dumbed down as kids' movies get. I did like the cartoon and comic books when I was a kid but I don't know if a quality live action film could really be developed from them. So I guess I can't complain too much. Still this movie, like the first, is a waste of time. Kids might like it though.
More
. . . SMURFS 2 does NOT feature any spinning whirly-gigs attached to the character voiced by Perry--Smurfette--'s Whatzits (unlike the concert movie she released earlier in the year). Besides the relative restraint in Smurfette's wardrobe, this film features another passable lead acting performance by Mr. Krinkle as Azrael (Gargamel's cat). While it is true Frank Welker dubs in most of Azrael's vocalizations, I suspect that Mr. Krinkle's acting abilities would stand head and shoulders above the rest of the cast even without the interference of the Loop Group. Jimmy Kimmel is typecast here as the voice of the Passive-Aggressive Smurf, and the same can be said for most of the other questionable Smurf voice "talent," including X Games vet Shaun White as Crazy Smurf, offender registry stalwart Paul Ruebens as Jokey Smurf, one-time NBA genii Shaquille O'Neal as Smooth Smurf (say THAT 10 times fast!), tool guy Jeff Foxworthy as Handy Smurf, and so on. If you're not already in a persistent vegetative state, SMURFS 2 just might do the trick!
More