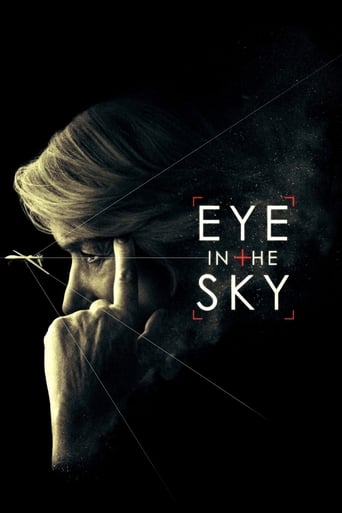 Eye in the Sky (2015)
A UK-based military officer in command of a top secret drone operation to capture terrorists in Kenya discovers the targets are planning a suicide bombing and the mission escalates from "capture" to "kill." As American pilot Steve Watts is about to engage, a nine-year old girl enters the kill zone, triggering an international dispute reaching the highest levels of US and British government over the moral, political, and personal implications of modern warfare.
...
Watch Trailer
Cast
Similar titles
Reviews
Very very predictable, including the post credit scene !!!
More
This movie is magnificent!
More
Setup well, bit slow but purposefully so. Packs required punch and thought process. Heartfelt. Well acted
More
Your going to save one little girl,so that dozens can be killed. Weak.
More
I watched the first 22 minutes of this movie, which I believe is an adequate length of time to wait for a movie to get good. It didn't. This movie is extremely boring. It may be well-shot, but that's the only thing that its got going for it. The acting is bad, the sound design is bad, and the plot is nonexistent. I will usually watch a movie all the way through, just to give it a chance, but this movie is just really boring.
More
Full credit to the film for tackling some of the moral dilemmas of modern warfare - unfortunately the good news ends there. Poor direction leads to a film lacking in tension, with contrived scenes involving many stereotypical protagonists; so lacking in tension is this film that I went to do the washing up, that being a more gripping activity. The bad news does not stop there. The casting is awful, Alan Rickman is a fine actor but falls completely flat as General Benson. Surprisingly given some of her previous roles Helen MIrren fails to inhabit the role of Colonel Powell - a more unlikely pair of high ranking military officers there has never been. If Britain's defence relies on these two officers then we are in big trouble. The politicians are laughable in their inability and the American soldiers mere facsimiles. Watch, but have low expectations.
More