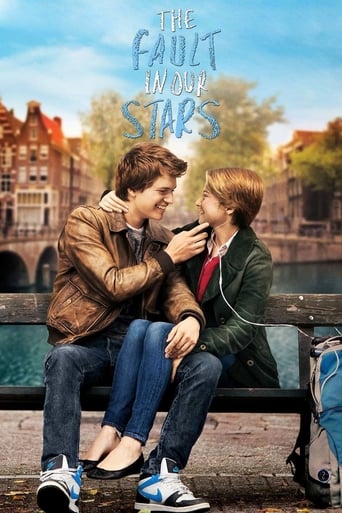 AD:This title is currently not available on Prime Video
The Fault in Our Stars (2014)
AD:This title is currently not available on Prime Video
Despite the tumor-shrinking medical miracle that has bought her a few years, Hazel has never been anything but terminal, her final chapter inscribed upon diagnosis. But when a patient named Augustus Waters suddenly appears at Cancer Kid Support Group, Hazel's story is about to be completely rewritten.
...
Watch Trailer
Show More
Cast
Similar titles
Reviews
Redundant and unnecessary.
More
It is a performances centric movie
More
A movie that not only functions as a solid scarefest but a razor-sharp satire.
More
This is a coming of age storyline that you've seen in one form or another for decades. It takes a truly unique voice to make yet another one worth watching.
More
Sympathetic turns by future stars Shailene Woodley and Ansel Elgort make this "teenage cancer romance" film rise above the likes of other teen aimed fare in its genre. The characters are well etched, and the dialogues are good- which is expected since it is an adaptation of a best-selling book by the same name. The author's complete participation in the production phase is one reason why the fault in our stars is not like other young adult book-based films- it is faithful to the source.
More
Really great adaption of the young adult novel. Enjoyed this one a lot. Funny and heartbreaking. Shailene Woodley & Ansel Elgort are fantastic, seeming very comfortable with each other and are addictive to watch, you don't want their story to end.We follow them from their meeting in a cancer support group and through their whirlwind romance which takes them to Amsterdam to meet the very nasty Willem Dafoe, a reclusive and mostly drunk author of a book that has touched their lives. Ultimately this trip teaches both of them what it means to truly be alive.Willem Dafoe plays the bad man to perfection, Laura Dern as the mother is great. This teen romance felt very mature to me because of what they've both faced. Worth a watch even if your not a teen but be warned, you'll feel kinda wrecked afterwards.
More
If you think that The Fault In Our Stars is just another teen romance are you in for a pleasant surprise. You'd better have a good supply of tissues because this film involves two very special teens. Ansel Elgort and Shailene Woodley are a pair of cancer survivors and they just haven't got very much time.With Woodley she's come through cancer of the thyroid and she has the breathing apparatus as just part of her person now. Her parents naturally worry about over straining herself, but Woodley is determined to lead as active a life as she can.At a cancer survivor support group she meets Ansel Elgort who has really made quite a name for himself since this film came out. Elgort is a former basketball star who lost a leg to cancer. He is so incredibly quirky and charming in this part I'm surprised he didn't get Oscar consideration.The two make a trip to Amsterdam to visit an author they admire. Willem Dafoe however has less than meets the eye, still they have a good time. When they visit the Anne Frank house the symbolism is certainly not lost on the viewer.The title is a play on Cassius's famous quote from Julius Caesar about the fault not lying in our stars but in ourselves. There's no fault here for Woodley an Elgort. Fate has dealt them a cruel and rotten hand and they have to make the most of it.I haven't seen a film move me as much since Clint Eastwood's Million Dollar Baby. Even a Medusa would be reduced to tears with this one.
More
A terminally ill girl suffering from lung cancer meets a boy with a very difficult condition of his own who is about to change her life forever. A very close friendship is born between the two but it will not remain as such for long. As they spend more time together and understand each other's situation, their relation evolves, making the final part of their life more than bearable. As a final wish, he takes her to Amsterdam to visit the author of her favorite book but their adventure will not be without obstacles as illness never sleeps.It's a movie which follows the lives of two teens, deeply traumatized by their condition, who manage to find comfort in each other's arms, struggling every day not to lose faith. Their drama is presented in great detail, from the moment they first met, going all the way to Amsterdam in search of answers regarding their book. We're faced with two very complex characters, very well designed and described, not to say how they're excellently played by their respective actors, who transmit a plethora of emotions, making themselves extremely pleasant throughout the movie, despite their illness. You're bound to burst into tears many times throughout, as you'll find it extremely hard to see their struggle.The plot is very well designed, managing not to be predictable or linear, bringing something new and quite unexpected with every occasion it gets. The unique atmosphere it creates simply draws you into it, keeping you attracted, interested and curious about the faith of the two. It generates plenty of drama and thrill along the way, but also raises the mood and even makes you laugh once in a while. The end to their story is as unexpected as it is tragic and sentimental, but in a good way. I cannot express the emotions I felt during this movie, every single word simply being insufficient in providing any explanation.Overall, it is very dramatic but at the same time it brings laughter when you least expect it and romance in its purest way. This movie can cause a lot of tears but it will also bring warmth in one's soul if he or she lets it. It's simply breath taking in every aspect, from its gorgeous story to its presentation, cast and finale. Make sure you don't miss this wonderful masterpiece!
More