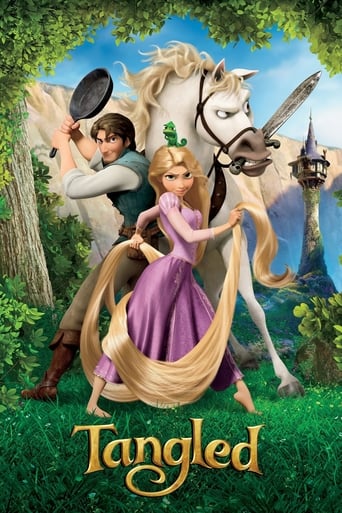 Tangled (2010)
When the kingdom's most wanted-and most charming-bandit Flynn Rider hides out in a mysterious tower, he's taken hostage by Rapunzel, a beautiful and feisty tower-bound teen with 70 feet of magical, golden hair. Flynn's curious captor, who's looking for her ticket out of the tower where she's been locked away for years, strikes a deal with the handsome thief and the unlikely duo sets off on an action-packed escapade, complete with a super-cop horse, an over-protective chameleon and a gruff gang of pub thugs.
...
Watch Trailer
Cast
Similar titles
Reviews
Excellent, Without a doubt!!
More
This is a small, humorous movie in some ways, but it has a huge heart. What a nice experience.
More
While it doesn't offer any answers, it both thrills and makes you think.
More
Watching it is like watching the spectacle of a class clown at their best: you laugh at their jokes, instigate their defiance, and "ooooh" when they get in trouble.
More
This movie is very entertaining. The story is well-executed. The characters are interesting. This movie is not meant to be taken seriously, which really adds to the comedy. As kids movies go, this is one of the better ones. I don't have much to say about this movie, other than its very entertaining in pretty much every way. There is some stupid in this movie, but that's kinda the point.
More
A heart-warming story with good music, many funny scenes and endearing sidekicks. Loved it!
More
Everyone knows the story. The girl, Rapunzel, with the golden hair, kept up in a tower. She is only visited by one person who controls her. Of course, unless she were headstrong, nothing would happen in this film. And, of course, she is. Also, we know that to fulfill her dreams a guy is going to show up. This time, however, the rules get changed a bit and the formula is broken as well. I didn't gravitate toward this one as much as previous Disney films, but it was still very good. I think the title is great. I think the plot moves along at a nice pace and Rapunzel is quite interesting. Once again, the animation is superior.
More
This is definitely one of my favorite movies. It has everything-- a strong and dangerous villain, songs, romance, spirit, humor....Not all of the songs are that memorable, but there's a duet called, "I See the Light," and it is beautiful. A song the villain, called Mother Gothel, sings gives me goosebumps. The woman who voiced her, Donna Murphy, has an incredible strong, powerful, and beautiful voice. Specifically the reprise of "Mother Knows Best," it is one of the best villain songs of all time.There is a load of humor, but some jokes, as another reviewer has said, only adults will get. This was targeted toward kids, but not as much as Frozen or Moana. Tangled isn't dark itself, but it is dark compared to other Disney movies. There are two side villains, the risk of hanging, stabbing, blood, prison....So if you're tired of watching Frozen with your kids or need a bit more excitement, then watch this.One thing I love so much about this is that it is one of Disney's few exhibits of true love. (SPOILER AHEAD) In detail, Rapunzel's love, Eugene, is stabbed, and she can heal him with her magical hair. She sacrifices her freedom for him, saying she will do what the villain wants if the villain will let her heal Eugene. Instead of letting her heal him, though, Eugene cuts her hair, making it die and turn brown, unable to heal him. He seriously sacrificed his life for her! The characters are excellent and well-built. There wasn't a very good backstory for the bandit Flynn Rider (who's real name is Eugene Fitzherbert--that makes me laugh each time) and no explanations for why Mother Gothel wants to stay young, but they all have strong personalities. Out of the the five three-dimensional Disney Princesses we have so far (Merida, Rapunzel, Anna, Elsa, Moana), I'd say Rapunzel is the best, and it's not because she comes from my favorite Disney movie. She is a go-getter and has hobbies. She is determined and isn't real rude to her "mom" throughout the movie like Merida was, but actually shows a spark of an attitude at one point. Her singing is good, and her face isn't perfectly angular like Aurora's, but a bit round, which is surprising. She is brilliant and realizes something rather important near the climax, using logic. When she finds out Mother Gothel is the villain, she is brave and bold to her. Rapunzel has a fierceness and strength in her, and it's not attitude like Merida had, nor the kind Elsa has. She is a great character and role model for girls. I prefer this over Frozen. Not that I don't like Frozen. It is one of my top ten favorite movies. I just prefer Tangled more. It's the sort of movie I watch one day and want to watch the next. It has me shivering, my eyes watering, and I'm wrapped up in it, not thinking about the fact I'm watching a movie or wondering who voiced that character. It's a great, memorable movie for people of all ages. Even a 13-year-old boy and 50-year-old woman were laughing and grinning. Make sure to watch it with your family and as often as you want. It's one of Disney's most creative movies (the only similarities to the original are bad woman, long hair, tower, and tear). It's one of my favorite movies, and I can see it will be that way for many, many more years.
More