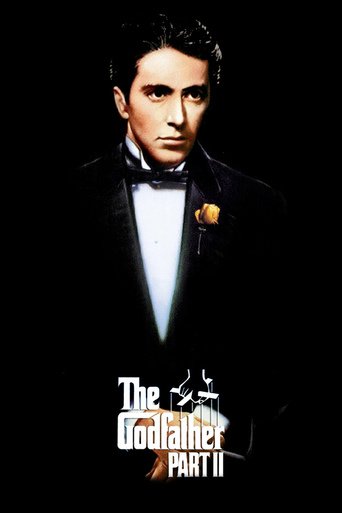 AD:This title is currently not available on Prime Video
The Godfather: Part II (1974)
AD:This title is currently not available on Prime Video
The continuing saga of the Corleone crime family tells the story of a young Vito Corleone growing up in Sicily and in 1910s New York; and follows Michael Corleone in the 1950s as he attempts to expand the family business into Las Vegas, Hollywood and Cuba
...
Watch Trailer
Show More
Cast
Similar titles
Reviews
Wonderful character development!
More
Excellent but underrated film
More
Excellent adaptation.
More
The movie turns out to be a little better than the average. Starting from a romantic formula often seen in the cinema, it ends in the most predictable (and somewhat bland) way.
More
Long movie but excellent! Al Pacino and Robert De Niro were great in this movie!
More
This movie is one of the Greatest Mafia Movies of all-time in my view! The depiction of a Mafia Family was really the focus of this movie! Deniro, Pacino, and Brando clearly killed this movie! I mean the scene where they took you back to the old country and showed how the first God father became the Boss of all Bosses was stellar! This movie can be watched over and over again! I've been watching this movie for over 25 plus years! Clearly a great classic!!!!!!!
More
A masterpiece! The perfect sequel. My favorite out of the series.
More
Short and Simple Review by WubsTheFadgerThe Godfather: Part II lives up to the standard of the masterpiece film The Godfather. The story is full of twists and turns and features some of the most dynamic characters ever. The story is full of shocking and devastating moments that keep you enthralled. This film is another masterpiece that's lives up to the Godfather name.The acting is masterful. Al Pacino delivers his best performance as Michael Corleone. Robert De Niro plays young Vito Corleone and he does so with power and originality. Robert Duvall, John Cazale, Diane Keaton, Talia Shire, and many others all perform in a way that adds to the story and showcases their talents.The pacing is perfect. Coppola takes his time setting up the story, setting, and characters. The runtime is over three hours and this can scare the average movie goer.Francis Ford Coppola has created another masterpiece that deserves all of the praise it has earned.Pros: engaging story full of twists and turns, masterful acting, amazing performances by Al Pacino and Robert De Niro, perfect pacing, and wonderful directing by CoppolaCons: The runtime can scare some peopleOverall Rating: 10
More