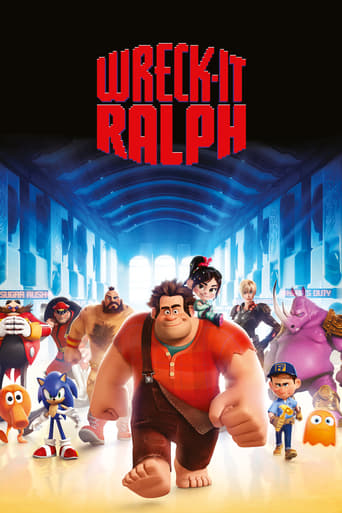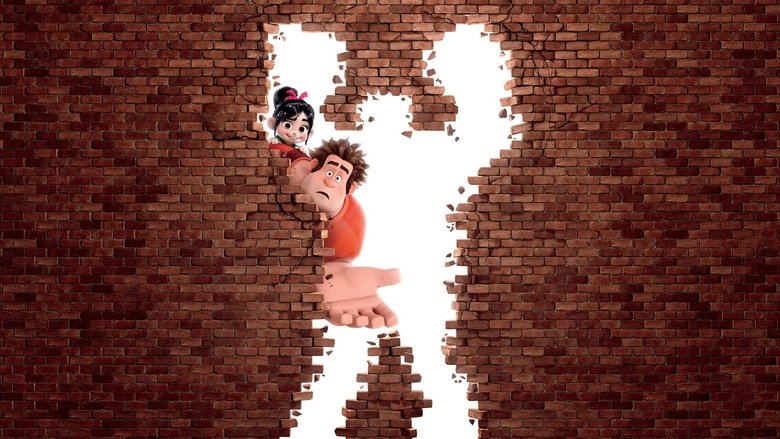 AD:This title is currently not available on Prime Video
Wreck-It Ralph (2012)
AD:This title is currently not available on Prime Video
Wreck-It Ralph is the 9-foot-tall, 643-pound villain of an arcade video game named Fix-It Felix Jr., in which the game's titular hero fixes buildings that Ralph destroys. Wanting to prove he can be a good guy and not just a villain, Ralph escapes his game and lands in Hero's Duty, a first-person shooter where he helps the game's hero battle against alien invaders. He later enters Sugar Rush, a kart racing game set on tracks made of candies, cookies and other sweets. There, Ralph meets Vanellope von Schweetz who has learned that her game is faced with a dire threat that could affect the entire arcade, and one that Ralph may have inadvertently started.
...
Watch Trailer
Show More
Cast
Similar titles
Reviews
Wreck it Ralph, I mean wow what can I say. This is a brilliant movie and one of the best of 2012. Not really much I have to say except, all the characters were likable. And the animation is pretty good also. 7/10
More
This is a genius plot to go beyond arcade games to see how the various gaming characters live. Pure entertainment! The animation and voicing was great, and the film also features awesome music. As with most animated films, this film also has a wonderful underlying theme. I thoroughly enjoyed this, and is one of my favorite animated films.
More
Movie Review: "Wreck-It Ralph" (2012)The 5th fully-digital animated feature under the label of Disney Animation Studios with support by executive producer John Lasseter and his creative Pixar team workflow machine after the company's 2006 merger with Disney Enterprises presents episodic animations with fairly-animated arcade heroes of the 1980s and 1990s, before home-grown arcade-stations from Nintendo over Sony to Microsoft consoles took over the living rooms of young adults to kill time from overwhelming responsibilities of everyday life in the 21st century of the Digitized."Wreck-It-Ralph" can be seen as mutual effort of the entire Disney Animation team, which choose the unlikely character of Ralph, vocally-performed by uninspired actor John C. Reilly in a sedated do-not-give-anything mode, to go on a journey through the fun-loving world of "The Arcade" ranging from a full-contact highly-weaponized science-fiction ego-shooter scenario over just short-laughter-sharing psychological self-esteem group talks with legendary arcade villains as punch-lining Russian Zangief from Beat'm Up classic "Street Fighter" to partially-wrecked candy-car-racing tracks of teaming-up with glitch character of Vanellope, given voice of at least at vocal-beats-convincing Sarah Silverman to fulfill a destined odyssey by meeting further most popular characters of them all as Super Mario, Sonic The Hedgehog and Pac-Man among many more along the way, when the average family-entertainment-seeking spectator just winks off to the far-less spectacular showdown, keeping their reminiscene of short-lived moments of former childhood arcade memories.The production design by Mike Gabriel stays true to the original arcade games. Nevertheless the hardly-green-lit screenplay by Phil Johnston and Jennifer Lee just adds-on brainstorm after brainstorm into an over-all no-suspense-giving, quick-action-thrills-transcending as unpaced-trigger-laughs-pushing with a pin-pointing anti-hero-saves-the-world storyline of no means but to exercise a daily routine of digital escapologies in nevertheless professionally-executed score music by composer Henry Jackman to serve a 100 Minutes editorial by Tom Mertens, who at least holds together the narrative strings of this beyond-belief diverted animated feature toward a movie house finish-lines of avoiding any Disney embarrassments.© 2018 Felix Alexander Dausend (Cinemajesty Entertainments LLC)
More
When it comes to video game movies, they are usually absolute garbage. Ratchet and Clank, Tomb Raider, Assassins Creed just to name a few. But this movie pays homage to almost all the classic video game characters, as well as making a fantastic film, as the great story, great visuals, and great voiceovers really do showcase what Disney does best. The only flaw I can think of, which is more of a nitpick, is that the flow of the film can seem wonky at times, but considering that almost everything else is done right, this is probably the best Video Game movie I've ever seen.
More