Watch Taken 3 For Free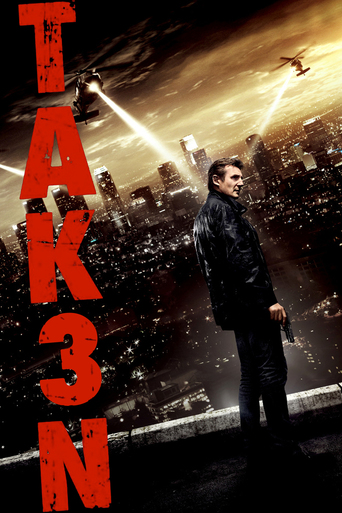 Ex-government operative Bryan Mills finds his life is shattered when he's falsely accused of a murder that hits close to home. As he's pursued by a savvy police inspector, Mills employs his particular set of skills to track the real killer and exact his unique brand of justice.
... more
It's fine. It's literally the definition of a fine movie. You've seen it before, you know every beat and outcome before the characters even do. Only question is how much escapism you're looking for.
More
Let me be very fair here, this is not the best movie in my opinion. But, this movie is fun, it has purpose and is very enjoyable to watch.
More
This is a gorgeous movie made by a gorgeous spirit.
More
It is encouraging that the film ends so strongly.Otherwise, it wouldn't have been a particularly memorable film
More
How many times can Liam neeson let his family members get taken? This film and the series is awful. For people with a low IQ
More
Moderately enjoyed the first 'Taken', while finding a fair share of faults, finding it overall an above average film that could have done more with promising potential. Was underwhelmed by 'Taken 2', which had good things but was essentially a very tired and even more ridiculous rehash with lazy stereotypes and a lack of suspense.Was worried that 'Taken 3' would be a sequel too far and that it wasn't needed, even if it still had enough to make it semi-watchable. Seeing it, 'Taken 3' not only was not necessary, even if not quite among the worst sequels ever (definitely to me one of the most pointless), and indicative of that it was a good thing it was the last 'Taken' film (from my underwhelming) but it also has very little to recommend it. It makes all the mistakes pretty much of 'Taken 2' and amplifies them and makes more on the way. The only halfway decent thing about 'Taken 3' is Liam Neeson, who at least tries and is charismatic and brooding enough. Even though one can tell still that even he knew that the film was not good and shouldn't have been made. The rest of the cast are all indifferent and are not engaging at all. They are saddled with characters that don't even have enough to them to be half-formed and are again lazy stereotypes. Direction is complete and utter chaos, and one misses the rawness and slickness of the previous two films visually. 'Taken 3' looks as though it was made on the cheap, especially with some of the worst editing seen in recent memory, editing that gave me a headache which is not good for my epilepsy. The script is filled to the brim with cheese, ham and confusion.Even the action is a failure, it is chaotically edited and photographed, gratuitously violent, unexciting and go well overboard on the ridiculousness. The pace is generally far too rushed, especially in the latter stages which affects the coherence of the story. Speaking of the story, that was one of the film's biggest issues, it may not be as much of a rehash but it is still even more fatigued than 'Taken 2' (which was as tired as it comes), even more far-fetched, even less suspenseful and thrilling and makes the further mistake of being incoherent.On the whole, very poor and that it was the last of the series was something of a relief. 2/10 Bethany Cox
More
The movie drags in certain parts, and many of the violent scenes are unrealistic, but it is an entertaining flick overall, so I awarded 7. I find Forest Whitaker to be VERY hard to take, with his weird wandering eye! Simply cannot get used to this; it is a major distraction to every part he plays. He is the actor chosen, unhappily, to portray Idi Amin in the movie bio. Very distracting! Liam Neeson was his usual self, though looking a bit raggy and haggard. There were some lapses in the actions of the character he plays in this film, but what the heck! It's Hollywood! Go with the flow and relax!
More
Despite the fact that I was wary about seeing this movie based on word-of-mouth and reviews, I decided to give it a try because its immediate predecessor—Taken 2—had still held my interest. Though I wasn't expecting anything like the spectacular original, I was hoping that "Taken 3" would bring closure (as advertised) to such an interesting concept.For a basic plot summary (minor spoilers…nothing not seen in the trailer), "Taken 3" sees Bryan Mills (Liam Neeson) trying to reconcile his relationship with ex-wife Lenore (Famke Janssen), what with Kim (Maggie Grace) now being off on her own at college. When a meeting between the ex-lovers ends up with "Lenny" dead, however, Bryan is framed for the murder and must flee. On his tail is Detective Frank Dotzler (Forest Whitaker).The main, glaring problem with this film is as simple as it is obvious: In this trilogy, there really was only one excellent story to tell. In the first Taken, a unique plot is bolstered by very well- created characters. That EXACT same tact is used to create a carbon-copy sequel with "Taken 2". That flick still manages to be mildly entertaining because the characters are so strong. However, that well couldn't be gone back to a third time and have been believe-able. So, it goes off course and manages to get even worse. One could argue that only a exercise in screen writing perfection could have made this enjoyable. It was just running on fumes.Perhaps the most disappointing part of the experience, though, is that the trailer/advertising for the film depicts much more background on the Bryan Mills character. That is why I thought the movie might have some redeeming value, but it was not to be. That was obviously a ruse, as it doesn't come up in the film at all.It is also a bit disheartening to see the main actors of the piece try so hard but have so little to work with. The entire project is beneath Whitaker, Neeson is just a carbon-copy, and Grace absolutely acts her heart out in and provides really the only great scenes of the whole experience. I'm surprised she has not received more major roles in Hollywood after this franchise & LOST, as she is a great actress.Overall, "Taken 3" managed to suck every last penny out of a franchise built on a single story. In the future, when I recommend "Taken" to people, I probably won't even mention the two sequels (if maybe just to discourage their being watched). They just do not serve a purpose besides butts in theater seats.
More