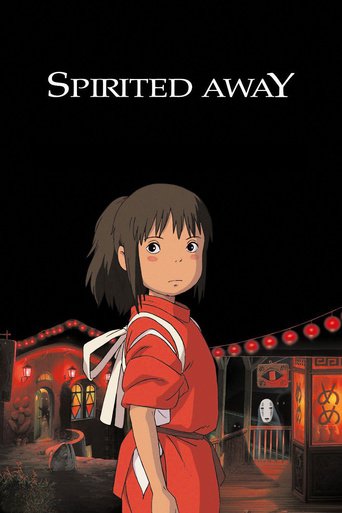 AD:This title is currently not available on Prime Video
Spirited Away (2001)
AD:This title is currently not available on Prime Video
Spirited Away is an Oscar winning Japanese animated film about a ten year old girl who wanders away from her parents along a path that leads to a world ruled by strange and unusual monster-like animals. Her parents have been changed into pigs along with others inside a bathhouse full of these creatures. Will she ever see the world how it once was?
...
Watch Trailer
Show More
Cast
Similar titles
Reviews
That was an excellent one.
More
Good , But It Is Overrated By Some
More
Very good movie overall, highly recommended. Most of the negative reviews don't have any merit and are all pollitically based. Give this movie a chance at least, and it might give you a different perspective.
More
As i said, this is the best movie ever. Everything about it is 10/10 the animation, the soundtrack, the meaning behide it, .... i've seen this movie when i was young and its great, i re watch it when im older and its even better. This is truely the movie for everyone no matter what age you at
More
"An animation that brings happiness & joy In exciting new ways. Amazing soundtrack, gorgeous landscapes, deep characters & a unique world"
More
This film is a masterpiece by all means. The artwork, the music, the plot, the vivid characters. The film starts out pretty standard, but before you know you will drawn into the story, which is all but standard. You can not predict which surprise is around the next corner. After seeing it a couple of times over the past few years, i Always find new surprises en details. Also after seeing it, i immediatly want to return to the world of Chihiro. I saw both the english dubbed and the Original japanese version. I think I liked the japanese version more because of the mystery that is added. Subtitles don't mind me. If you have not seen it. Do it! You will understand why this movie is still rated so high after al these years.
More
I saw this because it's in the book 1001 Movies Before You Die and it definitely deserves a spot! Spirited Away is one of the best animated features I have ever seen. Roger Ebert even put it on his list of "great movies." The movie is 2 hours long but I wish it were 2 days long! It's beautiful and awe-inspiring. In fact, 10 stars can't do this movie justice. You must absolutely see Spirited Away for a breathtaking experience! By the way, the main character is voiced by the same girl who voice Lilo in Lilo and Stitch.
More