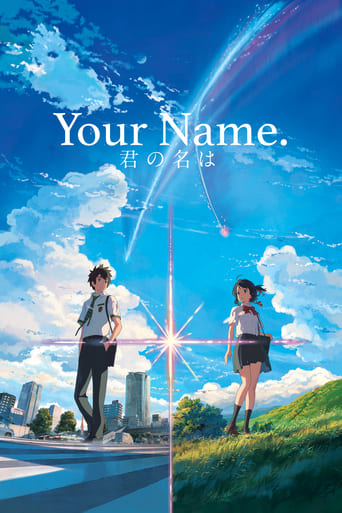 AD:This title is currently not available on Prime Video
Your Name. (2016)
AD:This title is currently not available on Prime Video
High schoolers Mitsuha and Taki are complete strangers living separate lives. But one night, they suddenly switch places. Mitsuha wakes up in Taki's body, and he in hers. This bizarre occurrence continues to happen randomly, and the two must adjust their lives around each other.
...
Watch Trailer
Show More
Cast
Similar titles
Reviews
Memorable, crazy movie
More
A Disappointing Continuation
More
It's funny watching the elements come together in this complicated scam. On one hand, the set-up isn't quite as complex as it seems, but there's an easy sense of fun in every exchange.
More
It's not bad or unwatchable but despite the amplitude of the spectacle, the end result is underwhelming.
More
Your Name is one of those movies/shows where I just don't understand the ridiculous praise it gets. Yes, the concept of body swapping is interesting and well executed in the first half. But then it starts to become full of extremely vague or completely unexplained plot points that break immersion and leaves the viewer unsatisfied. It's a complete mess. The ending is also dumb and negates the entire point of the movie.
More
There is a oftenly uttered (I cannot name it as a cliché) sad notion: If you lose someone when you are little or if a very long time passed since that moment, you cannot remember who that person was. That is how i fell about my grandmothers. I can't remember how they sounded like, what did they like, why they were angry. I can only remember vague things like how would one prepare a meal or how would other frown over my misbehaviour. These thoughts makes me feel sad and a little bit lost. I followed this train of thought when i watched this movie. Japanese movies and animes usually follow these kinds of uncanny but strong sentiments and when done right(not too streched thin like in long-running animes), it is bullseye. Those men now how to manipulate my feelings. I have felt seperation and forgetting something i longed for. It had some dorky and pervy humor of animes, some metphysical aspects to complete the recipe and at the end we had an emotionally moving piece to enjoy.
More
Makoto shinkai did an amazing job animating this movie , the hand drawn animation is simply put breath taking . In addition to that , the story is very well rounded , the characters are all well depicted , enough not to leave the viewers imagination roaming . Thanks love story that occurs between the two main characters with some elements of body swap is not an original idea , but adding in some other elements ( no spoilers) makes it a hall different story . In summary your name , with it's beautiful animation , relatable characters , and heartwarming love story became my favorite movie
More
Truly breathtaking visuals and story, similar to that of Border Patrol UK or Crimewatch. It's a must see.
More