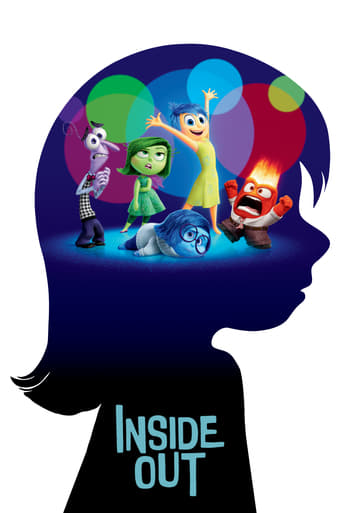 Inside Out (2015)
Growing up can be a bumpy road, and it's no exception for Riley, who is uprooted from her Midwest life when her father starts a new job in San Francisco. Riley's guiding emotions— Joy, Fear, Anger, Disgust and Sadness—live in Headquarters, the control centre inside Riley's mind, where they help advise her through everyday life and tries to keep things positive, but the emotions conflict on how best to navigate a new city, house and school.
...
Watch Trailer
Cast
Similar titles
Reviews
Too much of everything
More
Funny, strange, confrontational and subversive, this is one of the most interesting experiences you'll have at the cinema this year.
More
This is a small, humorous movie in some ways, but it has a huge heart. What a nice experience.
More
Through painfully honest and emotional moments, the movie becomes irresistibly relatable
More
From a counselor's perspective, this is a great film that shows to children their different emotions, how to control them and not let them run wild! It is colorful, bright and entertaining. Love this movie.
More
This animation is based on a great idea, but i was disapointed about the screenplay
More
It is interesting how the director puts all the ingredients that take part of human consciousness, memory, decisions making and emotions; clearly, in the easiest way to understand. A way to explore the head and thinking of a little girl, who isn´t very different from all of us (english is not my native language)
More
Honestly I loved the movie and my kids loved it as well. I think most of the people who wrote the negative reviews didn't understand the premise or concept. She wasn't depressed, she was sad about moving. There is a definite difference between the two. Her reaction to moving was a very real one. She didn't want to make her parents feel bad about moving so she hid her emotions. That's a very real concept and whether we realize it or not our kids care and worry like we do. And will sometimes not share their feelings for fear of hurting ours. Great movie. Watch it with an open mind.
More