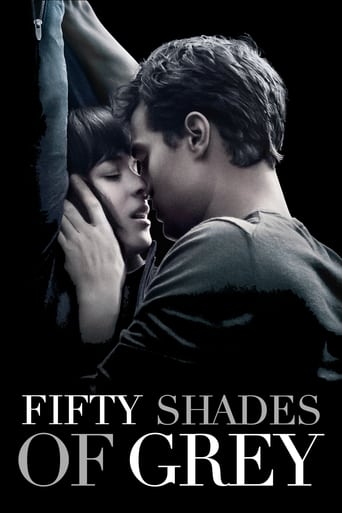 Fifty Shades of Grey (2015)
When college senior Anastasia Steele steps in for her sick roommate to interview prominent businessman Christian Grey for their campus paper, little does she realize the path her life will take. Christian, as enigmatic as he is rich and powerful, finds himself strangely drawn to Ana, and she to him. Though sexually inexperienced, Ana plunges headlong into an affair -- and learns that Christian's true sexual proclivities push the boundaries of pain and pleasure.
...
Watch Trailer
Cast
Similar titles
Reviews
This movie is the proof that the world is becoming a sick and dumb place
More
This is a small, humorous movie in some ways, but it has a huge heart. What a nice experience.
More
This movie had me cringe so hard, its one of the worst I have ever seen. Absolute crap! Thankfully I caught it on TV because it would have been a shame to pay for this garbage!
More
BEAUTIFUL AND AN MUST WATCH FILM FOR ADULTS.. A LOT OF RESPECT FROM US ADULTS TO THE WHOLE FILM CREW,LOVED IT... DAKOTA JOHNSON JUST totally EARNED THE SHOW,Great work(a lot of respect for DAKOTA JOHNSON MA'AM)....
More
I love this movie serie. I have watched them all and also read the books. The movies is so much better without the many detailed sex scenes. What is best With the movie serie is about the story of Christian Grey. Why he is a sadist, How Ana makes him a better person, able to feel love and enjoy life. I love the chemistry between the caracters, even though the chemistry between the actors could be better. I have seen it many Times, just for the feeling of this complicated relationship
More
I saw the rating of the movie is very bad, but still everyone talking about this movie like a good one. That was the first reason why I decided to watch the movie. And the second was pretty 'Dakota Johnson'. By the way the movie was really intense to me for the eagerness of what will be next, like will he make her as his girlfriend and become a nice person like she ever wanted? going to be a forever happy one? etc. I almost felt like she conquered 80% of him and kept it going to 100%. But tragically the last 15 mins changed everything and spoiled the soothing pace of the movie. She gave up on him, and gone from his apartment because of things that never meant to be happened. Even though something horribly happened, I had a faith like any other viewer that he sooner or later showed up in front of her and beg for her love and apologize for his peculiar conduct. But the odds are favored at the end, like nothing happened and they were separated for a life time I guess! The author may be an intelligent person but I wonder, what kind of intellect was that at the end that he made. Couldn't the authors be a normal person and think like a normal person?
More