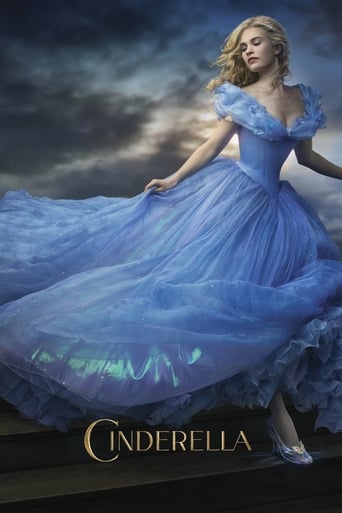 AD:This title is currently not available on Prime Video
Cinderella (2015)
AD:This title is currently not available on Prime Video
When her father unexpectedly passes away, young Ella finds herself at the mercy of her cruel stepmother and her daughters. Never one to give up hope, Ella's fortunes begin to change after meeting a dashing stranger in the woods.
...
Watch Trailer
Show More
Cast
Similar titles
Reviews
Good start, but then it gets ruined
More
Strong acting helps the film overcome an uncertain premise and create characters that hold our attention absolutely.
More
There are moments that feel comical, some horrific, and some downright inspiring but the tonal shifts hardly matter as the end results come to a film that's perfect for this time.
More
This is one of the best movies I've seen in a very long time. You have to go and see this on the big screen.
More
Makes my heart warm, lovely wonderful and absolutely magical movie.
More
This is Disney's live-version of its animated featured film, and retells the classic story of the kind maiden in rags, Cinderella, who is mistreated by her stepmother and stepsisters, all while dreaming of a joyful life of her own.I liked how we get to see a more in depth look at each character, particular the close relationship between Cinderella and her parents, and the events that led to the cruelty and coldness of her stepmother, Lady Tremaine. The Prince also played a larger role, as we get to see his relationship with his ailing father and his first meeting (besides the ball) with Cinderella.All the characters were quite memorable, including Cinderella's animals friends, though they are given a much lesser role in the movie. I particular liked Helena Bodham Carter's portrayal of the Fairy Godmother - charming and whimsical.The beautiful cinematography and visual effects made the film enjoyable, though, I could have done without some of the characters in the film including the Prince's right-hand man, and wished the stepsisters were given more screen time. Some of the scenes were also a little rushed, including the scenes where Cinderella does her chores and the infamous dress-ripping scene.Overall, a nice Disney film. Magical and dramatic at the same time.Grade B
More
Disappointing. A forgettable musical score. Even the oddly cast Disney multi-cultural video is superior. As much as I like that production, I believe that "Cinderella" has to be a fair-haired blue-eyed blonde! Other actors can be anything they wish! Good performances by all in this 2015 "remake" so I can't quite figure out just what's missing here. Walt Disney used to call it "heart". As a "film" collector, I have both versions of "R&H Cinderella" (which are both videos), Disney's animated classic, and "Ever After" with Drew Barrymore. Plus, I have seen "The Slipper and the Rose" as well. (It's also excellent, but it's a bit too operatic, with ballet dancing, for kids.) Here, both her mom and dad die, mercifully, "off camera". The most redeeming quality is the great over-the-top Fairy Godmother pumpkin coach and animal transformations (and after Midnight un-transformation). Where is my "Bibbity-Bobity-Boo" song? Yes, the chattering mice, lizards and goose are too cute and very well done. There is just not as much surprise here, as the Prince remembers meeting her in the forest and therefore shouldn't have had that much trouble finding her? The new Beauty and the Beast movie (2016) is just so much more captivating and "alive". At least there is no "chunky" Fairy Godmother here. Whitney Huston could barely squeeze into her costume, so many years ago!
More
There are SO MANY adaptations of the most iconic fairy tale of all time, whether it takes place in modern time and stars Hilary Duff or Selena Gomez, and of course everyone knows the original 1950 animated Disney classic. Disney is bringing many, MANY of their most iconic animated films to life on the big screen, and I'll say this: if they can all be as good as Kenneth Branagh's Cinderella (2015), then please, Disney, continue making them.Cinderella (2015) stars somewhat newcomer Lily James, who could not have been more perfect as Cinderella (Ella); Cate Blanchett as Lady Tremaine (Wicked Stepmother); Richard Madden as the Prince (Kit); Helena Bonham Carter as the Fairy Godmother; Derek Jacobi as The King; Holliday Grainger and Sophie McShera as Anastasia and Drisella; and Ben Chaplin and Hayley Atwell as Ella's parents. This movie, and I cannot emphasize this enough, truly brought to the screen the MAGIC of 1950's masterpiece. I truly don't believe that any other actress could have been more charming in the title role as Lily James. This really was the first time I've seen her in a movie, and I became an instant fan. Her voice (singing and speaking), mannerisms, charm and beauty make you wonder if she really is born into a family of royalty. She was everything Cinderella is supposed to be, and definitely a wonderful role model to young ones. The chemistry between Lily James and Richard Madden was like Leonardo DiCaprio and Kate Winslet, well, a family version, they were so perfect for each other. Cate Blanchett and Helena Bonham Carter were so wonderful (of course), the whole cast gave tremendous performances. I loved how we learned and sympathized a bit more with Lady Tremaine overall.Now, the highlight of course of any Cinderella movie is the ball, or maybe the transformation. I can't even describe how beautifully the movie executed Ella's dress transformation, you feel like you're in the air, dancing along as her moment of freedom grabs her. And Sandy Powell, wow, that blue dress, I hope that she continues working more and more on the best films, which she mainly does; that dress was literally another character in this movie, that's how magnificent it is; I have never seen a more beautiful dress in my life, this dress is going to be a major part of film history.This is (in my opinion), Disney's best live-action adaptation of their classics, some may argue The Jungle Book (2016) is, but I'm going with Cinderella (2015), it has such great messages, especially for kids about having courage and being kind even during the worst of your sufferings. Why is this such a spectacular movie? Because anybody with a heart will want to commit an act of kindness after watching this movie.
More