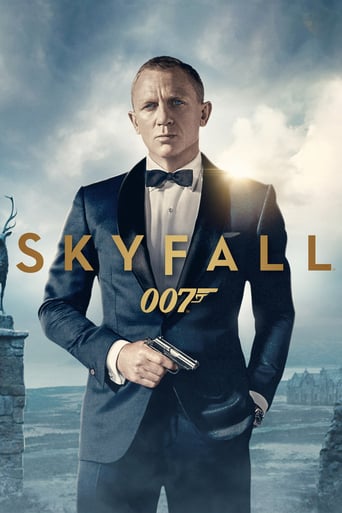 Skyfall (2012)
When Bond's latest assignment goes gravely wrong and agents around the world are exposed, MI6 is attacked forcing M to relocate the agency. These events cause her authority and position to be challenged by Gareth Mallory, the new Chairman of the Intelligence and Security Committee. With MI6 now compromised from both inside and out, M is left with one ally she can trust: Bond. 007 takes to the shadows - aided only by field agent, Eve - following a trail to the mysterious Silva, whose lethal and hidden motives have yet to reveal themselves.
...
Watch Trailer
Cast
Similar titles
Reviews
It's no definitive masterpiece but it's damn close.
More
This is one of the best movies I've seen in a very long time. You have to go and see this on the big screen.
More
I enjoyed watching this film and would recommend other to give it a try , (as I am) but this movie, although enjoyable to watch due to the better than average acting fails to add anything new to its storyline that is all too familiar to these types of movies.
More
I didn't really have many expectations going into the movie (good or bad), but I actually really enjoyed it. I really liked the characters and the banter between them.
More
Bond in transition and bond for the modern age in one film.
More
This is truly the pinnacle of Bond films. Although perhaps not the best opening action sequence overall, it succeeds in introducing the tone of the film-- one that fits perfectly with the narrative. It also introduces Naomie Harris who is a welcome addition to this revamped cast. And maybe the animation sequence doesn't tell the best story, but it's so clever, and when matched with Adele's titular song, it is definitely the best theme.Early on Daniel Craig briefly sports a scruffy look. He doesn't come close to passing the physical. The psychological examination is clever. All of this and more builds on the approach Sam Mendes beautifully takes this film. And it's all backed behind a stellar cast. Ben Whishaw plays one of my favorite (if not favorite actually) characters in the young and arrogant techno Q, and of course adding Ralph Fiennes into the mix is awesome. This also marks the best narrative given to Judi Dench as the aging M (although give Judi Dench credit because she looks great for however many decades old she is).If you didn't know it was coming, I had to save Javier Bardem for last. He is a powerhouse actor who became familiar to American audiences with his villainous turn in No Country for Old Men (I'd describe his character as the combination of Joker and Two Face from The Dark Knight). Also shout out to his starring role in Alejandro Inarritu's foreign film Biutiful. And if you need any more evidence of his quality acting, look no further than his malignant and sophisticated role in this film. His introduction and monologue is memorable, his actions are remorseless, and unlike Christoph Waltz's antagonist in the sequel, the execution of his plan is smart and scary. Easily the best villain of this series.Something I haven't really discussed much from the other films but that is so vital to the success of this film is the cinematography. The film lost out to Life of Pi at the Oscars, but the shots of Shanghai-- in particular the silent action scene in the skyscraper is one of my favorites of any film-- are such a gorgeous combination of colors bursting from the dark surroundings (hmm, even a bit like the tone of the film).This movie is the perfect blend of old and new Bond. Throw on top a great character-driven story, and not only is this my favorite film of Daniel Craig's series, it's my favorite Bond film (admittedly, I need to re-watch many of the classics, especially with Sean Connery). And not only is it my favorite Bond film, it's just a tremendous film on its own. Multiple scenes always pop out as memorable, and the climax is simply fantastic. Even if you haven't seen Casino Royale, or any Bond film for that matter, I can't stress enough that to anybody and everybody I give a high recommendation to go watch Skyfall. You can find this review and dozens of others at gillipediamoviereviews.blogspot.com
More
I give this one 12 glowing flaming Meerkats for its music, casting and yes, even sickness of it all, (Long story about the Meercats I'll tell you about one day. It was invented by my life coach and crazy "bastid" friend (I spelled it that way on purpose, so don't tell me how to spell "bastard," please.)Forgive me for what credits I didn't mention. I hope to correct that by adding some another time.Since 1964 and Goldfinger, when I was not yet 14 that summer, I have been a die-hard fan of 007! Even Roger Moore had some great ones without Jaws and stupid jokes and some great themes, but Daniel Craig won me over as Bond I even now have the hots for the new black Moneypenny.Spoilers...The only thing I didn't like, was the killing by the villain of one beautiful woman whom he shot dead, but I understood why the bad guy needed to do it, just to mess with our hero. But it was very good to see Javier Bardem get killed by James Bond There are bits of every decent Bond movie starting with From Russia With Love, to Goldfinger, Thunderball and even On Her Majesty's Secret Service in this thrilling, nail-biting 50th Anniversary Movie.One thing I caught only a few days ago, was Judi Dench's (M) mention of her "late husband" who could only have been Bernard Lee, the Original M, Admiral Sir Miles Messervy. That made me cry even more while it thrilled me to the bone. And yet she (Teresa, I believe) died in Bond's arms the way George Lazenby's Bond (and less then stellar acting in OHMSS) bride died (Diana Riggs, in this case whom would have been wonderful had it been Sean Connery in the flick.)No more spoilers...The theme was singable and memorable as well, and I'm glad it won an Oscar which Goldfinger should have gotten)You know, I really wasn't fond of Craig in the beginning, but I changed my mind after the second time I watched his first film Casino Royale. Now, I'm a die-hard fan forever! Especially after I found out that Mr. Craig did most of his own stunts!Spoilers...Ewan McGregor as the new M was perfectly cast, but I am still sad at the loss of Madame Judi Dench though I know she had lost most of her sight and has gotten quite old.No more spoilers...After I saw some reviewers "hating" this motion Picture, I wondered who asked them? Stupid people, if you ask me.I mean, what is here to hate about this amazing Motion Picture? The answer?... nothing! ...and you can take that to the bank once you look at how much cash it raised,I'm glad to hear that Daniel Craig will do two more at least, but I'm hoping he will do another 3 before he leaves.I have watched all of the Bond films, and many, multiple times, but I have also watched a few comedy versions that had their good points. Like "OK Connery" or "Operation Kid Brother" with Sean's younger brother, Neil Connery with a beard and an American dubbed voice - plus many of the actors from the Bond series of the time from Bernard Lee and Lois Maxwell, plus a few villains in the series in those days. It came out about the same time as Sean was doing one of the two films (You Only Live Twice with a in which he was going to leave, but didn't. It even had Ennio Morricone doing the score with a fun, silly song called O.K. Connery (which makes me have to sing it every time I say "Ok."I even saw the 67 parody which was really bad, even with Orson Welles and David Niven as Sir James Bond (proving Ian Fleming wrong and so wanting to cast him in the part he was so wrong for the role. Fortunately Peter Sellers was lots of fun as well as Burt Bacharach's music theme which is best without lyrics. Even a strange cameo by George Raft flipping a coin in old 30's gangster attire.In The 1957 CBS-TV Climax version with Barry Nelson as "Jimmy Bond" as a boring American spy working with British spy "Clarence" Leiter even more dull. It is only Peter Lorre as Le Chifre who makes the black and white show interesting in an Ian Fleming sadistic torturer scene at the end, making the idea of Lorre in one Sean Connery film perhaps as the Emilio Largo in that film. A shame that didn't happen.This film could have bee a great ending to a fantastic series, but James Bond "will return" again, people!
More
Skyfall: Movie Review.Skyfall is an excellent and fantastic film with a beautiful, fine and well-crafted story that is highly impressive and with some great performances, writing and direction. Skyfall is brilliant in its conception and execution and the movie develops smoothly into a non- stop thrill ride and the film accomplishes everything it sets out to do. Daniel Craig is brilliant as James Bond, and the script of the film is worthy of the actor's dramatic talents. In terms of Visuals, Skyfall is an astonishing, stunning and spectacular film. The soundtrack and the musical score of the film is top notch and outstanding.The direction of Sam Mendes is brilliant, absorbing and artistic. Cinematography of the film is fantastic and highly imaginative. Action Sequences are breathtaking ,dazzling and very well executed. Many action sequences are visually epic, exciting, gripping and well paced. The cast performance is great, especially of Judi Dench as M and Javier Bardem as strong villain Silva. The main flaw of the film is its long running time, lack of proper pacing structure. I remember seeing Skyfall in cinemas. It was quite a unique experience. The film is another solid entry to the long running franchise of James Bond films. All over Skyfall is one hell of an enjoyable film.(Please Note: That This Review represent only my professional point of view and my personal honest opinion about the film, and does not represent others. Thank You).
More