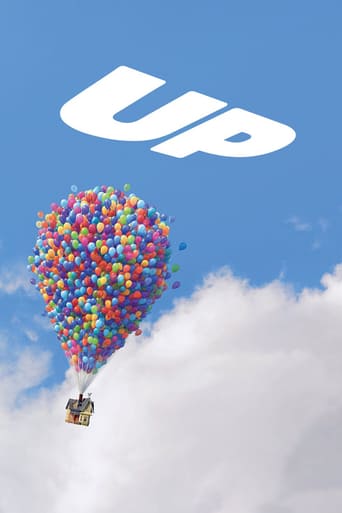 Up (2009)
Carl Fredricksen spent his entire life dreaming of exploring the globe and experiencing life to its fullest. But at age 78, life seems to have passed him by, until a twist of fate (and a persistent 8-year old Wilderness Explorer named Russell) gives him a new lease on life.
...
Watch Trailer
Cast
Similar titles
Reviews
I wanted to but couldn't!
More
Absolutely the worst movie.
More
It's easily one of the freshest, sharpest and most enjoyable films of this year.
More
Thanks for being this movie.I love it so much.I love all characters and animals.Finally, I feel like that love is so important after our beloved has been died.
More
The beginning is the only god part and it made me ball my eyes out. the reason why such high rating is because the beginning is the best thing i've ever seen in my life.
More
Up is one of may favorite movies. This movie is the best Pixar movie I have ever seen. It is thrilling, funny, and has an amazing story line. I recommend this movie to everyone.
More
WHY U NO LOVE UP? IT IS THE BEST MOVIE U DAFT FOOL! I AM TIRED OF YOUR TOMFOOLERLY! GIVE IT THE 10 STARS IT DESERVES U CANNOT TELL ME THIS COCO TURD BUTT OF A MOVIE IS BETTER THAN THIS MASTERPIECE!!!! UP HAS EVERYTHING YOU COULD WANT IN A MOVIE: ROMANCE, ACTION, SUSPENSE, COMEDY, AND ADVENTURE! I CRI EVRYTIEM! U NO CRI U NO MAN! THAT IS THE DON WAY! ONLY ONE THAT COMES CLOSE IS INSIDE OUT!
More