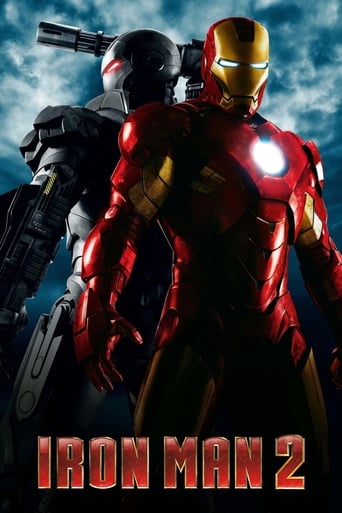 Iron Man 2 (2010)
With the world now aware of his dual life as the armored superhero Iron Man, billionaire inventor Tony Stark faces pressure from the government, the press and the public to share his technology with the military. Unwilling to let go of his invention, Stark, with Pepper Potts and James 'Rhodey' Rhodes at his side, must forge new alliances – and confront powerful enemies.
...
Watch Trailer
Cast
Similar titles
Reviews
In truth, there is barely enough story here to make a film.
More
This story has more twists and turns than a second-rate soap opera.
More
It's not bad or unwatchable but despite the amplitude of the spectacle, the end result is underwhelming.
More
It is encouraging that the film ends so strongly.Otherwise, it wouldn't have been a particularly memorable film
More
Iron Man 2 was good. The beginning with Tony at the convention in the suit was a good part and when Whiplash was developing his weapons were both great scenes. When Tony was driving the race car and then had the battle with Whiplash I thought was good, and when Hammer took him in to help take down Tony was also interesting. When Hammer and Whiplash were having the side plot with the bird, though, I thought was stupid and unnessisary. What I did find interesting was when Rhoads took the other Iron Man suit and became War Machine and then fought Iron Man, I genuinely thought that was a great scene. But then the fight when Iron Man and War Machine we're back to back fighting of the bad guys was a good scene, but it seemed to be almost the exact same as Iron Man 1. But the fight with Whiplash was very forgettable. Overall, a decent film.
More
A decent sequel and it was a good second chapter in the saga of Iron Man. However, there were a lot of characters involved in this Marvel entry and I don't know if they got a lot of screen time. The action sequences were good and I got to see Black Widow in action. I'd heard about her from a Marvel sourcebook but never got to see her in action. But this was nice. She makes a nice Russian agent turned super-athlete for the angels. Apart from all this, it's not as good as the original Iron Man, though the villain was really good and one of the more serious ones. Whiplash really gets whipping, no pun intended.
More
10/10 better than JoJo's and Cars. ILL USE MY STAND CAR PLATNUM KAKAKAKAKAKACHIGGA!!!! I loved the part when Shrek Shippuden fought Dio and exploded. The intro was awesome. DEJA VU IVE BEEN IN AN ANIME BEFORE
More
This was a fun watch with Robert at his best and moreover his chemistry with Gwyneth was interesting. The creation of a new metal was an interesting part of the movie. Overall a good fun.
More