Watch The Imitation Game For Free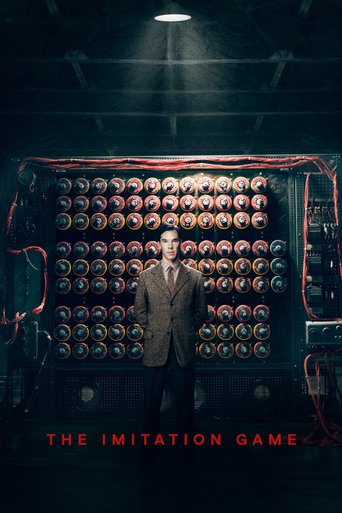 Based on the real life story of legendary cryptanalyst Alan Turing, the film portrays the nail-biting race against time by Turing and his brilliant team of code-breakers at Britain's top-secret Government Code and Cypher School at Bletchley Park, during the darkest days of World War II.
... more
best movie i've ever seen.
More
By the time the dramatic fireworks start popping off, each one feels earned.
More
The movie is more than great ! described everything in the best way !!Benedicts Cumberbatch is great and great and great !!!
More
The movie is good and the performance is charming by Benedict that you feel he broke another Enigma which was Alan's character. The music is very good written and added to the value of the scenes. However the direction was average and the story really didn't present that historical incident well and focused more in Alan's sexuality. Also it was predictable and had no worries watching it knowing that it will happen and they will break the Enigma code and that was the challenge to make you doubt that it will happen and present the suffering and work done to achieve it and focusing on it's result and on the war too and it's effect on it. The characters were very full of stories and feelings that could have been used instead of having unnecessary scenes and focusing on how to present the smartness of Alan's mind not telling us he is a smart and has a different attitude than others and you know that it will work in the end. Also small Alan was different than the big one that I felt the small one was performing another Alan with a mental disorder.Also Keira's character wasn't powerful or had any difficult scenes to present her well. However the movie is full of good scenes with performance and music and irresistible to watch.
More
Whoever wrote that the imitation game was dull has no appreciation for or understanding of math. Given that this movie is largely based on the true story of Alan Turing with all his flawed humanity and genius it's only natural that not everyone got it. Benedict Cumberbatch gives an insightful performance of an introvert who's driven to the edge of what's possible and maybe beyond. Of course, the screenplay is made for a modern audience so it isn't perfectly true to the actual events to deliver some entertainment along historical facts but one can easily forgive that. The acting was good with the surprising exception of Keira Knightley who left me somewhat underwhelmed yet above average. Hence "only" 9 stars. This movie is a must for any nerd like me!
More
After watching The Kings Speech I grew more interested in watching wartime/period dramas, this one was excellent. Yes it may not be 100% accurate but it is still a great film with a gripping story-line. Knightley and Cumberbatch have done a fantastic job with this film. Strong 8/10
More