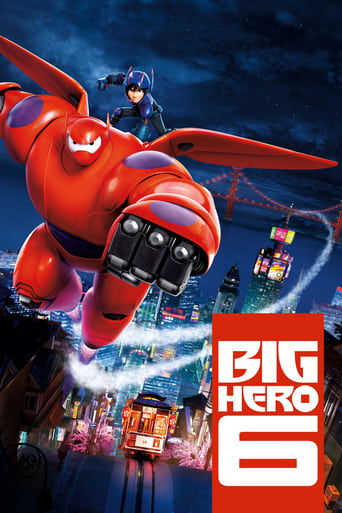 Big Hero 6 (2014)
The special bond that develops between plus-sized inflatable robot Baymax, and prodigy Hiro Hamada, who team up with a group of friends to form a band of high-tech heroes.
...
Watch Trailer
Cast
Similar titles
Reviews
Best movie of this year hands down!
More
To me, this movie is perfection.
More
Although I seem to have had higher expectations than I thought, the movie is super entertaining.
More
The film's masterful storytelling did its job. The message was clear. No need to overdo.
More
The dead of the brother and comdey didn't work together to me. The laughter of the audience died with the explosion.
More
Even after watching it for the first time in 3 years, Big Hero 6 is still an amazing film. The score and animation are both flawless, the writing and characters are mostly great (more on that later), and the plot is unique and the twist regarding the villain's identity is exactly what a twist should be: unexpected, but not completely out of nowhere (i.e. dropping subtle hints to set up the twist). Also, apart from the giant skyhole you've seen in every other movie finale from the past 20 years, the finale is creative, funny, well executed, and has a lot of heart. My main problems with Big Hero 6 are that the villain is a bit too generic and TJ Miller voices a character (seriously, just stick to live action, TJ), but apart from that, the film is terrific. I highly encourage people to watch it
More
Movie Review: "Big Hero 6" (2014)Original, kids-friendly as slight Japanese-manga-infused animation feature from Walt Disney Animation Studios comes along with striking 85 minutes, put immediate into action, editorial by digital-editor Tim Mertens, who delivers a kind of 2010s centerpiece of quality-raising success-story for the Disney's Animation department, which had been learning their craft from its Pixar acquisition in 2006, after a minor-convincing episodic "Wreck-It-Ralph" (2012) and the just-magical in picture and sound "Moana" (2016) directed by Disney's animation-seniors Ron Clements & John Musker.The Acdamy-Award winning Best-Animation-Picture of 2014 directed by Don Hall & Chris Williams, known for also directing Disney's early animation stepwork "Bolt" (2008), comes here finally to flourishment with an highly-identifiable leading robot-character "Baymax", who steals every scene it appears as human health supporting artifical intelligence unit, when an "Akira" (1988) indulging showdown of teaming up young group of teenage-nerds, located in the San Francisco bay area, must fight an nano-technology forcing masked as mysterious supervillian.Nevertheless after a cliché-infused first third of this technically-superior animation picture, entertainment factors set in due to tool-box pushing robotic updates that tend to amaze even a mature audience, when by the end of massive as meta-physically sequences of major-color-forcing visual effect works, juniors with their seniors will be satisfied with Walt Disney Animation Studios closing in on classic 1930s / 1950s animated magic.© 2018 Felix Alexander Dausend (Cinemajesty Entertainments LLC)
More
I gave this movie an 8 because, The movie overall was pretty good, i really liked how they developed characters especially Hiro, he was just a bot-fight guy then he started te realize how much he wanted to go to the school his brother went because the robot things were pretty interested to him! His presentation was super cool too!Baymax was by far the cutest thing I have seen this year, he was so fluffy and nice to everyone!And the Villain was just super cool, you might see him coming after the fire explosion but they hide it pretty good.Other 4 characters other than Baymax and Hiro were so fun, I actually loved Wasabi, his blades were super cool and he used them good too!Overall you can watch this movie with your family, friends and have tons of fun while watching!
More