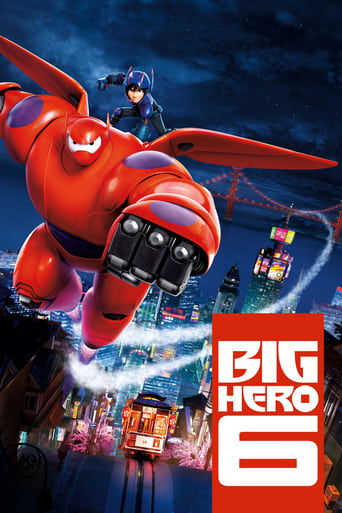 Big Hero 6 (2014)
The special bond that develops between plus-sized inflatable robot Baymax, and prodigy Hiro Hamada, who team up with a group of friends to form a band of high-tech heroes.
...
Watch Trailer
Cast
Similar titles
Reviews
Sick Product of a Sick System
More
It's no definitive masterpiece but it's damn close.
More
Absolutely the worst movie.
More
It's the kind of movie you'll want to see a second time with someone who hasn't seen it yet, to remember what it was like to watch it for the first time.
More
This is one of my favorite Disney movies because the characters are so very endearing. You will not regret watching this movie.
More
This film hits on many important issues that kids need to understand in life. It is beautifully written, wonderfully animated, and sadly underrated because Frozen came out around the same time. I love this film and have seen it many times, so should you!!! Please watch and enjoy :)
More
In 2014, Disney released their 54th animated feature Big Hero 6, a film adaptation of a relatively unpopular comic book series by the same name. Alongside being critically acclaimed, scoring big at the box office, and winning the Oscar for Best Animated Feature, what people took away from the film was how Disney did something different, adapting a superhero comic into an animated feature. I myself loved this film back when it came out and even called it one of Disney's best....now I personally just find it good but a little overrated.As usual for Disney, the animation is simply breathtaking. The film is set in the fictional city San Fransokyo, a blend of San Francisco and Tokyo, and the very design of it just spills imaginative. I'm sure anyone obsessed with modern Japanese art and central Californian life will go nuts over the amount of details and buildings created for the somewhat futuristic city. Along with a city that could only be made for a comic, the characters themselves look like they were made for a comic too given their stylized and exaggerated designs. However, the true highlight of the animation are the multiple representations of robots, technology and special effects, and the animators certainly let their creative juices go to great use in crafting the multiple mechanics and graphics used for the film.That being said, the story itself is nothing all that special. It centers on robotics prodigy Hiro Hamada, who lost his brother, Tadashi, only leaving behind Tadashi's robot made with the sole purpose to aid people in need. After some shocking events catch on, Hiro transforms Baymax and his other friends, Go Go Tamago, Wasabi, Honey Lemon and Fred into a band of high-tech heroes. It's not hard to figure out the outcome, and most of the characters aren't all that memorable. Gogo is the tough athletic girl who's into speed, Honey Lemon is the bubbly chemist, Wasabi is the wise albeit neurotic laser enthusiast, and Fred is every stoner comic relief in the book....but I'd be lying if I said I didn't find him funny. Also, without giving much away, the reveal of the main villain is pretty obvious, although his motivations are built on vengeance from a horrible tragedy, so at least he has a decent reason for wreaking havoc.However, I will say that the relationship between Hero and Baymax is the most heartwarming aspect of the entire feature. Considering that Baymax is built to help people, it makes sense that he would help Hiro in need. Even when Hiro wants him to fight back, deep down inside Baymax knows that murder will never bring Hiro's former sibling back. It truly is touching to see the only remains of Tadashi left simply want to make Hiro move on from a horrible tragedy, as I'm sure anybody dealing with the loss of somebody could relate. Not to mention, Baymax is absolutely adorable, from his squishy design, to his subtle robot movements, to even his caring charm that would make one wish to be his patient.So in conclusion, while I don't think Big Hero 6 is quite as good as most people have made it out to be, I still deem it an entertaining and at times emotional superhero movie that's fun for the whole family. Even with a predictable plot and some two dimensional characters, there's enough fun action, humor, heart and eye popping animation that make it worth a view. Since Disney bought Marvel in 2012, people have been wondering if this film will get an installment in the MCU...well, here's their chance to do so. With a potential TV series soon to have more episodes (it's just being delayed, it hasn't been cancelled) and a rumored sequel, there's always potential for further development of this world and its characters in the future.
More
Big Hero 6 offers something for everyone: action, camaraderie, superheroes and villains. But mostly, Baymax offers a compassionate and healing voice for those suffering, and a hug that can be felt through the screen.Big Hero 6 is a beautiful film, showcasing how much animation has become. The east and west coast mash up of San Fransokyo combines to make such a spectacular scenery, that the city may as well be a character to the film.The cast is also fun to watch. The cast is truly dramatic, whether you are precise like Wasabi, positive like Honey Lemon or just a guy who loves media like Fred. It still be a great Disney movie of all time. I don't care what the critic reviews say this movie is a true masterpiece. Showing that no matter what happens in your life you need to do whats right. Also introducing the most lovable character in movie history. The basis for the movie is so unique compared to most other Disney movies.To be honest, when I saw the preview I thought it was going to be another Disney movie gone bad.But I was smiling right from the beginning and found myself a little teary-eyed towards the end. So I do recommend this movie if you're up for a nice light movie with a lot of laughs: it might be better than you think. ------Yidioo.com
More