Watch The Hobbit: The Battle of the Five Armies For Free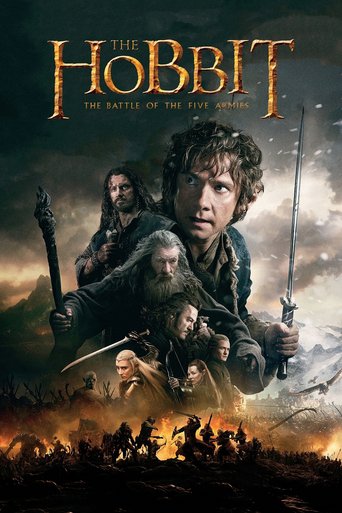 The Hobbit: The Battle of the Five Armies
Immediately after the events of The Desolation of Smaug, Bilbo and the dwarves try to defend Erebor's mountain of treasure from others who claim it: the men of the ruined Laketown and the elves of Mirkwood. Meanwhile an army of Orcs led by Azog the Defiler is marching on Erebor, fueled by the rise of the dark lord Sauron. Dwarves, elves and men must unite, and the hope for Middle-Earth falls into Bilbo's hands.
... more
Plenty to Like, Plenty to Dislike
More
In truth, there is barely enough story here to make a film.
More
Funny, strange, confrontational and subversive, this is one of the most interesting experiences you'll have at the cinema this year.
More
The story, direction, characters, and writing/dialogue is akin to taking a tranquilizer shot to the neck, but everything else was so well done.
More
What I liked1. The last fifteen minutes were actually touchingWhat I didn't like1. Smaug dying in the first five minutes2. The action is generally very boring3. The deaths are just not that close to the book4. Nothing justifies any of the events of the filmOverall this film would probably closer to being a five out of ten or something in reality, but I don't really like this film without thinking about the book and that is why I can over give it a two and in good sense.
More
Am I the only one who grew up with the Hobbit and LOTR, and loved the first films, but now hates the series with a passion? I mean, I can still watch these movies, but the sequel explosion is just getting ridiculous. I find myself numbed to the CGI panorama of wacky stuff going on. Every one of these movies now looks the same, and they have done so many creatures, battles, and scenes with CGI on a monster scale, with unrealistic physics, that I am no longer intrigued by them. It is like watching one long video game sequence, trying to outdo the last Transformers or latest Fast and Furious or Michael Bay disaster movie.The story-telling component and acting have been replaced by a homogenous visual tapestry of confusing(yet spectacular) effects. Don't get me wrong, Jackson makes great films, but this whole series is getting redundant, and every new release of the Hobbit movies looks and feels the same to me. It is like a fairy tale video world on acid, lacking in emotional or plot-driven depth or character development and real-world charisma. I find myself bored with this overdone pile of visual antics.Also, Sam and Frodo in the first 3 films were practically dying to french kiss or something. Are they secretly lovers? I liked the stories and read some of them as a kid, but the movies with Photo Saggins and Sam hamming it up really killed an otherwise great story, while we are on the subject of goofy LOTR junk. Overall, I like LOTR, but these sequels and prequels are getting as bad as Disney taking the helm for Star Wars and doing it to death.
More
Less is more, and there was plenty of that in the tightly made first two Hobbit movies, as good as any of the well planned Lord of the rings series. I realized within the first half hour that the series should have concluded with the end of Smaug, moving this third series into outlandish and convoluted messiness after the second film's fist wrenching cliff hanger was resolved within 20 minutes of this film. Suddenly, there's a bunch of new threats to keep Thorin from taking back his mountain as humans, elves, dwarfs and Smaug's evil ogres fight. In the meantime, I began fighting a huge headache, and I blame the over ambition for this entry for giving it to me.Certainly, the idea of the end of one battle leading to others is promising drama, having been evidenced in real history. But none of what transpires here is in "The Hobbit" in my memory of having read it at least three times. This shows as much desperation in the desire to continue the franchise that has turned "The Pirates of the Caribbean" series into an abysmal joke.Characters that you rooted for in the first two films are pretty much destroyed here, and the voice of Smaug continues to pop up, not only to haunt Bilbo Baggins but to voice villainous characters as well. The lack of loyalty to the original novel is very apparent, turning this into an obnoxious cliché of different levels of magic represented for both good and evil. Films like this take away my confidence in the modern Hollywood method of making movies, and reminds me why I avoid movie theaters now for the most part. They say that too much of a good thing can damage a final product, and this is evidence of how true that is.
More
...and if I had known I was going to watch an animated movie I might have enjoyed it more.This was at least a half hour longer than was needed. Personally I found the over use (and IMO over dependence) on CGJ made the parts were you could actually see the actors look strange...as if they had been cut into an animated movie.I enjoyed the film, but would have enjoyed it a lot more if it had been shorter.
More