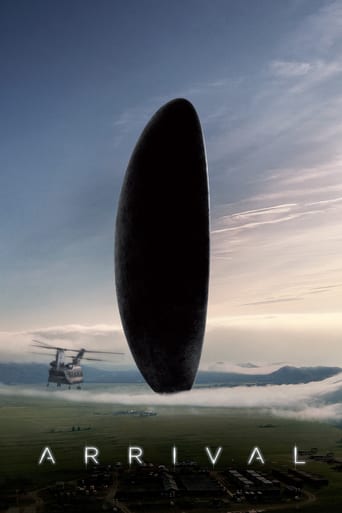 Arrival (2016)
Taking place after alien crafts land around the world, an expert linguist is recruited by the military to determine whether they come in peace or are a threat.
...
Watch Trailer
Cast
Similar titles
Reviews
Good films always raise compelling questions, whether the format is fiction or documentary fact.
More
The story, direction, characters, and writing/dialogue is akin to taking a tranquilizer shot to the neck, but everything else was so well done.
More
The film never slows down or bores, plunging from one harrowing sequence to the next.
More
what a terribly boring film. I'm sorry but this is absolutely not deserving of best picture and will be forgotten quickly. Entertaining and engaging cinema? No. Nothing performances with flat faces and mistaking silence for subtlety.
More
So, I saw this moive late at night with some wine at hand, it held my gaze and kept me wondering about what happens next. It's uniqe, chill, stilish and at times even gripping. Now, if you want to geek out and have a "true to life" sci-fi, then you won't like this flick. But if you want to immerse yourself for a couple of hours with the idea of taking to aliens, be my guest.
More
Just like "The Girl on the train" and "Interstellar" ; You eventually interpret it, decipher its damn Morse code and get the whole mumbly jumbly Idea behind it, plus you have your fair share of mmm I see!!. But it's just a waste of Brain energy load of Crap.
More
Still it is unbelievable how this movie has so high rate. So blunt, so hollow... everything is familiar so achingly familiar . I guess only teenagers rated this movie
More
This movie was great. At first I thought it would be a cheap mix of the "The Day The Earth Stood Still" and "Sphere". This movie was so much more. I went into this movie with low expectations which is probably why I enjoyed it so much. In all, this movie had a plot twist that was more beautiful than plot ruining.I know a movie is great when I am driving to work the next day (1 hr commute) and I can't stop thinking about it.This movie is free on Hulu, if you have not seen it yet, please do so
More