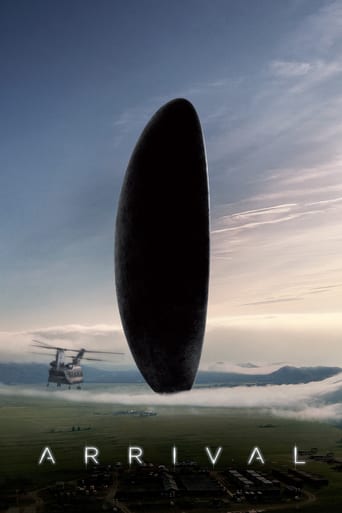 Arrival (2016)
Taking place after alien crafts land around the world, an expert linguist is recruited by the military to determine whether they come in peace or are a threat.
...
Watch Trailer
Cast
Similar titles
Reviews
Excellent but underrated film
More
Let me be very fair here, this is not the best movie in my opinion. But, this movie is fun, it has purpose and is very enjoyable to watch.
More
There's no way I can possibly love it entirely but I just think its ridiculously bad, but enjoyable at the same time.
More
One of the boring movies if all time. Don't watch the movie its a waste of time
More
So, I saw this moive late at night with some wine at hand, it held my gaze and kept me wondering about what happens next. It's uniqe, chill, stilish and at times even gripping. Now, if you want to geek out and have a "true to life" sci-fi, then you won't like this flick. But if you want to immerse yourself for a couple of hours with the idea of taking to aliens, be my guest.
More
This movie was great. At first I thought it would be a cheap mix of the "The Day The Earth Stood Still" and "Sphere". This movie was so much more. I went into this movie with low expectations which is probably why I enjoyed it so much. In all, this movie had a plot twist that was more beautiful than plot ruining.I know a movie is great when I am driving to work the next day (1 hr commute) and I can't stop thinking about it.This movie is free on Hulu, if you have not seen it yet, please do so
More
When it comes to the likes of big-budget SyFy films such as 2016's "Arrival" - IMO - Hollywood definitely needs to make 2 separate versions of the same story. They really do.First there'll be this PG-13 version here. It'll be the one for all of the naive, undemanding, little kiddies out there who have no real expectations about what's what. Yeah. This'll be the version that's guaranteed to keep the tiny tykes quiet and relatively satisfied for a couple of hours.And, then there'll be the adult version of "Arrival" for us grown-ups. And it'll be the one that really gets the viewer thinking about the potential reality of an honest-to-goodness, real-life alien visitation where the story doesn't have one saying "WTF!!??" about every 5 minutes like this version did.'Cause - Believe me - When it comes to being a "thinking" adult - I, pretty much, sum up this version of "Arrival" as being the biggest, the loudest, and, yes, the stinkiest of SyFy farts ever, from this past decade.I ain't kidding.I mean - This one's aliens looked so idiotic that they were downright laughable to me.... So - Like - When is Hollywood gonna give me a break from all of this PG-13 nonsense? Eh? When?
More