Watch Beauty and the Beast For Free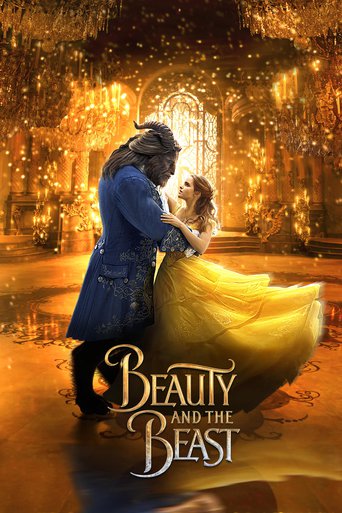 A live-action adaptation of Disney's version of the classic tale of a cursed prince and a beautiful young woman who helps him break the spell.
... more
Best movie of this year hands down!
More
it is finally so absorbing because it plays like a lyrical road odyssey that's also a detective story.
More
Excellent characters with emotional depth. My wife, daughter and granddaughter all enjoyed it...and me, too! Very good movie! You won't be disappointed.
More
Beauty and the beast lacks the spark of its animated movie,but it is decent.Scenery and costumes are very nice.Some acting is good,especially Luke Evans as Gaston.The leads are not as good.The scene leading to Beast's transformation back into a human was sorta boringly done.A nice movie ,but not as good as the original .
More
What a pointless and useless copy of the animated version of the same movie. Besides a few new songs nothing has been added or changed. Every character, line of dialogue or even the shots/camera angles comes from the animated version. On top of that i found this version of Belle very unsympathetic. Her change of heart over the beast was even more unbelievable than in the previous version. Same goes for the change of the beast. 1 moment he is a brute and the next he suddenly remembers his manners. If there was ever a prime example of what a cashgrab is, this movie is it.
More
I'm sorry to say this was not nearly as entertaining or captivating as 2015's 'Cinderella'. Despite the great cinematography and incredible visuals, I found it over the top and ultimately predictable. CGI certainly has come a long way and blends very realistically with the real world, so credit to the director where credit is due. Unfortunately, though, I think the film would have done perfectly well without all that CGI. In fact, at times it becomes cartoonish and silly. Furthermore, there's not an inch of credibility to the film. The characters are incredibly bland and boring, probably because they were acting in front of blue/green screens and in studios for most of the film. The characters just didn't feel like part of their surroundings.When Belle sees the Beast for the first time - looking like the Devil himself - she's not even a teensy weensy bit scared of him. Without any hesitation or questions she simply accepts him for being a beast and even when she's held against her will, she still remains cocky and demanding. Uhm, now that's believable for you. Not! I also found the reason behind the curse pathetic. Such an extreme curse just because he wouldn't accept a rose? Fair enough, the reason probably runs much deeper, but its not as if he was responsible for the death of the witch's loved ones or something like that. And to curse EVERYONE in the castle??? That witch has some SERIOUS issues!!The love story was also very unconvincing and predictable and seemed forced more often than not. There was no chemistry between Belle and Beast - or any of the characters for that matter! (The best chemistry was between Gaston and LeFou). The attack scene on the castle was just stupid! It was done so silly and without feeling that it was simply not entertaining. In fact, I found the scene overbearing and painful to watch. And why was Beast not part of this scene? Why was he upstairs staring into oblivion instead of defending his castle or his people? So he was still being selfish. Gosh, he so deserve to be cursed! The confrontation between Gaston and Beast was also not effective, as they've never interacted before. It was just pure Hollywood sensation without any depth. It was bland. Stupid. Horrible. And I'm not even going to elaborate on how utterly silly the transformation scene was once the curse was broken...I also found the Beast's appearance to be very inconsistent. At times it looked really awesome and even scary. Other times it looked like a mask rented from a party supply store. Yes, I know it was all CGI - and maybe that's where the problem lies. Although this is a classic tale, I doubt the film will go down as a classic.
More
I was very disappointed. It was too slow and serious with phony dancing and unemotional characters who don't read the lines in the form of a sentence or lyric very well. They're pausing and acting so laid back at the emotions in the movie. The best parts were the scenes that didn't copy the far superior cartoon.
More