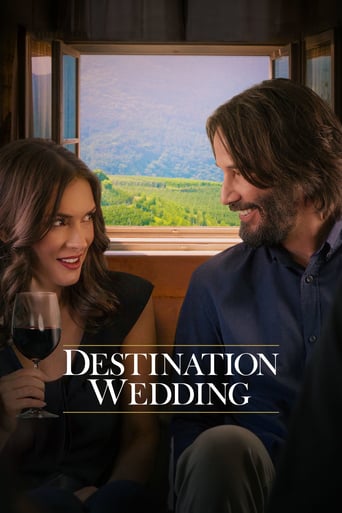 Destination Wedding (2018)
Frank and Lindsay—two emotionally-broken strangers—meet on the way to a destination wedding. Over the course of the weekend and against all odds, they find themselves drawn together even though they are initially repulsed by one another.
...
Watch Trailer
Cast
Similar titles
Reviews
After playing with our expectations, this turns out to be a very different sort of film.
More
The acting in this movie is really good.
More
Unshakable, witty and deeply felt, the film will be paying emotional dividends for a long, long time.
More
what a terribly boring film. I'm sorry but this is absolutely not deserving of best picture and will be forgotten quickly. Entertaining and engaging cinema? No. Nothing performances with flat faces and mistaking silence for subtlety.
More
I was impressed !!!If you want to laugh and have fun, then this film is for you. Best Wishes to Everyone:-)
More