Watch Christopher Robin For Free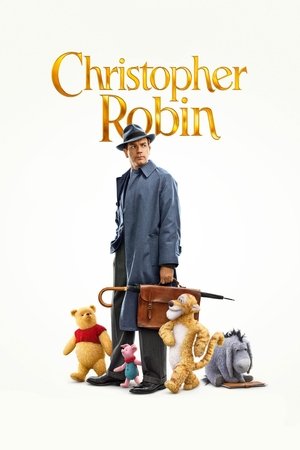 Working-class family man Christopher Robin encounters his childhood friend Winnie-the-Pooh, who helps him to rediscover the joys of life.
... more
Surprisingly incoherent and boring
More
Most undeservingly overhyped movie of all time??
More
A Disappointing Continuation
More
In truth, any opportunity to see the film on the big screen is welcome.
More
When I saw the trailer for this movie, I had to see how it holds up to its lore. What I found was not a kids film. Sure, it could appeal to kids, but if you paid attention the message was for the parents and older audiences. It shows too. My theatre was entirely 21+ despite it being dinner time at a dine in cinema. The message within focused on Christopher going through a mid life crisis of sorts- losing himself and struggling to see what's really important/forgetting to have fun and spend time appreciating the little things and the people you love (self care, anyone?). It was even a little dark at times. I love what they did with heffalumps! Would recommend and willing be getting this on blu Ray.
More
I understand that the directors and script writers behind this wanted intended on making this movie about grown up Christopher Robin, raising a family, his wife, Evelyn, and daughter, Madelyn. I was pretty disappointed with how dark and depressing a good 75% of this movie was. Yet again, I was impressed by the ending, although rather a cliché ending. Knowing that even though Christopher Robin is all grown up, the hundred acre woods gang could always make new adventures with Madelyn. But something that I did loathe about this movie, and I mean absolutely hated was, Christopher Robin as a character during a huge portion of the movie, very stubborn, not caring towards his daughter's wishes and beliefs and half the time his wife didn't even know WHERE he was.
More
I have always been a fan of Ewan MacGregor. I was never a Winnie the Pooh fan until I had my daughter 21 years ago. As a toddler, she chose Pooh as her favorite over everything, and that's when I fell in love with the stories of Winnie the Pooh. This movie has brought back such wonderful memories for me, it did not disappoint. So enchanting.
More
This movie will cheer you up and you will surely fall in love with most of the characters! Winnie the Pooh represents the love, the friendship and the charm of this film - colourful character, vital role model for all small children. Nowadays, the majority of animated movies are an absolute disaster (The emoji movie; Trolls; Angry birds) and children desperately needed charaters like Pooh, Paddington and Peter Rabbit. "Christopher Robin" gives us joy and comedy, but it also has its darker moments which bring us to reality. It is good to think that the childhood, the love and the innocence are so much stronger than the war and the injustice in the life of the working people. Christopher Robin achieved his goals and experienced his spiritual change. Ewan McGregor did a perfect job and I believe his performance can earn him an Oscar nomination.
More