Watch The Guernsey Literary & Potato Peel Pie Society For Free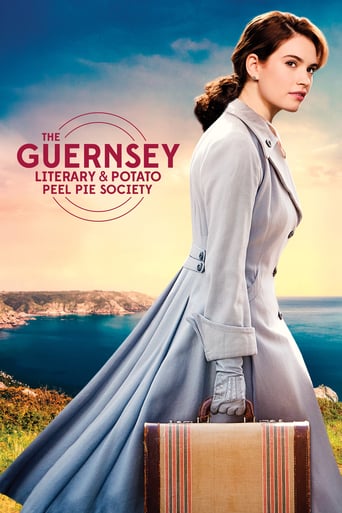 The Guernsey Literary & Potato Peel Pie Society
Free-spirited writer Juliet Ashton forms a life-changing bond with the delightful and eccentric Guernsey Literary and Potato Peel Pie Society, when she decides to write about the book club they formed during the occupation of Guernsey in WWII.
... more
Too much of everything
More
This is a gorgeous movie made by a gorgeous spirit.
More
Most post war/ war time movies evoke gut wrenching emotions in me, so I typically avoid them, but I got hooked by the the trailer itself. What sets The Guernsey Literary and Potato Peel Pie Society apart from most other post war/war time movies, is that it captures the emotions of a post war era, in a way that is moving and compelling, without crude imagery. The actors have done a great job, the cinematography is fabulous , story keeps you engaged, (2hrs running time) and the movie is well directed . Lily James is a pleasure to watch, Penelope Wilton as usual gives a stellar performance. Strongly recommend!
More
'Earth seemed a desert I was bound to traverse, seeking to find the old familiar faces.'~Charles LambSet against the backdrop of World War II, during the aftermath of the German occupation of Guernsey , the movie traces the development of a tie between two temporally remote yet subconsciously similar worlds as the protagonist, Juliet Ashton is found reiterating," I belong to you ...." as she finds solace in the fresh bond that she has formed with this family. Books lay the foundation of this relation as the pig ranch farmer,Dawsey Adams establishes his contact with the outside world by corresponding through letters with the help of the address mentioned on the copy of Lamb's The Selected Essays of Elia which he happens to salvage during the Club's desperate attempt to institute the reading group that they swore to be a part of, on the spur of the moment,to justify their violation of the curfew or in Dawsey's words as they had to keep a roast pig secret from the Germans. Juliet, writing under the pseudonym Izzy Bickerstaff, chooses to call her book, 'a collection of faintly amusing essays', and claims to be working on English Foibles: A Miscellany of English Absurdity which takes a dig at London Society for Public Decency which advocates trousers for horses. Her popular works thrived on instances such as these which were able to tickle the audience and make them burst into laughter. The plot of the movie also brings the struggles of an aspiring writer to the fore as she is privy to certain privileges based only on her interim popularity, wherein lies the danger that is foreshadowed in the poignant image of her room literally razed to the ground in the London blitz.She frantically tried to grasp whatever she could lay her hands on, in this case, the paperweight with a bird poised to fly in a dream like sequence. As a result of this ominous flash from her past, she walks away from the irresistible comfort of a crystal clear posh flat on the pretext that she'd feel like a fraud there. To her manager's utter dismay and in spite of his staunch dissuasion, she decides to get back to her poky bedsit in Battersea with three suitcases and a typewriter, relinquishing the consolation of a proper home thereby embracing suffering over luxury.Markham Reynolds,a diplomat and clairvoyant, offers her proper premises to cater to her writing needs. He holds the promise of a secure future to her. He makes such an elaborate show of his love as he throws ball in her honour and crams her apartment with rose vases as on one such occasion, Mrs Burns complains about her tenant's houses brimming with vases.These vases,however,do not find a place in Juliet's room unlike the handpicked floret that Kit or Dawsey present her with. As the plot progresses, she struggles to juggle between being a diplomat's fiancé and an aspiring independent writer. Nevertheless, it's not that difficult to conjecture which role she settles for. Indubitably, she is more drawn to the long black tunnel than the carnival.In a desperate bid to keep her close to him, Reynolds proposes her on the day she sets out for Guernsey.The bucolic Guernsey, with its tranquil beaches, picturesque scenes of lush green meadows with long grasses and wild waves lashing against the lofty mountains, has been restored back to life from the German occupation which once had turned it into a fortress laid with landmines. This transformation of a besieged territory into a heavenly haven happens owing to the relentless efforts of the Guernsey Literary and Potato Peel Pie Society to enjoy life even amidst adversities. The German soldiers had taken away Dawsey's pigs and had ordered him to grow potatoes.Food had become scarce and proper meals could be had only in memory.It is at this juncture that we are introduced to Elizabeth Mckenna,the founder of the club,who proves to be an ideal which Ashton could probably get inspired from.We were all Hungry but it was Elizabeth who realised our true starvation for connection,company...~Dawsey AdamsEben Ramsay,a local postmaster,is a peculiar character whose unique creation Potato Peel Pie with no butter, no flour just potatoes sounds silly and absurd but it is symbolic of something earthy sans all fancy superfluities; it is as pliable as potatoes that can be teemed with anything .In addition to that, somethings as crude as potato peels which are discarded, are reminiscent of those who survived the dark phase of German occupation.The Guernsey Literary and Potato Peel Pie Society presents a stark contrast to the book launch where Ashton,shows much faith in Izzy than herself and tries to dodge most of the questions directed to her with a certain degree of diffidence as well as skepticism. At the Guernsey's book club's gathering,she chooses to read Anne Bronte: A Life,a work for which she harbours strong opinions instead of her more popular works.As opposed to the one dimensional Q&A session at the book launch, the act of reading out to the group is more intimate with several justified attacks and equally potent defenses, ultimately, proving that books do have the power to bring people across ages or from different geographical locations together.
More
Tearjerker! Great acting! Overall it was very nicely done. There are few good WW2 movies, but this was excellent.
More
Lovely cinematography and fair acting by a number of names, but no chemistry whatsoever between the two leads on the isle of Guernsey. She's in love with him - why? We don't feel it. Because he cares for the little girl of a woman who was dragged off by the Germans? That's the only reason I can see. I felt this was a waste of time.
More