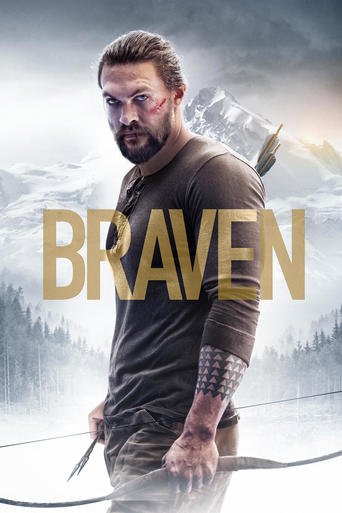 Braven (2018)
A logger defends his family from a group of dangerous drug runners.
...
Watch Trailer
Cast
Similar titles
Reviews
There is, somehow, an interesting story here, as well as some good acting. There are also some good scenes
More
It is an exhilarating, distressing, funny and profound film, with one of the more memorable film scores in years,
More
The movie really just wants to entertain people.
More
My wife wanted to watch this because she's a Jason Mamoa fan. I watched because I'm a fan of my wife. Both my wife and I were not disappointed.Mamoa is Joe Braven, a logging employee who wants to spend some time in his log cabin with his dementia-suffering father (Stephen Lang). Unfortunately, one of his buddies has stashed a large quantity of drugs he's smuggling in the cabin and the owners of the drugs come looking for it. This leads to a standoff between Braven, his dad, his daughter, and the drug dealers.There is not a lot of new ground covered here. Still, the action is tense, the characters are appealing, and the plot never lets up. Mamoa has a certain screen presence that women adore and men admire. He's both hulking and sensitive at the same time, quite a feat. I enjoyed the movie, even though many of the characters do stuff that only dumb movie characters do.Still, the movie has it charm. Its worth a look.
More
Joe Braven (Jason Momoa) has his family and his logging company. His father Linden (Stephen Lang) suffers from dementia. After a bar fight, pressure builds to put his Pops into a home. He resists and takes Pops out to his cabin. Unbeknownst to him, one of his log truck drivers, Weston, is transporting drugs with Hallett. They crash on a snowy road and rush to hide the drug stash in Joe's shack. The incompetent pair's drug boss Kassen (Garret Dillahunt) leads the gang to recover his drugs the next day and it becomes a deadly cat and mouse game.The first half is a bit slow. It spends too much time with the family. Introducing Joe as a family man should not take this much screen time. His father's dementia feels like a side plot point. It could have come in handy to instigate the standoff but the ignition is more problematic than that. There are different ways for Joe to ignite the confrontation. Splitting the drug stash in half is one of the inferior options. He should probably try to give it all to Kassen hoping that he would leave on his own accord. I doubt Kassen could ever leave the cabin without securing all of his drugs. Joe's plan is an unlikely pipe dream. His father's dementia could have been used as a catalyst for everything. The daughter's jacket is too bright purple. A smart man would turn it inside out for better camouflage. Joe ends up using too many special weapons. It's a little too Home Alone. I do like Momoa, Dillahunt, and Lang. They fit the setting and the manhunt plot. The cabin is probably too nice and the production couldn't afford to do much damage. They would probably be better off with a rundown shack where the bad guys can shoot the hell up. They could burn it down for real rather than the obvious fake fires. The second half does have some cat and mouse fun. This is good enough.
More
Some scenery is beautiful but the movie is overall very slow, action scenes are about average, not really bad-ass or jaw dropping. Screenplay is plain awful - as many reviewers have already pointed out, big stick + axe >> machine gun in this movie. Also there is a scene where both Momoa and a villain were thrown off a cliff because the villain was dragged by a running snow vehicle and he dragged Momoa with him. It ends as Momoa plunged into the sea while the villain landed on a rock near shore. If anything, the law of physics dictates the momentum of the vehicle will drag the villain further away, therefore he should land in water while Momoa being the one smashed onto that rock ... but as many other twists in this movie, the law of physics simply don't apply.It's an OK movie, nothing spectacular.
More
07/08/2018 Exactly what viewers are looking for. An excellent fast paced plot played out in a rock solid storyline, presented by a professional cast of actors. Really hard to beat in my book. Watch for yourself and then you can decide. Bon Appetit
More