Watch Revenge For Free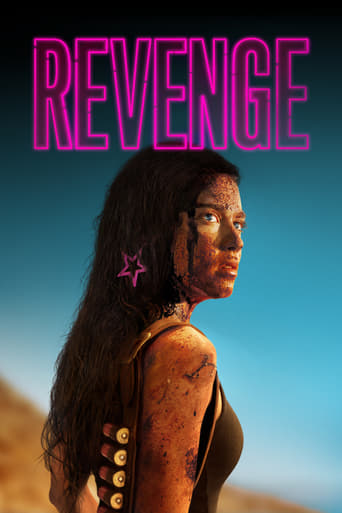 The story sees three wealthy, middle-aged CEOs – all married family men – get together for their annual hunting game in a desert canyon. It's a way for them to let off steam and affirm their manhood with guns. But this time, one of them has come along with his young mistress, a sexy Lolita who quickly arouses the interest of the two others... Things get out of hand... Left for dead in the middle of this arid hell, the young woman comes back to life, and the hunting game turns into a ruthless manhunt...
... more
Yawn. Poorly Filmed Snooze Fest.
More
That was an excellent one.
More
More like a comedy than a thriller. Characters just shrug off mortal wounds like shotgun blasts, when they bleed they hemorrhage liters of red goo in messy trails and bizarre first aid like cauterizing a penetrating wound with a heated beer can renders miracle results. It's like the producers didn't understand how human bodies work. Weird.
More
Like a child's fantasy, ok, she burns herself off a log she's impaled on having fallen over 100ft. She then uses a shotgun with an unlimited zoom lens to hit dead on target from over 300 yards?? Come on! Entertaining but entirely stupid.
More
Well filmed but disturbing and unbelievable. Although I enjoy seing a beautiful girl running half naked in the desert I did not enjoy seing her being abused. Classic subject matter, young girl get abused and she takes her revenge. The young actress is stunning!
More
So sad they think this is necessary :( they should haved clothed her to be relevant. This is obviously sexist. Shame on you. She should have have taken the dead guys pants. There is at least a naked guy!!
More