Watch Loving Vincent For Free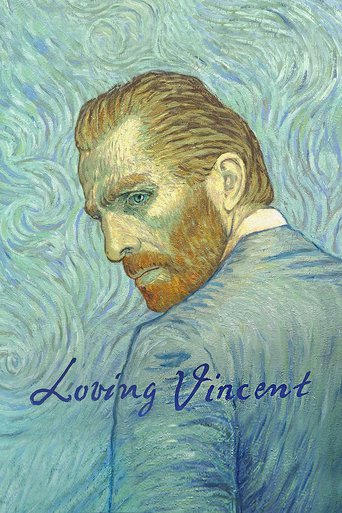 A painted animated Biopic about world-renowned artist Vincent van Gogh.
... more
one of my absolute favorites!
More
A movie that not only functions as a solid scarefest but a razor-sharp satire.
More
There is definitely an excellent idea hidden in the background of the film. Unfortunately, it's difficult to find it.
More
One of those movie experiences that is so good it makes you realize you've been grading everything else on a curve.
More
Loving Vincent is a beautiful portrayal of Vincent Van Gogh's last days as an artist, told through the eyes of many characters who are talked to by someone desperate to find out what went wrong. This film's artistry cannot be underestimated, and the artists' love for Van Gogh shines throughout. It's unbelievable how over 100 artists came together to hand paint this film, having to do 65,000 frames in total. Their dedication to this isn't even the only thing that shows their love for the artist, for they did every frame in his style and incorporated many of his most famous paintings into various scenes. What's not to love?The cinematography isn't as good, honestly, due to primarily the fact that the entire story is told in flashbacks. I do not blame them for that, as introducing a character by flashback originally is greater than telling the story in the present, it just feels a bit like waking life as new characters are introduced all the time, who then proceed to all talk about Vincent, and it gets a little repetitive. I do, however, appreciate how well they weaved each character spoken to into the flashbacks, so that some of them that are seen while being talked about are not talked to 'till later. The title is referenced quite a few times, with a couple of sadder moments being driven by Vincent's own character actually talking without any overlay narration. The centre character looking into Vincent's death is actually quite intriguing, with a voice, a look and occasionally actions similar to those of an alcoholic, but with a softer side. In fact, many more characters are clever, including a doctor who is obviously mad. This is a cinema staple, and a work of art that you can't miss.
More
This movie is visually absolutely unique. I've been totally blown away by the form. The narrative is also very touching and compelling just like Vincent's life story itself. A man who changed the whole world of art in just 9 years of drawing and painting. It left me seeking more information about his life right after the movie and next days. Looking into his drawings more and respecting the art and artists in general even more. A must see film.
More
There's not a shred of me that doubts the talent and time put into every painstaking and undeniably beautiful frame of 'Loving Vincent (2017)', a passion-project which was perhaps unadvisedly painted by hand twenty-four times a second. Not just painted, but properly oil-painted in the style(s) of its somewhat eclectic and now incredibly famous eponymous artist in a move that may have been somewhat ill-advised, considering what the team hoped to achieve narratively, but is certainly impressive. It's the narrative and essentially everything not associated with the visuals that fall flat, though. The story, which is oddly structured and callously segmented, certainly is an incredibly weak attempt at telling an ultimately 'pointless', paint-by-numbers tale. The conceit is that characters and locations from Van Gogh's collection of work are brought to life and used to retell the events leading up to and in the aftermath of his death, with the former being told mostly through frequent flashbacks. The feature quickly becomes insanely repetitive, however, because every encounter our protagonist has always goes the same way: he meets someone, they tell him a tale about Van Gogh, a flashback or two plays, we're told of someone else who might have a better understanding of the artist and then our hero moves onto the next person. Rinse and repeat, over and over again. As you can imagine, this becomes very tiresome, very quickly. Especially when most of these encounters amount to the same thing 'revelation'-wise - and, indeed, in terms of expository information, despite the constant exposition - and don't add anything to the overall 'mystery', which isn't really portrayed as such and doesn't get a satisfactory conclusion - not even an appropriately 'unanswered' one. Speaking of the exposition, the sheer amount of it is almost unrivalled in recent cinema. Every line is burdened with it, on-the-nose and heavy-handed, which makes for a slog of a watch that tells even while it shows. The fact that there's not all that much to tell makes this all the more perplexing. Why they didn't show the story or frame the narrative in more visual fashion - even if it would need to be linear and remove the unnecessary 'post-man' framing device - really is beyond me, especially for a piece so concerned with the way it looks. Honestly, it is a bore and a real chore to get through. It talks down to you, tells you every little detail but never gives you anything meaty to work with, and ultimately doesn't even stick with the theory it presents probably because it is just that: a theory. It could've leaned further into its 'what-if' aspects or alternate-history investigation angle, but instead chose to try and blend its speculation with reality and ends on a strange half-and-half note that doesn't stick the landing. All could be forgiven if it was entertaining, even in the slightest, but it isn't, despite being somewhat intriguing in a few sequences. Like I said, this intrigue all but crumbles away and all you're left with is stilted dialogue, a ham-fisted screenplay, a poor narrative and some truly beautifully animation. One of those things doesn't belong with the rest. Yet, there it sits among the aspects that drag it down. It's a shame, too. All that hard work for something that doesn't stand up in the medium it is presented. If they wanted to make a film that is also a piece of art, they should've focused on the film aspects first because those elements are what can elevate a piece to 'art' status (though it could be argued that every movie can be classed as art, anyway). Film has never been about the visuals, not really. You don't hang a still of a flick up in an art gallery. It's about the piece in motion, the nuances of the story and its themes and, most importantly, how it makes you feel. Sadly, all this picture made me feel was bored. 5/10
More
Ever frame in this movie is absolutely gorgeous. The story telling is phenomenal and captivating. I would absolutely recommend this film
More