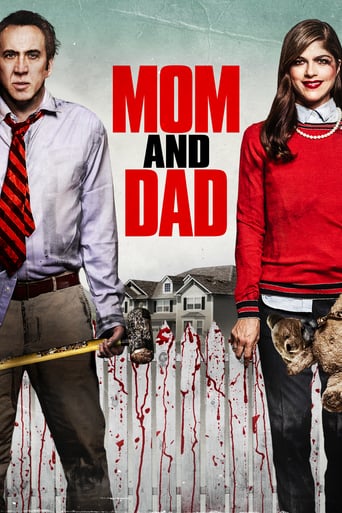 Mom and Dad (2017)
In a suburban community, moms and dads, one after the other, mysteriously feel the irresistible impulse to attack and kill their own offspring.
...
Watch Trailer
Cast
Similar titles
Reviews
A Disappointing Continuation
More
True to its essence, the characters remain on the same line and manage to entertain the viewer, each highlighting their own distinctive qualities or touches.
More
The film never slows down or bores, plunging from one harrowing sequence to the next.
More
Okay so basically the story is just flat! parents killing their kids and kids running from there parents and thats it! not once did I laugh, so I don't know why it's categorized under comedy... and it didn't have and ending it just sort of ended! so stupid! Nick cage must have been high filming this! The only cool part was the girl rigging the matches to the door so nick could catch on fire... but it still has you guessing if the kids noticed the gas or not...and then nick wasn't even burnt??? very sloppy movie no point to it!
More
For a movie with no hype and low expectations straight to dvd, I thought it was actually decent and kept my interest. Some good comedy mixed with a lot of "I'm gonna kill you". Give it a try.
More
Mr cage was the only part of this film that i can say it was entertaining because i had some good laughs with he's non intended comical delivery
More
Never have I ever been a fan of Bryan Taylor's absolutely atrocious direction and this is definitely the last of all the chances I've given to his work. I saw the trailor and was temporarily sold on the idea and boy, when you witness this colossal mess unfold before your eyes, you know know you'll need all the nachos to digest these 83 minutes of your precious life which unfortunately you're never getting back. It's almost shameful that an idea as creative as parents going all ted bundy on their own children is wasted to such proportions. A sloppy mess with some of Taylor's convoluted signatures makes this movie absolutely passable. Watch at your own risk.
More